A few dozen gold frames line the wall leading downstairs to the basement of Cordelia. The collection of "Cleveland family photos," as the restaurant calls them, features homegrown stars like Kid Cudi, Michael Symon, Steve Harvey and Harvey Pekar. The downtown restaurant even nods to Cordelia's culinary "friends and colleagues" (what others might call competitors) like Juneberry's Karen Small and even chef-operator Dante Boccuzzi, who owns the neighboring Goma.
Like the photo wall along the staircase in owner Andrew Watts' great-grandma's house (just like the one in my Nona's house and likely yours, too), the shrine is a symbol of family pride.
"The best thing about Cleveland is that we all cheer for one another, ya know?" says Watts. "It takes a little extra grit to get noticed when you're from here. We wanted to honor the folks who've done it."
Cordelia, both Watts' grandma and the East Fourth Street restaurant that carries her name, is a monument to Midwest hospitality, grit, hard-fought success and, of course, culinary delight. More simply put: it's "Midwest Nice," says Watts.
The restaurant on East Fourth Street replaces chef Symon's Lola Bistro — perhaps Cleveland's most hallowed culinary grounds (at least since Il Giardino d'Italia, chef Boyardee's East Ninth Street restaurant of the 1920s).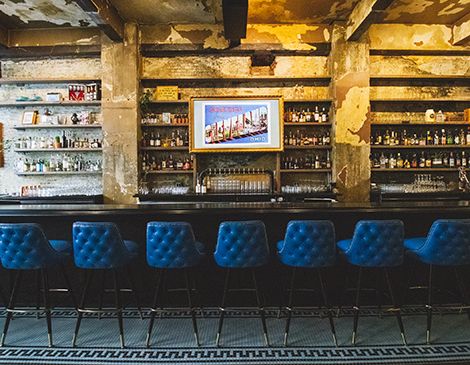 As if that wasn't enough pressure, the operators come to East Fourth Street at a time when a new class of restaurants — including Goma, Indie East Fourth and Blue Agave — are attempting to breathe fresh life into a street that fell into a bit of a valley following the peaks of the 2016 LeBron James days.
"With having the keys to this space comes a lot of responsibility," says Watts. "Michael Symon put Cleveland culinary on the national stage. We're going to do our part to push that forward."
Watts and chef-partner Vinnie Cimino inherited a turn-key operation. "It was shut down so beautifully, so respectfully, that you could just unlock the doors and move forward," says Watts. Instead, a year-long renovation just kind of happened. The restoration project kicked off when the team discovered '30s-era terrazzo flooring under the tile. The team's desire to be environmentally friendly led to furniture, plate ware, silverware and more being saved from landfills and sourced from vintage restoration companies and thrift stores. And of course, less sexy projects like replacing the decades-old HVAC system always take longer than expected.
"We took the scenic route, but it was worth the trip," says Watts.
The result is an 8,000-square-foot, 200-seat space with tall ceilings and an open kitchen, from which frequent visitors can expect head-turning shoutouts from chef Vinnie. Navy velvet booths sit stark against floral wallpaper and exposed columns. Above the 20-seat bar, the dressiest TV in Cleveland — with rotating still images, such as JR Smith playing Jesus in front of the championship parade crowd — acts as art in a frilly gold frame. The main room splits off to an additional dining room and the former space's chef table is now a 12-seat bar overlooking the open kitchen. A patio with 60 seats is set to open eventually.
"We wanted a space that was emblematic of Cleveland that looked like the city, that took the best pieces of it," Watts says. "The grit and texture of the industry in the Flats and the beautiful greens of the Emerald Necklace, the valley, the Forest City, as we're called, and we wanted to meld that together into a space that felt above all else welcoming to anybody, any time."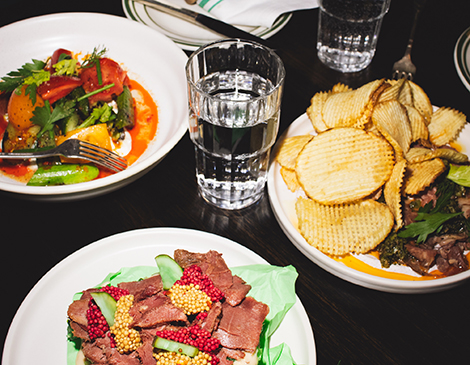 When Cimino sends 'em flying, those vintage plates carry a blend of Midwest delights and Southern cooking that he calls "modern grandma." Cordelia is all about heritage, and though it'll rotate frequently, the menu here blends inspiration from Cimino's upbringing in Akron, his mother's Southern roots and his time studying in Charleston, South Carolina. So get ready for pimento cheese and crackers ($9), some of the crunchiest fried chicken ($12) we've ever tried and jojos ($8) that are breaded, spiced and pressure fried. But the menu — which is split into Party Snacks and Relish Trays, Breads and Things, Eat Your Veggies! and From Our Butchers — is also an exploration of his past, which is one of early success followed by trials and tribulations.

"Honestly, going through two years of reinvention and trying to figure out where the next paycheck came from and how to continue pushing to do it every single day," he says, "it feels surreal to be where we are now."
The 39-year-old chef rose through the ranks of Greenhouse Tavern, just a few doors down from Cordelia's new home, eventually becoming chef de cuisine. There, he met dozens of talented hospitality professionals, including Watts and pastry chef Ryan Boone. That project ended spectacularly when the brash chef Jonathon Sawyer, who has since ridden his motorcycle off into the sunset of Chicago's Four Seasons, left his staff (and $1.5 million in unpaid debt) in his dust in 2019.
2020 wasn't any nicer to Cimino. As an industry-crippling pandemic hit and after a short-lived stint at Summer House, operated by TownHall owners The George Group on the Lakewood-Cleveland border, he and Boone were happily helping to build the food program at Immigrant Son Brewery in West Lakewood. But that partnership soured just as quickly, leaving the culinary duo to scrape by with pop-ups and various odd jobs. Still, they found time to help the culinary community by launching Cleveland Family Meal, a free food pantry for hospitality workers who lost work during the pandemic.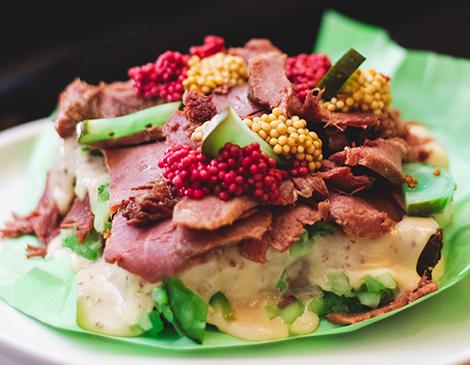 As Cimino searched for his next project, Lola Bistro unexpectedly closed, kicking open a door of opportunity in one of Cleveland's most coveted dining spaces. Who knows where he'd be if Greenhouse Tavern stayed open, any of those pandemic projects worked out or Symon decided to try to keep Lola alive.
"I wouldn't have done things any other way. Every little detail in here feels like home," Cimino says. "It feels like it was always meant to be, like it was meant to happen."
While you're not going to find Greenhouse Tavern wings on this menu, subtle nods to the past appear across the menu and the space. Most obviously, the Burger Box ($20) is an elevated and quartered-to-share version of the smash burger so beloved at Cimino and Boone's pandemic pop-up, FatBoy Sammies.
What you'll also find is a farm-to-table experience that resets the meaning of that oft-used phrase. Purveyors are not asterisks on this menu. Some dishes are even named after them. Thaxton's garlic ($9) from the organic farm in Hudson is a halved garlic head roasted and meant to spread across toast. There's even a space highlighting whatever the heck happens to be fresh that week at Kate's Fish at the West Side Market.
"The farmers and these smaller purveyors were hit just as hard if not harder than restaurants because they had nowhere for their stuff to go," he says.

"They're a part of the team," Watts adds.
Constructed by bar manager Sebastian Albornoz, the booze menu — all of which can be made with non-alcoholic spirits — features classics such as gimlets ($13) and more exotic tastes like the Fee Fi Fo Fum ($16), a slightly creamy tiki-style drink. The delightful Hoof Hearted X Cordelia collab brew ($5) is like a way-strong Miller High Life.
For dessert, Boone serves up seasonal sweets set to rotate about as often as the main menu. Right now, a slush float ($9) offers an elevated take on the classic ice cream shop (and Sonic-famous) blend of ice cream and slushie for the warm weather, while the Eat Your Peas and Carrots ($9) highlights the true meaning of seasonality thanks to the fluffy pea cake and carrot ice cream. The Tahini-Nut-Butter and Jelly ($7) is a delicious tongue-in-cheek custard that references Boone's allergy to peanut butter — a tortuous trait for a lover of all things dessert — in a vintage pastry cup.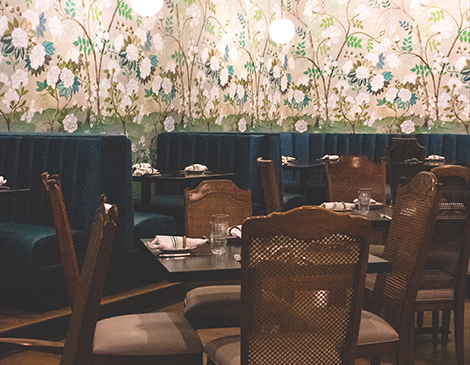 The menu is going to change as often as Cleveland's weather with new dishes highlighting the freshest seasonal ingredients the team can find. A good way to try what's green is the Belly Up tasting menu ($70).
"We feed you like grandma does," says Cimino. "You tell us any dietary preferences you might have and then you sit back and relax while we start sending out plates in waves. 'You got to try this with this. You got to try this bite.' We'll make certain points about our menu and show off different things that we're playing with. It'll always be a personal experience. We want to show you your new favorite thing."
For Cimino, Watts, Boone and many others in the Cordelia orbit, this restaurant's analogies to home are not simply marketing. Reopening on and helping to revive East Fourth Street, however cliche it may sound, is genuinely a full-circle moment.
"The excitement is palpable," says Cimino. "It's amazing watching East Fourth Street come back to life and have a resurgence. There's fresh blood on this street, and it's just awesome to see."