I really wanted to hate Immigrant Son Brewery.
Don't get me wrong. Owner Andrew Revy designed the brewpub to represent not only his story, as the son of Hungarian immigrants, but all of our stories through a menu of globally inspired bites and top-notch beers. Me, the son of a Croatian immigrant, sitting next to other immigrant children and smashing a hodgepodge of flavors from across the Mediterranean, South America, Eastern Europe and Vietnam. It's the American dream.
"We are a nation of immigrants," Revy says. "We wanted to celebrate all the people who have come here and brought their culture and their food and drinks with them. "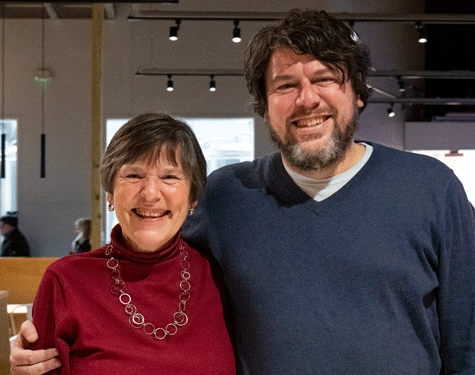 But I had a hard time getting past the backstory. Immigrant Son was supposed to open with award-winning homebrewer Cara Baker and notable chef Vinnie Cimino, who wowed at Greenhouse Tavern, running with the brewpub's global concept. However, the trio parted ways in early summer of 2021 as the opening date neared.
Revy shrugged it off, saying "decisions get made for the betterment of the organization." In a Facebook post, Baker claimed employees were blindsided and unfairly compensated. Some Cleveland foodies agreed. I tend to side with the everyman.
But it's tough to hold a grudge when a flight of beer hits your table.
Over two diverse experiences, my culinary comrades and I explored a menu that delivered on its promise to transform and delight with well-sourced ingredients, such as regional meat and produce and cured meats and cheeses from across the world.
Revy has a penchant for adventure in the kitchen, now helmed by chef Rob Dippong, formerly of Johnny's Downtown and Gigi's on Fairmount, and at the tap, which pumps beer from brewer Eric Luli, who logged time with Great Lakes Brewing Co. and Platform Beer Co.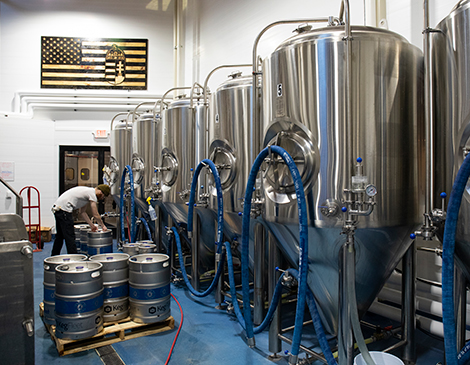 It's no surprise. Two decades ago, Revy opened Manja in Lakewood with his brother, Frank Revy, and Brad Kessler. The small-but-mighty space delivered an acclaimed menu of game meats, such as kangaroo and wild boar.
"We had some culinary fun," he says.
After selling, Revy worked with Constantino's Market, owned by his father-in-law, Constantine Mavromichalis.
In 2019, the grocery store was losing out to Lucky's Market, which had just opened across town. So in November, Revy announced plans to renovate the space into Lakewood's first brewery.
First, it needed a gut job. The towering wood beams and rooftop skylights live on, but creating a functional kitchen, 10-barrel brewing system and 15-stool bar proved difficult. Revy expected to open in summer 2020. But the pandemic presented hurdles. "It's been an interesting ride," he says.
For all the waiting, the final product isn't unrecognizable. Under vaulted ceilings, the restaurant is brightly lit, bustling and communal just like a grocery store.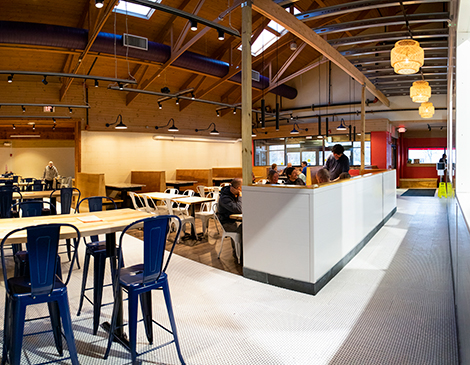 Our first visit came during opening week in October and focused on beer. As we waited an hour for a table, we downed our first round at neighboring Sloane's Pub, which was reeling from the influx of visitors to the shopping plaza. Since then, things have died down, and our second visit didn't require a reservation.
Despite Sloane's frosty mug, the ISB American Pilsner ($6) beat out its predecessor: Miller Lite. Next, Cleveland pride drove me to the citrusy PerZverence IPA ($6), a charitable partnership with Cleveland Cavaliers legend Zydrunas Ilgauskas.
But I beg you not to stick to pilsners and IPAs. Saisons are trending locally, and the pastoral Farmhouse Ale Saison ($6), with its chorus of spicy, herbal and floral notes, is a great place to start that journey — especially if the thought of another quadruple-hopped IPA makes you gag. From there, I'd push you — yes, even you, who doesn't drink beer — toward the coffee porter (6.2%), a smooth sipper infused with Brazilian medium-roast from Ready Set! Coffee Roasters.
"We give equal attention to the beer as we do the culinary process," says Revy. "I think we stand shoulder to shoulder with any other brew pub in the area."
Our beer snacks, however, disappointed a bit. The oysters (market price), drenched in an IPA mignonette, were good. Yet, the applewood-smoked and chargrilled wings, served at market price due to a wing shortage, arrived slightly undercooked and underwhelming. In fairness, it was opening week.
But on our second trip — one so gluttonous and deranged it spoiled our appetite for Thanksgiving the next day — we realized we'd made a fatal mistake.
You come to Immigrant Son for the langos. Fluffy and savory, this Hungarian street food staple, bread dough dropped in the fryer instead of the oven, is simple in execution but exquisite in result.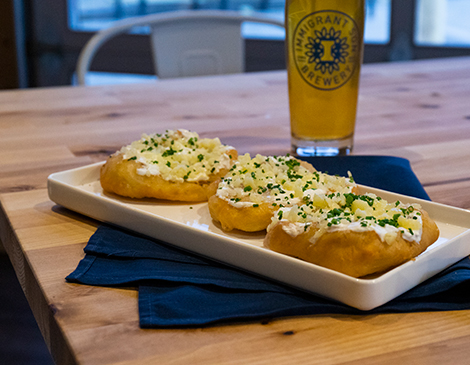 We first encountered it lightly salted on the La Famille ($28) charcuterie board, a presentation of six meats such as Leoncini ham and Iberico chorizo and six cheeses, including manchengo and tellagio.
Already stuffed, out came some of the best octopus ($15) I've had since visiting Croatia. Sous vided and blackened, the crunchy tentacles were buttery, meaty and paired with Spanish chorizo, smoked almond romesco and more.
Soldiering on didn't take much convincing once the gaucho steak fries (market price) — sliced, rare and drizzled with bright-green chimichurri — hit the table. Again, we danced with langos. The Hungarian Burger ($16) offered one of the night's best bites thanks to a fried dough bun soaked in wagyu burger juices, smoked tomato aioli and crème fraiche. I apologize to all the doughnut burgers lovers I've berated. I get it now.
The chicken paprikash ($24) is a flagship entree for the Hungarian-leaning joint. Revy knows the dish elicits strong opinions. You probably have a preference between spaetzle and egg noodles. You probably think your grandmother does it better. I think you're probably wrong. This hearty, creamy-not-soupy take with house-made spaetzle and succulent chicken was a highlight of the evening.
"It really is a perfect dish that makes this Hungarian very proud," says Revy.
Fifteen hours after finishing a dessert of beer apple crisp ($7), I saw the disappointed look on my mother's face as I arrived to Thanksgiving in stretchy pants to accommodate a food hangover that would also make Revy proud.
"This is a place to gather with friends and family and enjoy a good time," he says. "What better way than with drinking and eating food?"
Despite a rocky start, the brewery offers something for both adventurous diners and safe ones. Comfortable spaces like this, which strive for more than tried-and-true burgers and pretzels, can only expand Cleveland's palate.
As for my gripes with the restaurant, I'll hand off to Anthony Bourdain, who once said "an ounce of sauce covers a multitude of sins."
In this case, that sauce is creamy and full of paprika.