Rusty James Phillips was burnt out.
After spending years as a line cook, working the grueling hours of lunch and dinner service, he needed a change.
His next venture came to him on four wheels: MotorMouth. In 2011, the chef bought a food truck right when the meals-on-wheels trend was hitting its peak.
"It was an opportunity to get outside of the four walls of the kitchen and hit the open road and be able to cook my own food," he says.
For the next few years, he rolled along crafting his menu of global-inspired street food — think Korean barbecue tacos and shrimp po'boys. Food truck meetups, festivals, farmers markets — wherever there was an opportunity, he honed his skills and learned to work in a small kitchen.
"We pumped out a lot of food in a hurry," he says.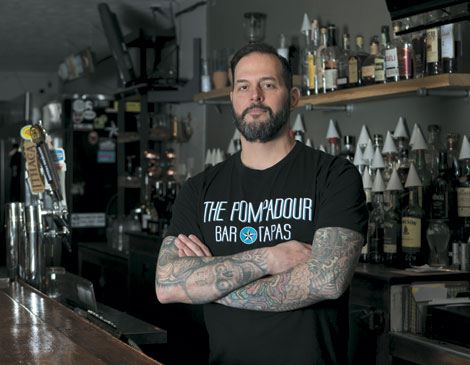 Life was good for Phillips, who thought he was content with his little mobile restaurant.
But one day he was on Craigslist searching for kitchen equipment when he saw a listing for a storefront in Fairport Harbor. As a resident of the small lakeside community with his wife, Lianne Mantione, he decided to meet the owner — just to check it out.
"It was something we could afford, even though it didn't have the kitchen or anything we really needed," Phillips says. "It was just kind of a dive bar, beer-and-shot place."
After buying the High Street location in 2015, Phillips and his wife opened The Pompadour as a neighborhood bar while they added a small kitchen. They started serving food in July 2016.
Playfully named as a nod to a hair salon that once occupied the space, it still feels more like an intimate neighborhood bar than somewhere where you'd expect to find a stellar small plates menu and creative cocktail program.
But that's the beauty of Pompadour — it's not flashy or showy. It doesn't pretend to be anything more than a hidden gem serving simple, stripped down tapas that let the four or five ingredients shine.
"We don't want our menu to read like a greatest hits of all the restaurants you've ever been to," says Phillips, who parked MotorMouth last food truck season to focus on Pompadour. "We really try to work hard to use our own imagination to create our own dishes."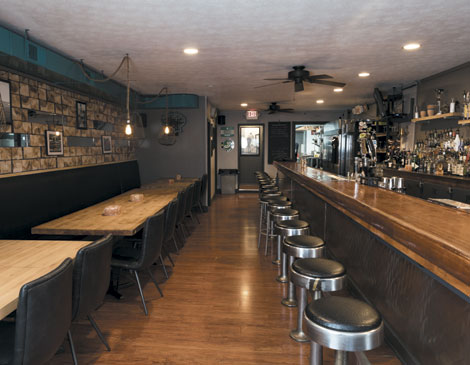 Grab a seat at its slick, wooden 18-seat bar, which commands most of the narrow interior, or try to snag one of the 18 seats along the banquette. Locals know to come here early for a spot, as it usually fills up fast on weekends.
Guests like to linger as dining here is meant to be casual and leisurely. It's all part of the tapas experience. The knowledgeable staff can offer suggestions on how many dishes to order from the 18- to 20-item menu for your group and how to course it out. The communal aspect — collectively trying a little bit of this, a little bit of that — is what makes it memorable.
"We want people to be able to sit down and break bread with friends," he says. "Share dishes together, try different flavors. It's the way we enjoy eating."
Kick things off with a drink from Pompadour's strong cocktail menu, crafted by lead bartender Mike Stewart, who makes his own shrubs and bitters. In fact, picking your swill might be the hardest decision of the night. The Ana Lucia ($8), made with Milagro Silver blanco tequila, tonic, lime, house-made Damiana bitters and house-made black tea simple syrup, weaves in layers of citrus and herbs.

When it comes to the food, you can't go wrong starting with an order of roasted Shishito peppers ($7). A lesson in restraint, the mild peppers are roasted with extra-virgin olive oil until the skins are charred, then sprinkled with pink Himalayan sea salt. Each bite is all-at-once sweet, smoky and salty.
But there's a catch — about one of every 10 of the East Asian pepper dials up the heat, so choose carefully.
"My sous-chef always complains, 'I've been here a year and a half and I've never gotten a hot one ever,' " says Phillips.
The cocoa almond-stuffed dates ($9) remain the most popular item. Phillips replaces the hard, inedible pit with two almonds dusted with cocoa. "With the bitterness of the cocoa, it pairs with the sweetness of the date," he says. Topped with crumbles of goat cheese, slivers of sauteed Spanish chorizo and scallions, it's a beautiful mélange of flavors.
Using squid from Euclid Fish Co., Phillips cuts the cephalopods into the size of steak fries to make calamari fries ($10), a fun play on those frozen fish sticks we'd eat as kids. After a light breading and quick flash-fry, he serves them with a zesty Sriracha aioli.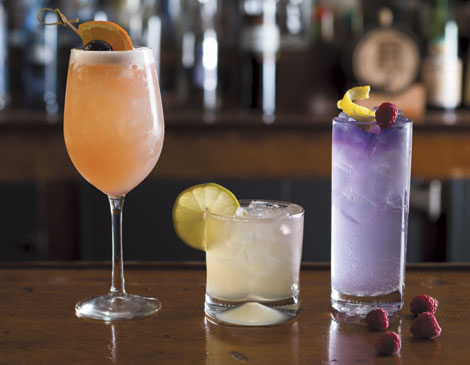 Fans of Pompadour rave about Phillips' crispy bacon tacos ($10) topped with shredded cabbage, queso fresco and pickled red onion — and for good reason. While the main attraction is obviously the chunks of salty pork, we quickly were just as fond of the chipotle apricot lime salsa that keeps it light and bright.
The farther down the menu one looks, the heartier the dishes become, such as turkey albondigas ($8), meatballs simmering in a tomatillo mojo sauce with goat cheese and cilantro, or lamb rib chops ($13) with a chimichurri sauce and fried fingerling potatoes.
As the priciest item on the menu, the filet with Cabrales butter ($16) is a decadent departure. The butter, made from Spanish blue cheese, melts easily over the tender steak and accompanying caramelized onions. Phillips opted to cook the filet sous-vide so he can easily control the temperature and also infuse the meat with a marinade.
"The meat is just so silky, you can cut it with a fork," he says.
Don't skip over the Mexican chorizo and kale ($9). Inspired by a Tuscan dish of sausage, kale and white beans, Phillips puts a Latin spin on it by subbing the chorizo and adding in Peppadew peppers and grated manchego cheese. It's a hearty dish that feels healthy, yet satisfying at the same time.
Tuesdays through Thursdays, customers can order the Big House Burger ($12). The menu's only traditional entree, it still sticks to Phillips' mantra of using simple, straightforward ingredients such as Tillamook cheddar cheese, caramelized onions, shredded lettuce and Sriracha mayo.
Phillips uses the popularity of his weekly specials, such as veal-stuffed crispy wontons and saffron shrimp scampi, to help inform new menu items. He plans to roll out a different ceviche every week this summer — think octopus with kiwi, tangerine, Fresno chili and onions.
The 47-year-old is always thinking about how to improve, what's in season and what's next.
"I want people to come out and experience food," Phillips says. "We're not afraid to make bold flavors and different combinations that people haven't had before."

Try This: A 4 1/2-hour braise makes the short rib ($14) a hearty standout. The accompanying parsnip puree and ancho chili sauce, elevated with a hint of cinnamon, doesn't hurt either. Seat Check: For those heading to Fairport Harbor Beach during these warmer months, stop by The Pompadour's six-table patio to keep the summer time vibes going.

When You Go: 320 High St., Fairport Harbor, 440-639-0263, thepompadourbar.com, Tue-Thu 5-9 p.m., Fri & Sat 5-10 p.m.