You probably think you know Luca and Lola Sema already.
For nearly two decades, the husband-wife duo has found success delivering top-notch Italian fare at Luca Italian Cuisine on the Superior Viaduct and its offshoot Luca West in Westlake.
But Acqua di Luca, the modern Mediterranean-inspired temple of seafood launched on the corner of West Sixth Street and St. Clair Avenue in June, might be the best representation of the Semas yet.
The couple met as teenagers growing up in Albania, where hospitality is a cultural virtue and access to the Adriatic Sea gives those along the coast an affinity for fresh fish. Luca's grandmother made excellent Italian food, a baton he picked up as a chef in the army, training in kitchens in Italy and working his way up from a dishwasher in Cleveland's Little Italy after moving to the United States in the late '90s. But while that love for homemade sun-dried tomatoes, pasta and the cuisine of the boot is well displayed at his other restaurants, those menus aren't outlets to fully explore the ocean-deep world of seafood. Catch of the day was still pulling at Luca's heartstrings.
"Everything tastes different there," says Lola. "You eat outside and breathe in the Adriatic Sea."
At Acqua di Luca, Luca's childlike wonder for fish and rustic cooking meets Lola's refined eye for decor, service and wine. On the plate, quality ingredients are accentuated by simple but perfect execution, while the sophisticated space puts the city on full display.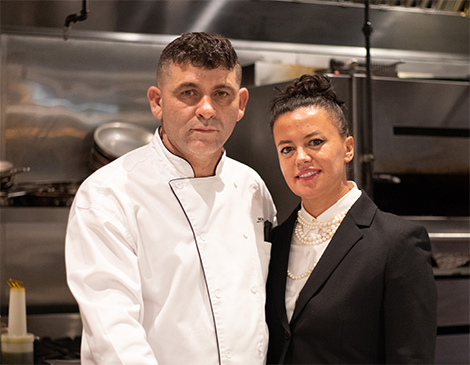 "It's a really unique look to Cleveland," says Lola. "I didn't want it to be stuffy or old-school. It's very New York."
The Warehouse District restaurant went through seven months of renovations, transforming it from its former occupant XO Steakhouse, which closed in 2020 after 17 years, into a breezy open kitchen concept with a light nautical touch. The biggest projects were exposing the original brick of the 147-year-old building and installing sliding glass doors along the outer wall to break down the barrier between the dining area and the wraparound sidewalk patio. Now, a breeze rushes through the room and a symphony of passersby and zooming cars sing the exhilarating song of a city alive.
But if the restaurant is the city's biggest stage, the headliners are what's found on the plate, in the glass and from those who serve both.
A big check should come with a good server to command the ship. The captains we encountered on this seafaring experience aptly navigated the choppy waters of an extensive wine list paired with a curated seafood menu. On both occasions, our servers felt like friends in the know, often steering us toward cheaper or tastier decisions.
Amidst a labor crunch, Lola's waitstaff somehow operate like seasoned veterans. With frequent tastings and one-on-one education sessions, training at Acqua di Luca is any gourmand's dream.
"When we opened, we had a limited menu because we had zero applicants," says Lola. "We're very lucky to have a staff who takes their passion for food and wine very seriously."
One great piece of advice we received was to skip the misto di crudo ($45), a smaller collection of raw salmon, yellowfin tuna, scallops and oysters, and head for the fruit de mare ($90), a towering monument to seafood that lightly bathes warm mahogany clams, tender mussels, fresh calamari, shrimp, scallops, Alaskan king crab, whole lobster and whatever else swam into the kitchen that day in a white wine broth. The European-inspired shareable relies on simple execution to sing a rare song Cleveland seafood lovers must hear.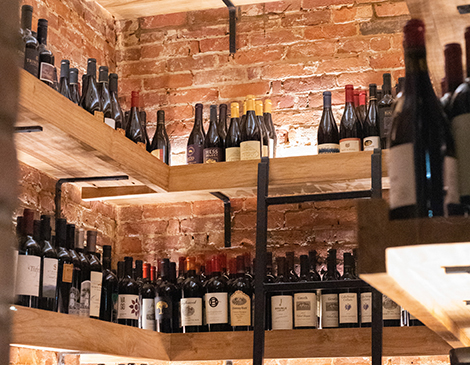 It's not the only spot on the menu where Luca lets the ingredients shine. My bedfellows, who obviously hadn't watched the documentary I sent, had a bit of sticker shock seeing the Iberico ham ($25), which came out as three thin slices of pork with shaved truffles atop. I count black Spanish pigs to fall asleep, so any chance to find them in Cleveland is exhilarating. I liken it to sushi but for cured meat lovers.
"The pork eats just chestnuts and walnuts," says Luca. "It's so oily and shiny when you slice it. The truffles are a good match because they bring down the fattiness. I really love it."
Another example of simple ingredients shining is the vongole ($14). In a pond of pinot grigio, olive oil and garlic sit steamed mahogany clams and sopping slices of grilled brioche, which were gone long before the broth. Dipping our delicious complimentary bread (loaves of which kept coming), however, in the luxurious broth offered some of the night's best bites. The branzino ($38) now regrettably comes headless thanks to some squeamish customers, but this filet still offers a classic Mediterranean plate with a saffron bechamel and fresh lemon.
With the lemon stuffed sole ($38), chef Luca gets a little more creative. This rollup of spinach, crab meat and Neviola cheese dressed in sundried tomato cream is sorta like a seafood lasagna and was the crowd pleaser on both of our trips.
Every group is bound to have a landlubber, which is where the terra e mare, or surf and turf, section comes in handy. The filet mignon/lobster gnocchi ($55), a medium-cooked cut with glorious juices that seep into the accompanying creamy lobster gnocchi, is like a fine dining kids' meal with a side of fancy mac and cheese.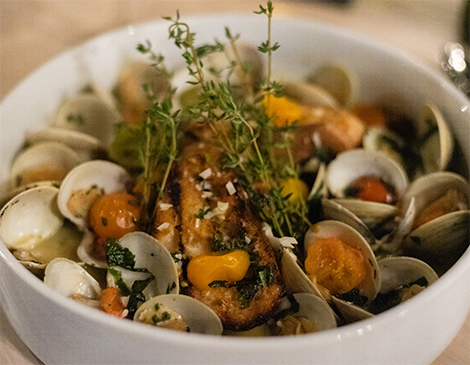 Specials are big here, too, with many dishes being tested before ending up on the menu. One scallop special with risotto and black truffles offered fish so buttery in texture and expertly seared it made me question why I never order scallops (probably because they're never cooked this well). My first-ever meal, however, started with a noodle-like calamari in chile wine sauce that nearly scared me away. Luckily, it was the only bad thing I had over two trips.
Luca still intends to grow the entree menu as well as institute a more affordable bar menu. Both menus will feature new pastas, and three pizza options on the bar menu will give the restaurant a more casual happy hour offering.
"With my experience as a chef, I know I'm missing something," says Luca. "I need to put more ideas on the menu, new fish, make the bar more bar food. Little adjustments to fix some stuff."
Despite the far-flung fish on the plate, the New York-chic décor and the Mediterranean-inspired hospitality, Acqua di Luca doesn't set out to transform. Instead, it elevates — simple ingredients into elegant shrines of decadence and a mid-sized city 500 miles from the sea into a downtown deserving of an ocean of grandeur.