Zhiyu Shen wants to be an emo friend to all.
The owner of Emo Friend Boba Tea, an upcoming bubble tea shop located at 19634 Center Ridge Road in Rocky River, says the concept's name was inspired by his hometown friend group.
"Personally, I have had a hard time for the past two or three years. So much going on, with my business, and then a new house with problems in Ohio, so much trouble," Shen says. "So suddenly I am missing my old friends. In China, I was the emo kid. And then I just realized, I miss my emo friends."
Shen moved to Northeast Ohio about three years ago during the coronavirus pandemic. Formerly, he ran a food truck and, with a friend, a guitar instruction space: both of which went out of business due to the pandemic, Shen says.
Now, his new venture focuses on his passion for authentic boba tea. It's set to open to the public on Monday, Oct. 9.
"I'm a big fan of boba. I try boba in China and I try boba out here, and I realized, it's very different," Shen says. "The taste here, everything is different than China. I feel the taste is not real; I taste the powder here."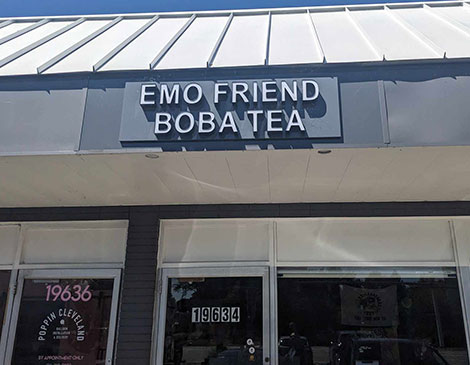 A preliminary Emo Friend Boba Tea menu includes a mix of milk teas, fruit teas and special teas — including potential flavors like oolong, jasmine, Thai tea, coconut lemon tea, peach, apple, mango and matcha. Prices (which are subject to change ahead of the shop's opening) range from around $6.50 to $7, with a "Friend x Friend" special: two cups of tea, discounted to a total of $10-$11, depending on the flavor.
RELATED: Three Places to Get Authentic Bubble Tea in Cleveland
That friend discount goes back to the shop's name and back to Shen's goal with the store: to forge community and friendships.
It's already drawn attention; the shop's blocky sign in a Rocky River strip mall has stirred locals to take notice of the unique store title. After all, bubble tea is usually paired with bright, cute cartoons — not necessarily emo culture.
Inside, Shen has decked out the walls with his own collection of band memorabilia, including signed posters, CD cases and other merch from groups like Good Charlotte, Green Day, Black Veil Brides, Crown the Empire and Motionless in White.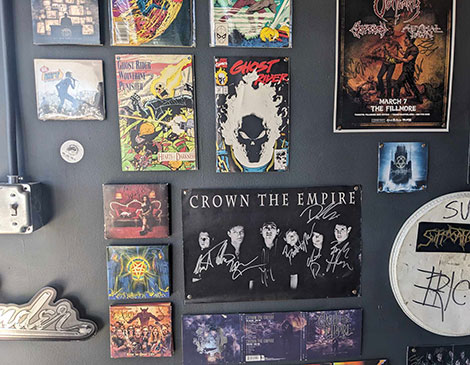 It's a reflection of his own upbringing and culture, and how he found community in the emo scene — and how he wants to help others find that, too, in Northeast Ohio.
"Maybe right now is much better — but back to my time, parents, they didn't really understand us," Shen says. "Mine, personally, I'm from an Asian family; my family doesn't like me that much because I've got long, colorful hair, lots of tattoos. I want a place, my shop, to be a place where everybody is making friends here. I want a place where emo kids can hang out."
RELATED: 101 Dishes to Try Before You Die: The Ultimate Cleveland Foodie Bucket List
For more updates about Cleveland, sign up for our Cleveland Magazine Daily newsletter, delivered to your inbox six times a week.