For a restaurant with so much hype and excitement, owner Ben Bebenroth is taking a decidedly casual approach.
"We're not crumbing tables. We're not doing dining room service," says Bebenroth, referring to his fine dining past, which he discussed with us in a profile earlier this month. "We were really thoughtful of creating a menu that you can walk in, grab your apps and snacks and beers, and then sit down while your pie is being baked and not want for anything."
Despite the fact that foodies from across Northeast Ohio are sure to flock to Lakewood this week, Boom's Pizza opens Jan. 24 with hopes of being a simple neighborhood pizza joint. Don't get us wrong; the pizza, especially its sourdough crust, eclipses that of Boom's quick-service peers and reminds diners of Bebenroth's previous project, Spice Kitchen. But with counter service, a build-your-own six pack beverage program and light appetizers, Boom's doesn't want much more than to be loved by the locals that surround each of its locations and employees.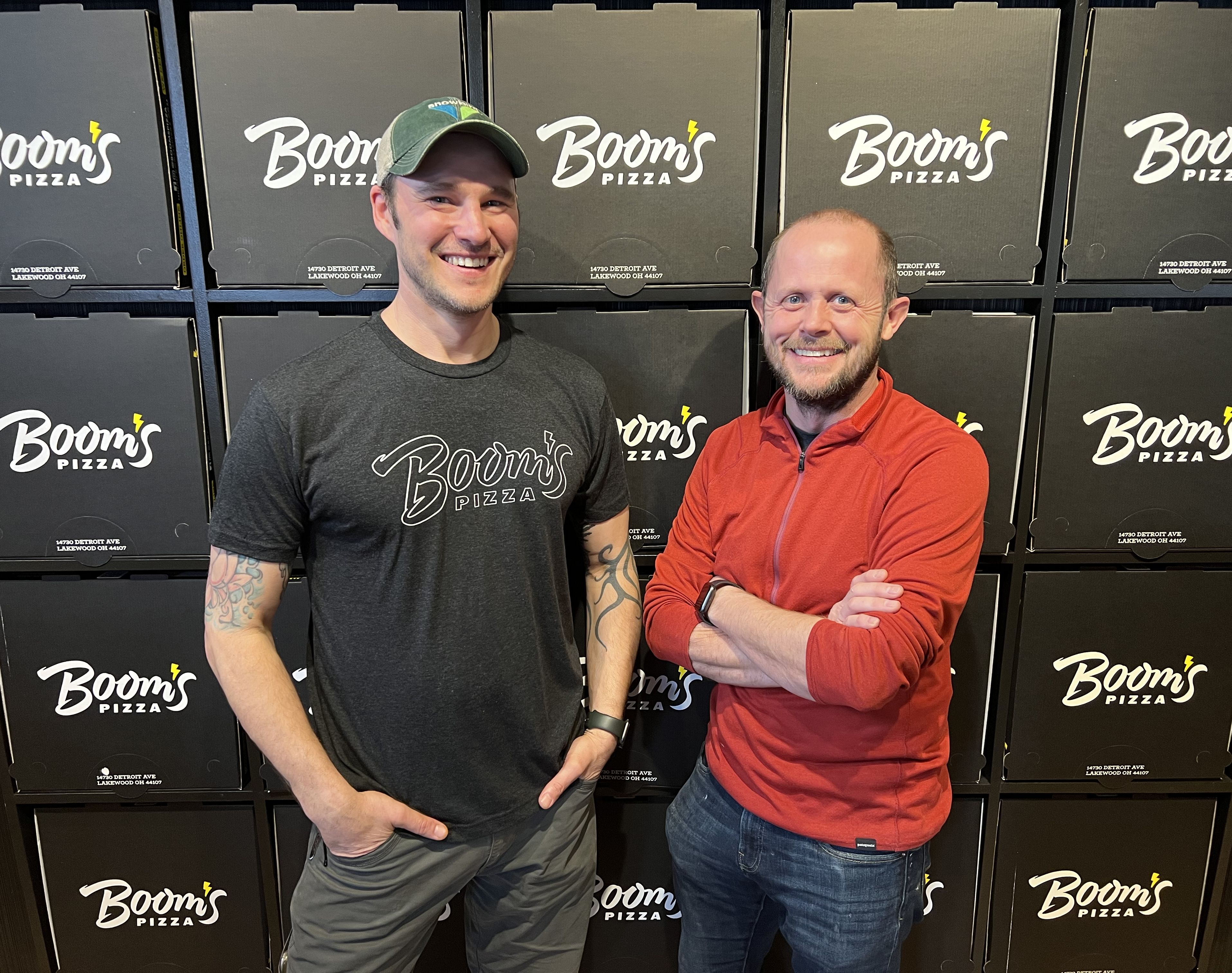 While this is the first Boom's Pizza location, Bebenroth told Cleveland Magazine earlier this month that his goal is to open five Boom's Pizzas in Northeast Ohio over the next five years before expanding to Columbus.
"Commodity products like Domino's or Marco's are essentially just selling convenience, not quality," he says. "It's not a great taste experience, in my opinion. So, can we take that convenience and elevate the quality? Because time is the new currency."
Here's everything you need to know about the new Lakewood pizzeria and its future plans.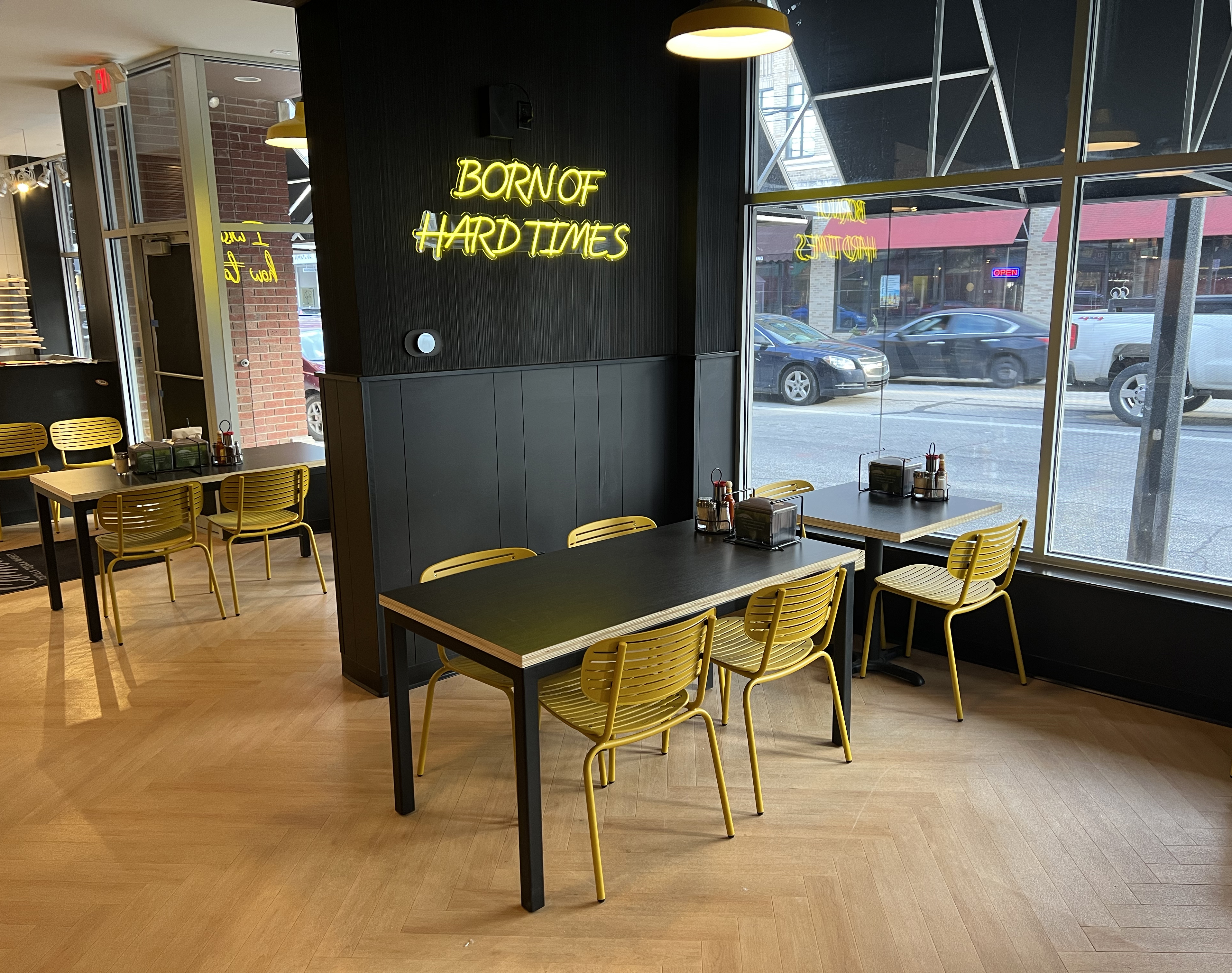 The Space
Boom's Pizza lives in a 2,200-square-foot building on Detroit Avenue that was formerly home to Campbell's Sweets Factory. The 44-seat dining room boasts booths and tables, counter service and a black-and-yellow color scheme designed by Muse HQ, a marketing agency founded by Bebenroth's wife, Jackie. A curated playlist and a neon light depiction of a Brokeback Mountain quote and the restaurant's motto, "Born of Hard Times," set a vibe. While you grab beverages and snacks from a cooler, sneak a peek into the open kitchen where pies are going in and out of the oven. "Pizza is a quick, neighborhood decision," says Bebenroth. "This is not a longform dining destination."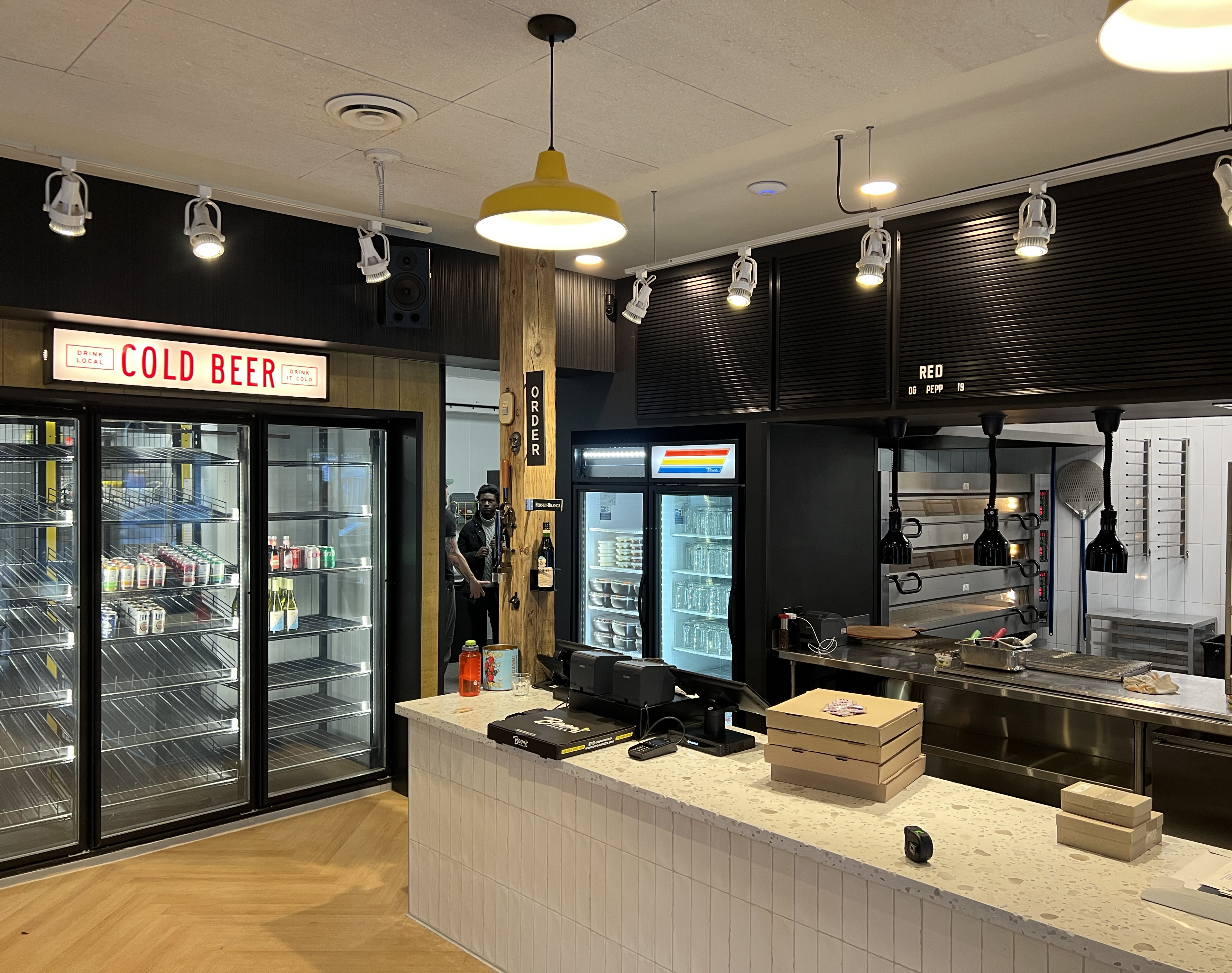 The Drinks
The beverage list of more than 70 options takes a similar philosophy to the food: elevated but casual and convenient. Pour your beer, sold individually or in a build-your-own six pack, into a frozen mug. Enjoy the list of more than 15 natural wines in red, white and bubbles; canned cocktails and seltzers; or non-alcoholic options, like zero-proof beers and CBD sodas. For the everyman, Hamm's and High Lifes.
The Food
Bebenroth and his business partner Jonathan Bennett, formerly of Moxie and Red, the Steakhouse, spent two years researching and developing its sourdough crust. The chefs tested more than 150 different variations, attended the International Pizza Expo in Las Vegas to workshop their dough and took advice from some of the world's best pizza chefs. The result is a sourdough crust — thin but not Neapolitan thin — that is fermented for three days before being cooked in a 600-degree deck oven for six minutes. "JB is a freaking mad scientist," Bebenroth says of his business partner. Topping the dough is a lineup of American-made toppings, such as Bianco DiNapoli Organic Tomatoes, California olive oil and pepperoni from Ezzo Sausage Co. in Columbus. Non-meat eaters may find a new favorite in Boom's vegan pepperoni. In the cooler, snacks include antipasto, whipped ricotta with pepper jam and marinated bucatini mozzarella with calabrian chilies. "Simple stuff. Straightforward. Big flavors," he says. "But not a lot of fuss."
Get to know Ben Bebenroth, who is also the farmer behind Spice Acres, in our recent profile of the chef.
Bite into the Cleveland dining scene by signing up for our free weekly CLE Food & Drink newsletter — your guide to food and drink throughout The Land. Arriving in your inbox every week, this coverage fills you in on everything from mocktails to shareable plates — and more. Click here to subscribe.