Chef and restaurateur Ben Bebenroth could see the restaurant industry's future — and it looked bleak.
This was February 2020, and though a pandemic was consuming Asia and even Europe, most Americans hadn't even heard of it. But Bebenroth, a former Marine, was getting dispatches from family members in the military and across the world. As he prepared for the worst, his employees thought he'd become some sort of doomsday prepper.
"They were feeding me information from all over the world," says Bebenroth. "Way before we had any idea of what was going to happen in the United States, I was preparing my team for this level of disruption."
On March 16, 2020, mere hours into the pandemic shutdown, Bebenroth closed his acclaimed Gordon Square restaurant Spice Kitchen & Bar, which had opened eight years earlier. It was the first major Cleveland restaurant taken by the pandemic, though certainly not the last. You missed out if you didn't get a taste of his creative, hyper-local and often-foraged dishes. Luckily, you can still see his restaurant's influence on menus across Cleveland — especially any that are focused on using vegetables in innovative ways or that claim farm-to-table practices.
He told stories on the plate, and those tales were delicious. But they were not always efficient or profitable.
"Running a sustainable food business was the least sustainable thing I've ever done," he says. "It was 90 hours a week to lose $90,000 a year."
After the restaurant closed, Bebenroth's focus turned to Spice Catering Co. Though events slowed down, the business survived thanks to partnerships with dozens of wedding venues, including next-door neighbor Gordon Green, and innovative outdoor and virtual events that called for boxed lunches. Plus, the margins are much better in catering since there is no food waste: You know exactly how much product you need.
Bebenroth also ramped up work at Spice Acres, his 13-acre farm in Brecksville. Meanwhile, his Spice Field Kitchen, a hands-on farm tour and food-prep class with a 501(c)(3) designation in Cleveland became incredibly of the moment with supply chain uncertainties and the trend toward sowing your garden, literally and metaphorically. Over the past three years, Bebenroth's crew has even extolled the virtues of gardening, agriculture and nutrition to more than 5,000 local students through partnerships with eight schools.
"We're trying to create an environment where kids are open to trying vegetables and fruits and connecting them with the source of nutrition, which is healthy soil," he says. "A lot of these kids just don't have access to this stuff, and then that's how we end up with all these really high rates of dietary-related diseases in the region."
But in the background, Bebenroth was working on a new project, one that carries the tradition of Spice but is hopefully much kinder to the bottom line. The kind of business that offers quality and scalability, not artistry at the expense of profitability. That's how he settled on pizza.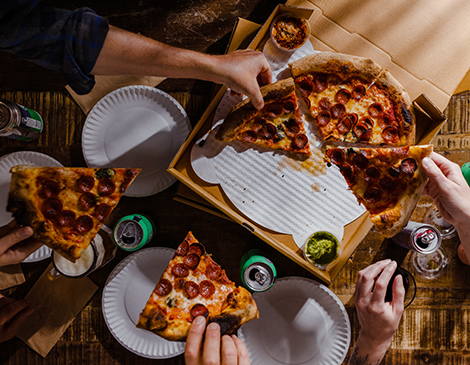 Opening Jan. 24 in Lakewood, Boom's Pizza turns that beloved grab-a-pie culture on its head. The 40-seat pizzeria occupies the former Campbell's Sweets Factory, which sits on the corner of Detroit Avenue and Warren Road next to the flagship Melt Bar & Grilled. That's not an accident. Bebenroth sees chef Matt Fish's local-grown grilled cheese chain and its 11 locations as inspiration. And while he gives boutique spots like Cent's Pizza and Citizen Pie their props, Bebenroth is thinking more along the lines of regional chains like the 24-location Dewey's Pizza, which is famous for its "people-focused approach," he says.
"Five stores in five years; that's the goal," says Benbenroth. "Once we have five running profitably (in Northeast Ohio), we can get to Columbus. Then that will be the jumping-off point where we can go further if we want to."
Trade publication PMQ Pizza Magazine's annual Pizza Power Report — yes, we're also wondering why you're still reading this magazine now that you know that exists — found that pizza restaurants barely saw a dip from October 2019 to September 2020. The following fiscal year, sales for independent pizzerias went up by more than half a percentage, as did the total number of independent pizzerias. Recession-proof and pandemic-proof, pizza is a $46.9 billion business and makes up 9.5% of restaurant sales. Take that, and add in a busy corner of Lakewood, which sees 20,000 passing cars a day and sits near 250,000 high-income residents within five miles, says Bebenroth.
Yep, the foraging farmer chef is thinking a little differently now.
"If you want to make a big impact in food, you have to sell what sells," he says. "Pizza is the largest food group ever bought out of the home. And man, I love pizza."
The concept is built around a fairly concise menu of 12 pies, two salads, 30 beers, 10 wines and Klondike bars for dessert. The pizzas range from a traditional cheese pizza to a sausage with oven-roasted banana peppers and a 'za with kale and dates. A dedication to entirely American ingredients means Bianco DiNapoli Organic Tomatoes, California olive oil and pepperoni from Ezzo Sausage Co. in Columbus.
"It's a simple pizza joint where you can just grab a bottle of wine and sit and eat, or grab a six-pack for the road and head home," Bebenroth says. "We found that 60% of pizza sales (nationally) are delco (delivery and carry-out), so we've got 15-minute spots on the side of the building for pickup and DoorDash."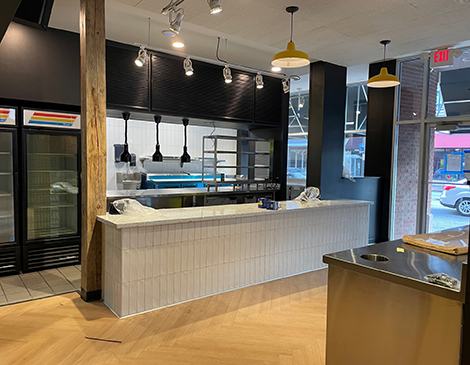 A good crust is the truest signifier of greatness in the pizza world, which is why Bebenroth and business partner Jonathon Bennett (who formerly led kitchens such as Moxie and Red, the Steakhouse) spent two years developing theirs. Boom's dough is crispy with an aerated crust thanks to slow, cold fermentation. Once that process is through, Boom's dough can wait another three days before it's tossed in the oven. Most pizzerias' dough must be cooked the same day. Innovations like this make Bennett a "mad scientist," Bebenroth says.
"JB always reminds me that we need to make sure the customer can taste the effort," says Bebenroth. "Spice was very prideful and good for the local economy and environment, but the customer couldn't necessarily taste all that."
Born of hard times, as its motto goes, Boom's Pizza was named after Bebenroth's grandfather, Carl. Bebenroth might've faced the pandemic, but the real "Boom" fought in World War II, survived the Great Depression and somehow raised four kids, along with his wife, Rita, as a union electrician in an 800-square-foot house in Parma. Yet, Booms saved enough money in his lifetime to surprise his family with a large investment portfolio when he died. That smarter-not-harder approach is fueling Bebenroth's next chapter.
"Now's the time in my life to build wealth," he says. "Not necessarily because I like money, but so I can do more good."
But despite all the boardroom talk, the artist must be there somewhere. Right?
"I've kind of transitioned from being this super ingredient-driven, uber-creative, 'what can we find in the woods and ferment, and then tell a 15-minute story about' person. That's a really ego-driven place to be. I feel like it's wrong to expect an employee base to succeed in an environment that the customer doesn't necessarily want to be a part of," he says. "Time is the new currency. Our clientele is almost allergic to longform dining. They don't want to hear a f—ing story. They don't want to wait 10 minutes for the waiter to quit tripping over their notebook so they can order a cocktail. They want a quick bite. There aren't enough anniversaries and birthdays in this city. But pizza night happens every night."
So yes, these days, the man who once described his approach to Cleveland Magazine as a balance between "creativity and catastrophe," is talking much more about demographics and scalability than tweezers and garnishes. But there's something about a pandemic that can change a man and an industry.
That's why Bebenroth thinks more restaurateurs should follow in his footsteps. He's desperate to see the industry innovate, especially in the face of challenges like global food shortages caused by climate change and conflict.
"The dust has not settled," he says. "We need to lean into local sourcing and start innovating around these topics."
Don't forget, he's been prophetic before.
Bite into the Cleveland dining scene by signing up for our free weekly CLE Food & Drink newsletter — your guide to food and drink throughout The Land. Arriving in your inbox every week, this coverage fills you in on everything from mocktails to shareable plates — and more. Click here to subscribe.