The wine tells a story at Pearl Street Wine Market & Cafe.
Stocked in a floor-to-ceiling shelving unit in the retail space, or poured into glasses out of 12 draft taps in the main bar area, the shop's unique options highlight small growers and vineyards in the United States and Europe.
The selections, carefully made by Pearl Street owners Karen Small and Jill Davis, include natural wines from experimental farms — ones that practice regenerative techniques, or use indigenous yeasts, or focus on keeping sulfur out of their bottles. The main idea around most of these wines is low intervention, says Davis, who also runs Toast in Cleveland's Gordon Square neighborhood.
"We've been interested in this because, just like in our approach to food, which is low intervention, basically this is how we think wine should be made," Davis says. "I'm really proud of our collection and our selection. We source from these smaller family producers and end up with a lot of really funky, cool, tasty stuff."
"It just creates a more interesting wine; it doesn't create a one-dimensional wine that's kind of every day," adds Small, who also owns Juneberry, a cafe and restaurant in Ohio City. "They're not what you find in the Heinen's or in a lot of the beverage stores in town. They deserve to take the spotlight, I think, and let the food support what they do."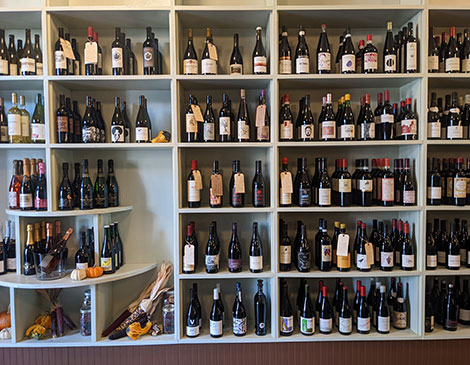 That's a shift for Small, who formerly operated the Flying Fig out of Pearl Street Wine Market & Cafe's space at 2523 Market Ave. Earlier this year, Small decided to close the spot and pivot away from the former farm-to-table fine dining establishment after more than two decades of operation.
At the time, Small and Davis were already discussing a wine shop concept, looking for spaces in Hingetown.
"The idea was still there for a wine shop, but this kind of evolved out of the fact that I was burnt out," Small says. "This place (Flying Fig) was going to be something different, or close. One or the other. That's where I was at with it. I didn't want to do it anymore."
"Karen really wanted to shift the focus away from fine-dining with the Fig," Davis says. "She said, 'Well, we can use this space.' I think, now, peoples' dining habits are quite a bit different. I think there's less emphasis on fine-dining situations, and more on someplace where you can meet up with friends; something that's going to generate a community feeling."
That feeling is emphasized by Pearl Street Wine Market & Cafe's design. Unlike the Flying Fig's cavernous dining area, Pearl Street is bright, airy and cozy, closing off a back party room and opening the entryway between the market space and restaurant with a lunch-focused bar space to the side. Designer Chris Shimp led the concept, focusing on a vintage, mid-century modern vibe with vintage French elements, evoking a French cafe. He also reconfigured the space and lost a bathroom in the process.
"I used to work in restaurants and manage restaurants and bartend, and I was always resigning the backs of bars for more efficiency bartending," Shimp says. "When I got back into construction, I had some useful knowledge of traffic flow in these spaces."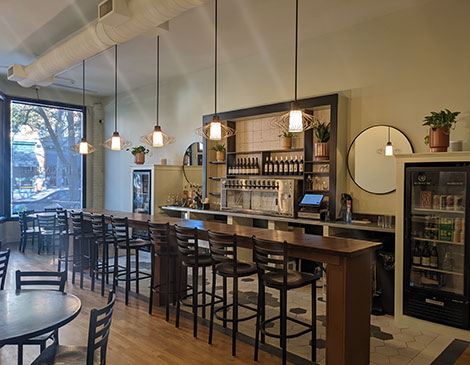 Small still plays a role with the dining menu, though she says it's a limited one. ("I'm not necessarily going to be in the kitchen a lot anymore," she says. "It's time to transition out of that.")
Expect hyperlocal dishes, changing with the seasons. To start, Pearl Street Wine Market & Cafe will offer bites that include a steak frites dish ($28), pork meatballs with gremolata ($19), house-made sauerkraut balls ($10), a lamb burger ($19), handmade pasta ($20) and end-of-the-season vegetables ($8-$12). Dishes compliment wine pours, available for $8-$11 a glass, and Cruvinet selections, ranging from $3 for a taste to $30 for a glass.
The limited dining menu shows a big change for Small and Davis, as they're in the midst of a changing Ohio City landscape. The neighborhood has seen a new influx of residents thanks to the new Intro building, and new dining and entertainment options have rapidly popped up along the nearby West 25th St.
Tucked away on Market Avenue's brick road, Pearl Street Wine Market & Cafe stands in contrast to the glitz and glam of some of the newer concepts.
"I feel like we're a little bit isolated on this street. The intention at City Hall is to close down the street completely and turn it into a pedestrian walkway next summer," Small says. "I think we're kind of like the old village over here; 25th just blows my mind, what's going on between Lorain and Detroit. Growth is good. Don't get me wrong. It's explosive and I hope it's managed carefully as we go forward."
The times are changing in Ohio City, and that's seen in Pearl Street Market & Cafe's 2022 transformation. As the eatery's renovation process wrapped up, Small said she was feeling less burnt out than she did at the Flying Fig's end, and more positive for the future.
"I'm very hopeful that this is something different in the neighborhood," Small says. "It's not really a restaurant, it's not really a wine bar, but it's something that's a little bit different. I'm feeling optimistic, and I'm feeling excited."
The market, bar and restaurant opens on Friday, Nov. 18 for dinner service, and starting Dec. 2, the market-side bar will open for lunch service, too. Visit pearlstreetcle.com for more information about the concept.
Get ahead of the weekend by signing up for our free weekly "In the CLE" newsletter — your guide to fun throughout The Land. Arriving in your inbox every Wednesday, this weekend to-do list fills you in on everything from concerts to museum exhibits — and more. Click here to subscribe.