The new and improved La Cave Du Vin will replace The Spotted Owl at 900 Literary Road, Tremont, under the original La Cave Du Vin owner Erich Lasher and The Spotted Owl founder Will Hollingsworth.
After wrapping its best year in revenue and profit, Hollingsworth says he grew bored with cocktails and believes his company is in the right place to make changes. This led him to wine.
"We're bored with cocktails, and we want to sell wine," Hollingsworth says. "We want to talk about wine, we want to get people excited about wine. And La Cave was always the coolest place in Cleveland to drink wine."
The original La Cave Du Vin, colloquially known as "La Cave" was a famed Coventry bar which closed down in 2018. Now the name is coming back for the revamped space, and is set to be incorporated into Hollingsworth's hospitality group Buildings and Food. Lasher, his business partner in action and dearest friend, could not be more excited.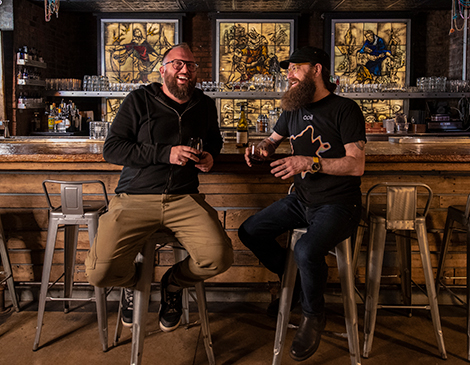 (Photo courtesy Heidi M. Rolf)
"All I have wanted since we closed was to capture that magic again and make a place where folks can come in and feel that love," Lasher says. "I've had lots of offers over the years, but it never felt right. Then Will brought up the idea of resurrecting it. It took me all of two seconds to say yes."
For The Spotted Owl lovers, the bar is not going away forever. It will return to Tremont on the second floor of 900 Literary when La Cave Du Vin is completed.
"The Spotted Owl will return; it's too important to us," Lasher says. "But for a while, just think of it as an Obi-Wan Kenobi force-ghost. It'll be with you, always."
Bite into the Cleveland dining scene by signing up for our free weekly CLE Food & Drink newsletter — your guide to food and drink throughout The Land. Arriving in your inbox every week, this coverage fills you in on everything from mocktails to shareable plates — and more. Click here to subscribe.