At first sight, it's almost easy to get distracted by the "+ Goods" side of Cent's Pizza — be it by the exotic variety of colorful Gueyu Mar fish tins and imported natural wines to your left, or the collection of boho New York streetwear and literature to your right.
But "almost" is the operative word here, because the aroma of rich cheeses and cured meats emanating from chef-owner Vincent Morelli's kitchen smacks sense into you quickly. You're here for pizza.
Or maybe you aren't, instead driven to consider Cent's compelling small plates. Despite the restaurant's label of "snack," you'll fill up on stracciatella ($10), a savory, stringy mozzarella bathing in heavy cream and extra virgin olive oil, which pairs perfectly with the Wonder Bread ($8), puffy and shreddable after a pass through the wood-fire oven. If you're getting down to business, the Cherry Pie ($20) doesn't disappoint with its mix of sweet — ricotta cheese and Luxardo cherries — and salty hot soppressata.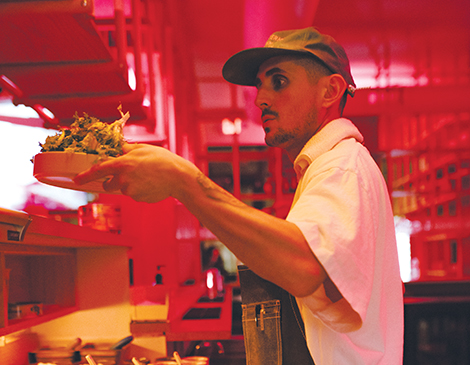 Whichever menu route you choose, expect a communal experience where dining doesn't step on a good time.
"All the things I grew up eating in an Italian family, like olives, cured meats and stuff, was always present at every family occasion," Morelli says. "When people would show up, that stuff was all out to pick at until the pasta was ready. I've tried to keep it loose and not have anything that was gonna keep anyone preoccupied while they're hanging out."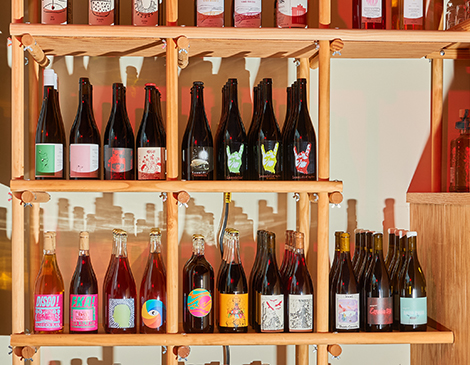 The influences seeping into the fabric of Morelli's young business aren't solely familial. The business's wholesale operation stocks clothes, snacks and books that are hard to find anywhere else in Cleveland, an eclectic mix that reflects one of Morelli's other passions: fashion.
On the path to completing Kent State University's fashion merchandising program, Morelli began working for New York streetwear company 10 Deep Clothing, where he parlayed a summer internship into a six-year stint as a production and product development coordinator.
Calling his time with the brand a "high stress, high intensity" period that didn't satisfy his desire to contribute to the creative side of fashion, Morelli found solace in entertaining friends and hosting dinner parties, gravitating toward serving ingredients with unique product packaging that caught his eye. This newfound hobby would eventually spur the blueprint for Cent's.
"The idea originally was to open a grocery/deli kind of spot that would incorporate home goods and fashion items — not necessarily clothing but accessories," Morelli says. "Little things that would be part of the lifestyle of somebody who would want to shop at that store."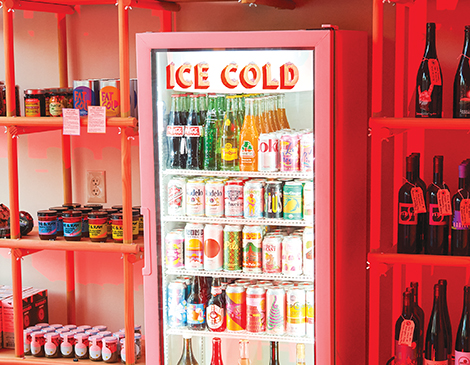 The shop's contribution to Cent's business ecosystem is small, but it's all good. No, really — the "+ Goods" styling of the company's official name is less of a throwaway tagline than a master plan.
Currently, this branding is mainly noticed at the back of the restaurant, where the door to the outdoor patio reads "Good Garden."
Morelli plans to expand into the owned property next door, which will house the "Good Deli." He'll also relocate the shop, likely to keep the "+ Goods" moniker, to a different location on the property.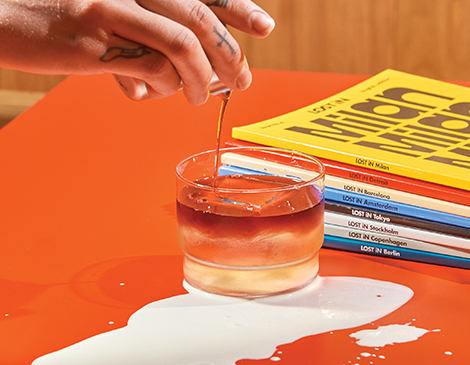 "That's a lot of streetwear brands' common goal — to have a clothing brand that can do other things," Morelli says. "To have a fashion store paired with a restaurant or coffee shop, it's very lifestyle-driven and where fashion is going."
Until those plans come to fruition, the stylish charm of the Cent's brand is in its atmosphere. Colorful strobe lights bounce off of original "Cent's-centric" art in the backroom, while Fear and Loathing in Las Vegas entertains on a projector up front. The sound mixer at the center of the shop mainly handles each evening's playlists, but it's not unheard of for artists passing through the city to take over and host late-night dance parties.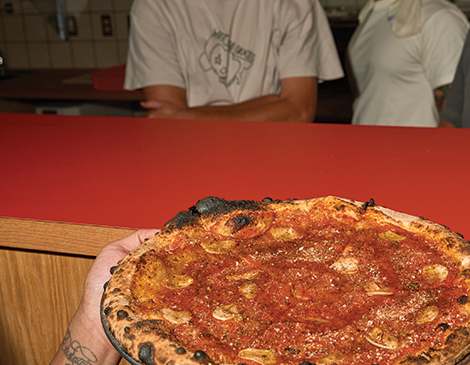 Morelli's making moves to keep his business fresh. For now, that means promoting a sous chef to share kitchen duties, freeing the owner's time for things like planning the company's expansion. In staking its claim as the neighborhood's trendiest pizzeria, Cent's shows no signs of slowing down any time soon. centspizza.com
Explore more of Cleveland's 34 Best Restaurants, meet the chefs behind them and check out this year's reader-voted Silver Spoon award winners.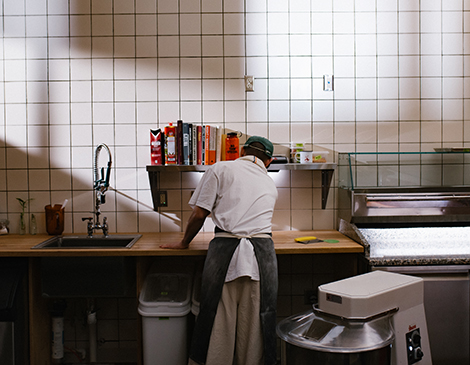 Bite into the Cleveland dining scene by signing up for our free weekly CLE Food & Drink newsletter — your guide to food and drink throughout The Land. Arriving in your inbox every week, this coverage fills you in on everything from mocktails to shareable plates — and more. Click here to subscribe.