In Cleveland, weekend mornings are for brunch — long lines of customers waiting for tables at packed restaurants, for servings of pancakes and avocado toasts and bloody marys and mimosas.

A relative newcomer to the scene arrived in April 2022 in the form of Juneberry Table. It only took a year for the Karen Small-owned spot to quickly skyrocket to becoming one of the most talked-about breakfast-brunch spots in town.

So, yes: Be prepared for that long line.
On a Saturday in March, we killed a solid 55 minutes for two spots at the bar. Later, those times lengthened; new customers signed up for hour or two-hour waits.
But to be abundantly clear, the wait is well worth it.
Here, chef-owner Small draws on her earliest inspirations from her first professional experiences cooking and learning to preserve, butcher and homestead in Southern Ohio, in the foothills of Appalachia.
"They grew their own food, preserved their own food, used what was locally sourced or grown," Small says. "It influenced my cooking early on. I think the simplicity of what we do there, using products that are almost strictly Ohio-based, is where the menu developed from."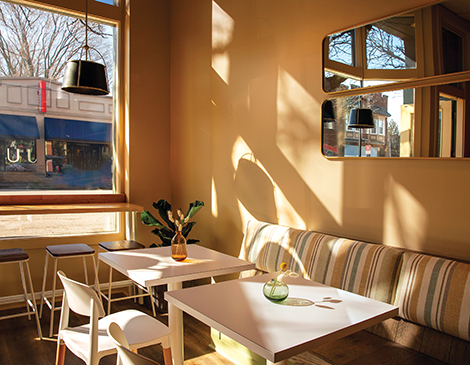 But how did Small, who became best-known in Cleveland for her 23 years in fine-dining, primarily at the Flying Fig, make the switch to breakfast sandwiches and biscuits and gravy?
It turns out it wasn't that big of a departure; it was more of a homecoming.
"I had a breakfast restaurant years and years ago outside Chagrin Falls, and it's full-circle back to that," Small says. "It was truly one of the ways that I really started making what I did in the kitchen my own. Even though it evolved into fine dining and dinner, it was always there."
You'll find that ethos in Juneberry's elevated, yet back-to-basics menu — and you'll find it from the very first bite of a buttery, fluffy-yet-crunchy cheddar and chive biscuit ($4). Don't save the fellow must-try salted honey pie ($7.50) for dessert; the creation from local baker Annabella Andricks (Dramatic Snax) holds all the best caramelized flavors from a pecan pie, replacing the corn syrup base with a light, creamy filling.
A careful menu of natural wines meets a slim selection of basic cocktails named after their hues. The spicy Red ($10) is a classic bloody mary, topped with two olives, and the sweet Pink ($11) is a light take on a blizzard, perfect for sipping alongside the restaurant's filling fare.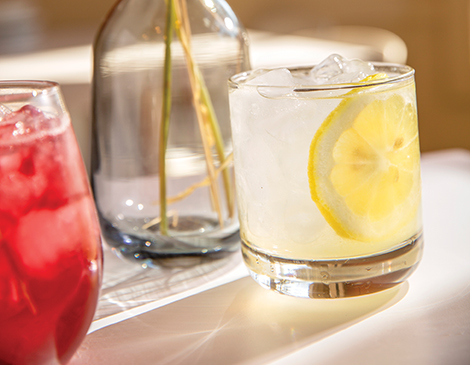 A true marker of excellence at any breakfast-focused restaurant is its breakfast sandwich, and Juneberry's version of the classic ($12) is wonderful in its simplicity. A light spread of house-made "comeback" sauce and a hint of sweetness from a few thick slices of sorghum bacon add small flavorful undertones to the cheddar egg and fluffy bun.
Another marker of a solid brunch spot comes in the form of Juneberry's diner burger ($14). We recommend splurging an extra $2 for an egg on top; a runny yolk paired with jammy caramelized onions and a juicy patty makes for an ensemble fitting for either a brunch or lunch meal.
For a less carby option, the salad bowl ($14) still gives a breakfast nod with slices of glazed bacon, lending the mix a sweet-salty kick. Vegetarians can find a packed-with-flavor harissa-spiced eggplant sandwich ($14), topped with sun-dried tomatoes between two slices of za'atar focaccia.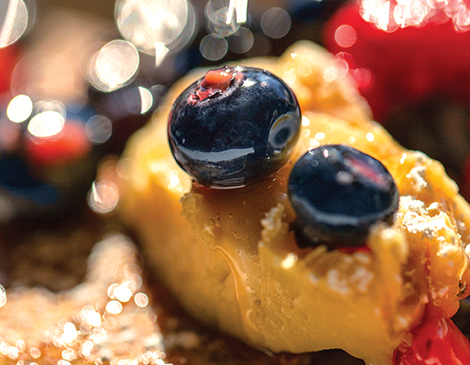 Sunlight fills the small restaurant's floor-to-ceiling front window, as diners toss down their napkins, slurp up the last few sips of coffee, and cycle out for a new batch of ever-present hungry customers in a line that — though, yes, lengthy — has found efficient service in the year that Juneberry's been open.
That year of success follows years of uncertainty, of coronavirus lockdowns and pandemic-related restaurant restrictions and supply shortages; all the curveballs a small business must face these days. But after confronting all that, Small has managed to find a neighborhood and a city warmly embracing her spot on this developing stretch of Lorain Avenue in Ohio City.
"Something kept me from giving up on it. It would have been easy to walk away from it," Small says. "I find after years of doing fine dining and really loving it, that it's just time, at least for me, for a more relaxed approach to food."
"I wanted things to be a little bit simpler," she adds, "and Juneberry is a result of that." juneberrycle.com
Explore more of Cleveland's 34 Best Restaurants, meet the chefs behind them and check out this year's reader-voted Silver Spoon award winners.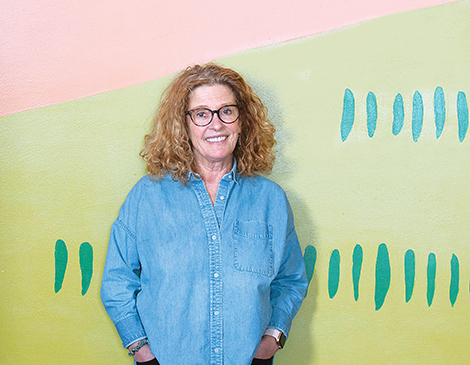 Bite into the Cleveland dining scene by signing up for our free weekly CLE Food & Drink newsletter — your guide to food and drink throughout The Land. Arriving in your inbox every week, this coverage fills you in on everything from mocktails to shareable plates — and more. Click here to subscribe.