Rocket Mortgage FieldHouse is more than just a basketball court, particularly after its $185 million dollar renovation completed in September 2019. The project, funded by both the Cavs and local taxes, updated spaces and interior design, added new tech features and forged fan experiences unlike any other.
However, its grand opening season — it turned out — wasn't so grand. Just five months after the transformed venue opened its doors to the public, the pandemic closed them. In March 2020, COVID-19's spread forced the NBA to pause its season, led to major concert tour cancellations and put the FieldHouse's grand welcome on hold — until now.
"Really, this is the first normal cycle we've had as a business. We have a lot of people who are still coming out to Rocket Mortgage for the first time since the transformation," says Nic Barlage, the CEO of the Cavaliers, Rock Entertainment Group and Rocket Mortgage FieldHouse.
So, we collected plenty of reasons to get excited about the Cavs this year, and even more reasons to get excited about visiting this Cleveland hotspot for a game, a show, a dining experience or a downtown outing.
1. First, Ticket Deals
Find the best ticket deals, but be cautious of ticket resale websites and scams. The team hosts several bundles, like the family fun pack and group discounts, and ticket offers like student passes and discounts for military members and first-responders. If you don't mind waiting until the last minute to buy a ticket to the game, there's a deal for that, too. Find more details at nba.com/cavaliers/offers.
2. LeBron James Returns Home
Gulp! King James returns with the Lakers on Dec. 6. The kid from Akron is 17-1 against the Cavs in his career and averages nearly 30 points per game. But this will be the first time he faces the Cavs' revamped lineup and Donovan Mitchell.
3. Giannis Antetokounmpo Hits the Court
One of the NBA's most dynamic players visits Cleveland right before Christmas.
Antetokounmpo and the Bucks face the Cavs on Dec. 21 and provide a super test for the Cavs' strong front court of Evan Mobley and Jarrett Allen.
4. Christmas Brings KD And Nets
On Dec. 26, Kevin Durant and the Brooklyn Nets are in town. They were supposed to be the next super team, but things have gone sideways so far. The feeling around the league is Christmas is when the season really gets started.
5. A Chance to Measure Up
Did you know that iconic shooter Steph Curry was born in the same Akron hospital as LeBron James? The other kid from Akron brings his Golden State Warriors to Cleveland on Jan. 20. Playing the defending NBA Champs near the midpoint of the season will be a good time to see how well the young Cavs team is meshing together as they try to make a late season run.
6. One Last Game (Before the Playoffs, That Is)
The home season began with the Wizards and ends with the Hornets on April 9. By this point, if things go as most predict, the Cavs should be preparing for the playoffs.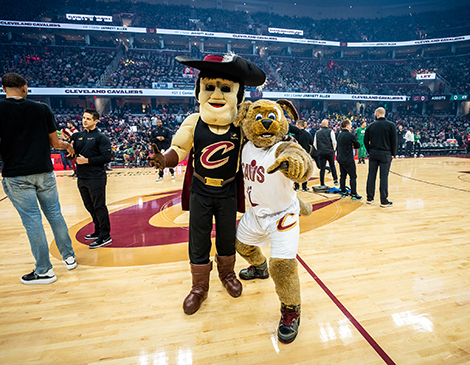 (Photo courtesy Cleveland Cavaliers)
7. Moondog and Sir CC
The Cavs' two mascots appeal to different parts of Cleveland and the Cavaliers' histories — and both have amped up generations of Clevelanders while they're cheering on the team.
Sir CC has been around since the team formed in 1970, making him a true Cleveland legend at this point. Sir's costume has changed slightly over the decades, but his cape, feathered cap and dimpled chin continue to be a welcome sight for fans.
Moondog is a more recent addition, joining Cleveland's mascot family in 2003. The Cavs' lovable canine companion got his name from Alan Freed, a Cleveland radio disc jockey who popularized the term "rock 'n' roll" (Freed famously nicknamed himself Moondog and hosted the first-ever rock concert, the Moondog Coronation Ball, in 1952).
8. Freebies and Giveaways
Score coveted bobblehead versions of Donovan Mitchell and Ricky Rubio in March, two of the biggest giveaways of the season. Other freebies will share your love of the Cavs, too: rally towels, beanies, bags, pint glasses and more.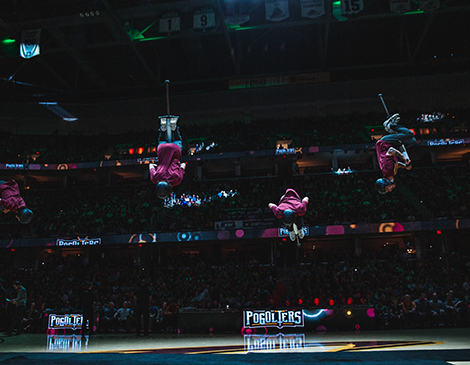 (Photo courtesy Cleveland Cavaliers)
9. In-Game Entertainment
Athleticism and entertainment aren't limited to players during a game. Performers appear during timeouts and game breaks, showcasing top-notch shows by the soaring Slam Squad dunk team, the extreme pogo stick group Pogoliers, bucket drummers 216Stix and the hip-hop dance crew Scream Team. Find more information at nba.com/cavaliers/entertainment.
10. Sports Betting
As of Jan. 1, sports betting becomes legal in Ohio, and you'll be able to pick winners, losers, overs and unders at Rocket Mortgage FieldHouse. Caesars Sportsbook (a more than 10,000 square-foot, multi-level facility) is set to open soon near the Sherwin-Williams entrance to the arena in early January, Barlage says. "We're very excited about that and we think that's got a lot of layers of opportunity for us as a business and as a brand," Barlage says. "We're constantly thinking about, 'How do we evolve? How do we do things differently? How do we think of what the next generation is going to want, those Cavaliers fans, here at Rocket Mortgage FieldHouse?'"
11. Hearing Sean Peebles, Cavs PA Announcer:
You've heard Sean Peebles' energetic voice if you've been to a Cavs home game in the past five years. The team's PA announcer was hired in 2017. Here's a bit of what Peebles has to say about his job and his love of the Cavs:
What's the job like?
I prepare days in advance, knowing who's coming into town. I take a look at the incoming rosters and also get an idea of who [the] projected starters would be and any potential people that would be inactive. I get to Cleveland a few hours before game time. We have production meetings three hours before games, and any types of extra rehearsals or run-throughs.
How long have you been a Cavs fan?
My mom and stepdad took me and my brother to games when we were younger. I'd never had a chance to experience live sports up until then, and we went to the Coliseum and I remember the crowd, the game, the sound, the presentation — everything was a little different back in the '80s but nonetheless it was a professional sporting event I immediately fell in love with. To this day Mark Price is my all-time favorite basketball player, period. I was blessed and humbled that I was the one who made it to the finish line to become part of the Cavs family here as an announcer.
What are you excited about this season?
With everything that has transpired in regards to the drafts and trades over the past couple of years, you can't help but be excited. Everywhere you look in the basketball world in regards to social media, people are talking about Cleveland. That's great.
(Photo courtesy Cleveland Cavaliers)
12. Selfies in the Power Portal
The renovation of Rocket Mortgage FieldHouse added a lot of bells and whistles to the typical fan experience inside the arena. That's very apparent when one steps foot into the Power Portal, an immersive tunnel of LED screens that showcases video and audio in an entryway to the arena. It's the perfect spot to snap a pic or video before the game.
"It's the first of its kind," Barlage says. "It's a fully immersive audio-visual fan walkway; there's no other arena in the world that we've seen that has a similar execution to it."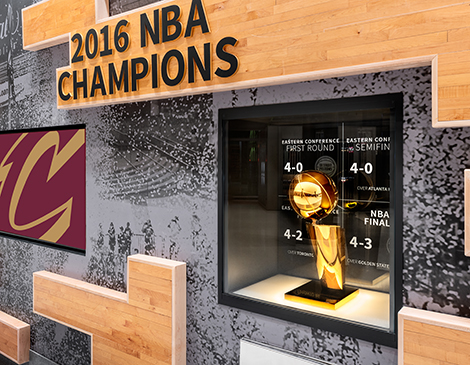 (Photo courtesy Cleveland Cavaliers)
13. To remember, always, that the Warriors blew a 3-1 lead
The Cavs' 2016 Champion status is all over Rocket Mortgage FieldHouse — as it should be. Check out a replica of the Larry O'Brien trophy and 2016 Championship ring on display in the lobby, along with a creative use of the 2016 basketball court floor in the arena's renovated atrium wall.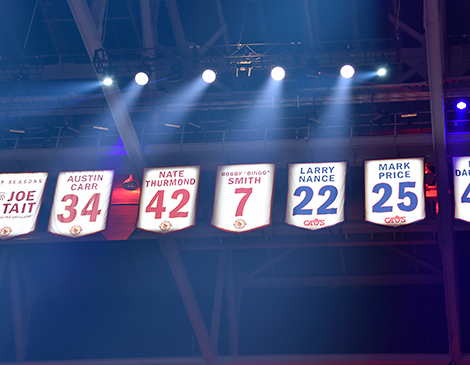 (Photo courtesy Cleveland Cavaliers)
14. Look Up
Don't just watch on the court. Banners in the rafters recall history from the 2016 Championship to seven retired numbers: Bingo Smith (7), Zydrunas Ilgauskas (11), Larry Nance Sr. (22), Mark Price (25), Austin Carr (34), Nate Thurmond (42) and Brad Daugherty (43).
15. Local Food Options
Get a taste of Cleveland's dining scene while at Rocket Mortgage FieldHouse. The arena offers concepts by Cleveland natives and local restaurateurs alike, featuring Symon's Burger Joint, P St Market Cafe, Pearl's Kitchen, Sauce the City, Brewdog and more.
"I just think it's a fantastic opportunity for everybody to be in a public space and be able to access restaurants and the food they've been doing in one spot, or several restaurants in one spot," says Karen Small, the owner of P St Market Cafe. "I think it's very supportive of the community."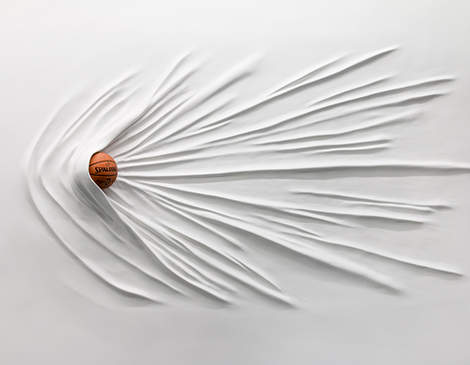 (Photo Courtesy Daniel Arsham)
16. Arena Art
You might not expect it, but walking through the FieldHouse is a little bit like walking through an art gallery. More than 100 pieces of art by 22 artists, curated by Detroit's Library Street Collective, were funded by Cavs chairman Dan Gilbert and his wife, Jennifer.
Sculpture by KAWS
This towering 20-foot sculpture of a cartoon character is located in the atrium, where 60% of fans for any given Rocket Mortgage FieldHouse event enter, Barlage says.
Immersive works by Sam Friedman and Thrush Holmes
Zaps of color and swervy lights make for a bold escalator ride inside the arena, taking visitors from the street level to Loudville. "We tried to take places that were maybe more of a normal fan experience, or even a mundane fan experience, and transform it into more of an experience for everybody to enjoy," Barlage says.
Basketball installation by Daniel Arsham
Daniel Arsham, the creative director for the Cleveland Cavaliers, contributed a stunning sports-themed work to the FieldHouse, featuring a basketball embedded into a rippling wall.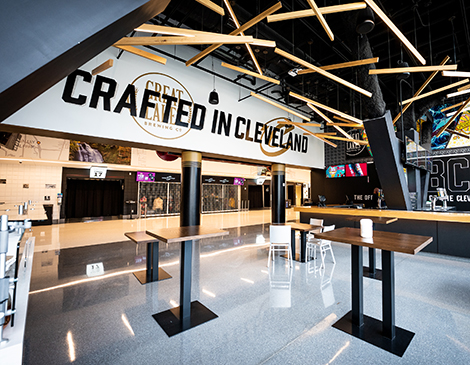 (Photo courtesy Cleveland Cavaliers)
17. Great Lakes Experience
Beer connoisseurs can enjoy a variety of drinks at Rocket Mortgage FieldHouse, especially at the Great Lakes Experience — a new partnership between the iconic local brewery and the arena. That partnership has created the 1,500 square-foot taproom with a sports bar, featuring GLBC standards on tap along with a rotating selection of brews exclusive to the FieldHouse.
"The Cavs' winning and historic legacy is something we're especially proud to align with," says Marissa DeSantis, GLBC's brand marketing manager.
18. Make other Rocket Mortgage FieldHouse Plans
The Cavs and Lake Erie Monsters might make up the bulk of the FieldHouse's winter programming, but the arena hosts plenty more fun moments, including major concerts, comedy shows, family-friendly performances and sports events. Plus, the arena has hosted plenty of smaller events and community-driven engagements like election polling and blood drives, says Carrie Samek, the director of event and media marketing at the fieldhouse.
"It doesn't matter what size your event is; we can figure it out," Samek says.
Besides the Cavs and Monsters games, here are six highlights on Rocket Mortgage FieldHouse's calendar:
Dec. 30: Trans-Siberian Orchestra
Jan. 6-15: Disney On Ice presents Frozen and Encanto
March 9-12: MAC basketball tournaments
April 5: Bruce Springsteen & The E Street Band
April 8: Bert Kreischer: Tops Off World Tour
May 16: Blink-182
19. East Fourth Street
Any time there's an event at Rocket Mortgage FieldHouse, the East Fourth Street District lights up — literally. The lively downtown Cleveland neighborhood, located just a couple of blocks away from RMFH, is one of the city's most vibrant dining hotspots, hosting top-notch eateries like Red, The Steakhouse, Society Lounge, Saigon, Mabel's BBQ and Indie. Whether you're craving pizza, sushi, pho, tacos, a cocktail or a pint of Guinness, you'll find something at East Fourth.
20. Date Night Destination
Couples, get ready to get caught on the kiss cam during the Monsters' Valentine's Day match against the Rochester Americans. Or, swing by the FieldHouse the night before to watch the Cavs take on the San Antonio Spurs. Just bring a box of chocolates or a bouquet of roses to complete these two sporty date ideas surrounding V-Day.
21. Busker Performances
Downtown Cleveland is a hotspot for music and performance, and it's not just confined to the venues and stages you'll find at Playhouse Square, House of Blues and the Rocket Mortgage FieldHouse. Recently, thanks to a Downtown Cleveland Alliance initiative, local musicians are able to more easily perform on downtown streets and parks in designated busking zones. One of those spots is located just across the street from RMFH — and there are more than a dozen others to check out, too. See the full map at downtowncleveland.com/busker.
22. Tower City Lights
Is there anything like stepping outside and seeing Tower City lit up wine and gold for the Cavs? The tower's chosen colors each night typically reflect events and awareness on a variety of topics. Follow @TowerLightsCLE on Twitter to learn more about downtown Cleveland nighttime landmark.
23. Donovan Mitchell
The superstar shooting guard had Cleveland fans chanting "MVP! MVP!" in his first three games. In this exclusive interview, he sits down with Kevin Love to chat about his MLB father, supportive mother, off-the-court faves and this team's similarities to the 2016 NBA Championship team.
We've got your weekend plans covered with our free weekly "In the CLE" newsletter — your guide to fun throughout The Land. Arriving in your inbox every Wednesday, this weekend to-do list fills you in on everything from concerts to museum exhibits — and more. Click here to subscribe.