Editor's Note: On Feb. 18, the Cleveland Cavaliers and Kevin Love agreed to part ways. We reflected on his legacy on and off the court.
For the first time this century, the Cavaliers are building an identity without LeBron James. It started slowly. First, the drafting of Darius Garland, a dynamic guard. Then a trade for Jarrett Allen, an immovable force near the basket. And then last year, the drafting of Evan Mobley, a 7-footer who can play anywhere on the court and might be the best defensive stopper this side of Myles Garrett.
The young group with veterans Kevin Love, Cedi Osman and Ricky Rubio surprised the NBA last season, getting off to a great start before injuries and attrition derailed what was looking like a playoff season.
Fast forward to this summer. Just before tipping off the 2022-23 season, the J.B. Bickerstaff-led team got a jolt by the name of Donovan Mitchell. General Manager Koby Altman called the move "perhaps the biggest trade in franchise history."
It didn't take long for fans to see why. The dynamic guard seems to jump out of the arena and score at will.
Cleveland is looking more like a basketball town: CavsTown, to be precise.
Donovan Mitchell oozes attitude with each dribble. There is a presence about him. At only 6-foot-1, he stealthily glides around and seemingly under opponents. But with a 6-foot-10 wingspan, he has no problem throwing it down in the face of much bigger players. He even won the Slam Dunk Contest in 2018, the year he was drafted. Both attributes — along with the ability to erupt any time, as he did for 57 and 51 points in the Utah Jazz's losing effort in the 2020 NBA Playoffs — helped this dynamo earn NBA All-Star status three times.
But off the court, Cleveland's newest acquisition is sharp, thoughtful and just a bit goofy. Kevin Love says Mitchell displays a laid-back style of leadership in the locker room and on the team's text group chat. In fact, fans are just as vocal about Love as an early Sixth Man of the Year candidate as they are in nominating Mitchell for MVP.
We asked Love, the team's longest-serving veteran, to let us in on a chat with Mitchell, the Cavs' newest gem.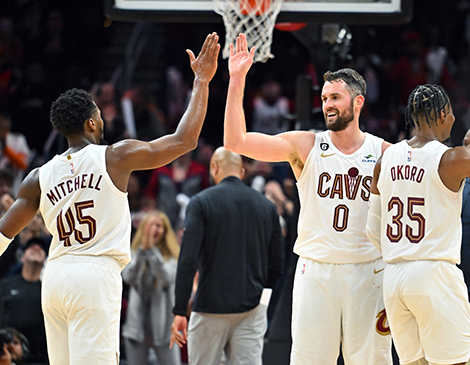 (Photo courtesy Getty Images)
Kevin Love: You've been here a month and a half. In the training room, we talk about celebrating the little wins. How do you feel about what we have going on here?
Donovan Mitchell: The biggest thing is we have guys that want to compete and get better on a daily basis. We fluctuate from old to young to right in between. Championship experience, guys who have been in the playoffs. When you combine that with a coaching staff and a front office that wants to find ways to succeed, man, you know, it's the perfect recipe.
KL: What were your goals coming into this year? I understand that you went from a good team, you had experience, as you mentioned. What year is this for you?
DM: Six
KL: You're finally becoming a vet, not a super vet, but a vet. What did you take from those experiences and impart on this team? I've already seen your leadership, the way that you speak to the team, whether it be before halftime or on the group chat; there's different forms of leadership. But what did you want to take from that and impart on this team?
DM:
Like you said, man, just be a leader. I've always been about 'lead by example,' but also by listening because you come from a certain team, and you do things a certain way, and then you come into a
different [organization], and I'm not
coming in here and saying, 'This is how things should be done.' I'm here to listen and understand and find ways to combine what I've learned versus what I'm
learning, and grow.
KL: How do you define success throughout the course of the season? Do you break it up? Do you focus on seeding? Home court? Or do you just try to stay as present as you possibly can? That's probably the two toughest things in life,
balance and staying present.
DM: Obviously the end goal every season is to be playing in June. That's the light at the end of the tunnel. So for me it's just, are we getting better day by day? Whether it's on the floor or in the training room, diet, recovery. Ultimately that will equate to wins if we stack it up properly. Because we have the talent. On paper, we look scary. But ultimately paper is meaningless. We have to go out there and do it on a daily basis. I kind of take it as a five- to 10-game thing. It's kind of like: Have we improved? You know, being able to fix those mistakes game by game because you can't have the same mistakes in October, November come January, February.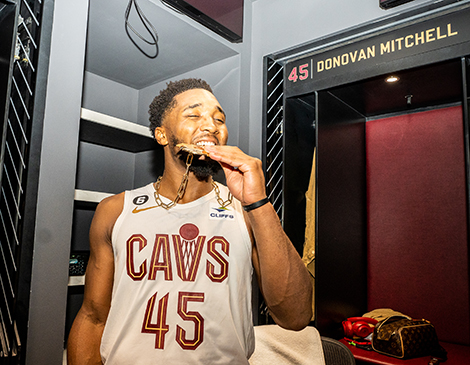 (Photo courtesy Cavs.com)
Just after arriving in Cleveland, Mitchell rode the Cleveland Guardians bandwagon to the AL Championship Series — a ride his beloved New York Mets haven't taken in years. But don't expect him to switch loyalties so quickly. After playing six seasons in the minor leagues, Mitchell's father, Donovan Mitchell Sr., has spent the past 20 years coaching and working in player relations for the Mets. Meanwhile, Mitchell's mother Nicole and his sister Jordan were his rocks. Today, they help run his foundations SpidaCares and My Way 45, which have provided clothing, school supplies, basketball camps and education for children in Salt Lake City, the Bronx and his hometown of Greenwich, Connecticut.
KL: Switching gears a little bit. I'm going to look at this paper. *checks notes* You said paper is meaningless, but when I'm doing a job that is not something I typically do I have to cheat a little bit like I did in high school and college.
DM: I love the flow here.
KL: So your mom was a teacher and your dad is a former baseball player. Now, I understand your love of baseball. What attributes from your parents helped you become the person that you are today?
DM: I think preparation for the sport.
KL: Which I've seen. I mean, we have the same birthday, Sept. 7 for both, Virgos. So I see the way that he works…
DM:
*Laughs*
At an early age, I was in the Mets' locker room seeing guys like David Wright, Jose Reyes, Pedro Martinez, Carlos Beltran — the list goes on and on. And at that age, you didn't know what you were watching. And then when you get to a point where, as an athlete and a pro athlete, you're already falling into habits that you realize not everybody has because of what I've seen at early age. That's what I definitely get from my dad. But from my mom, man, preparation, as well, but also perfection in every aspect. The little
details. Making sure everything is to a tee. … You're a Virgo, too, you get it.
KL: Well, it's accumulation, too. All that stuff adds up.
DM: Exactly. You know, the little things take you a long way. So I'm thankful for both my parents because they have blessed me with two separate gifts but, ultimately, have brought me into one which helps with basketball.
KL: How often are they around?
DM: All the time. Especially my mom. My mom's around a bunch. She runs my foundation. She's basically my manager. She's my every day. I wouldn't be here without her. And I've got to give a shout out to my sister, too, because of the sacrifices they made taking me from game to game when my dad was coaching and playing. Spending five-, six-hour days between New York, New Jersey and Connecticut Friday to Sunday. It's a lot.
KL: That's a great support system. Talk to me about your foundation. I have one, I know how much it means to me away from the court. What is your goal? How will you impact the people of Cleveland?
DM: My foundation is run by my mother. We founded it going on four years ago. Our primary focus is single moms, education and giving back to inner-city schools. Education is huge. My parents got divorced, and we lived with my mother. My mom was a teacher for 10-11 years. She taught at the same school my sister and I went to, which was tough to get away with stuff because we were all the same class. I went to public and private schools. So, I try to teach kids that there's more than their surroundings, both kids who are in a pretty well-off area and kids who are in an inner city. The two sides don't really know about each others' cultures. So I try to bring them together. We have two scholarships to send kids of color to Greenwich Country Day School in Connecticut, the school I went to. Kids who wouldn't have the means to get there on their own. When I'm here in Cleveland, I want to continue to do that.

(Photo courtesy Cavs.com)
This isn't the first time Love and Mitchell have sat down for an interview. In 2018, Mitchell was a up-and-comer dreaming of NBA superstar status. So when NBA Spotlight gave Mitchell the chance to interview Love, the rookie jumped at the opportunity to pick the brain of the power forward, who found himself there as a member of Cleveland's LeBron James-led super team.
KL: The love of the fans. You've already felt that in your first three games. As soon as you arrived, it was like ... madness. That's the beauty of it here. Blue collar. People come out and support no matter what. Every sport. They live vicariously through their athletes, and I think just feeling the trade and having you be a part of this team … it not only elevated our play, but just the excitement around the city and the excitement around the sport fans of Cleveland. So how has the love been even early on? I know you were like … Damn it's early. Three games in we don't need MVP chants yet! We won. We won.
DM: I appreciate it, though! I appreciate it. But we've definitely got some room to grow. But man, the love that we've got from them. You know, every event we've done. Typically it's like, oh, we have an event coming up. Like meet the team night. And I'm thinking like 15-20 people. You know, maybe 90 people ...
KL: I haven't seen it like that since we've made it to the Finals.
DM: And it's been consistent, you know, even the preseason games. And then we go out for warmups the first game and I'm just like, white out?! We only did white outs for playoff games when I was in Utah. That in itself told me right away, like, 'OK, this is big.' You hear the chants, the screaming, every timeout is different. Even when I'm watching film, I'm listening to the arena music … The arena music is dope! Shout out DJ Steph Floss! Ahmaad's great. Everybody. The videos up top. I appreciate the little things. So I'm excited to be here. Like, man, we've got 41 of these at the minimum. I'm excited.
DM: You know, you've asked me a lot of questions. I told you that I had questions for you. I just want to know what parallels you see — I'm not saying we're the 2016 championship team. You guys were a separate, elite entity and we're looking to build upon what you guys have done — but do you see any similarities as far as the way we get along, the attention to detail, whatever it may be? And what can we improve on to get to that level?
KL: I think talent-wise, it's right there. When I look at our lineup, we have four All-Stars and a very deep lineup. But we were an older team. So our process, the way that we practiced was a little bit different, but our attention to detail and knowing how to operate was at a very high level. We had a level of professionalism that was all the way there. Whereas here in present day, we still have a lot to figure out but we have guys that get it.
We have a team that almost feels like a college atmosphere. I'm sure it's the same for you. Like the love we have for one another and showing up every day to work is incredible. In 2014-15, my first year here, through 2017-18, we kind of thrived under chaos, but we always found a way to get it done and win in different ways. I think this team is learning that. I think they're taking a step in playing one more year together, us getting together in the summer, you getting traded here, fitting right in. You have the perfect personality to take part in this team, play shooting guard, play point guard, distribute, rebound, score the basketball. As we've seen, everybody really blends well.
DM: I agree. I was there in '17 when you guys unfortunately lost.
KL: Great interview by the way!
DM: I know! We flipped sides. I was interviewing Love back in the day. High level basketball being played. I haven't been to a finals game since. Actually, I did go to '16 in Golden State. Taking pictures of a few of the Warriors players. No offense.
KL: It's alright. We won.
DM: That's probably why they lost! Every team that I've went to go see in the Finals has lost. So, I did y'all a favor, so you're welcome. I'm the reason, you know, not Love or anybody else.
KL: So when we're playing in June, you've gotta go play for the other team.
DM: I'll flip jerseys.
KL: Right. Right.
DM: I'll get traded at the deadline. Go over there, sabotage.
KL: Then come back, we win.
DM: Right, through a buy-out or something like that. I don't know how it works. You know.
KL: I'll talk to Adam (Silver).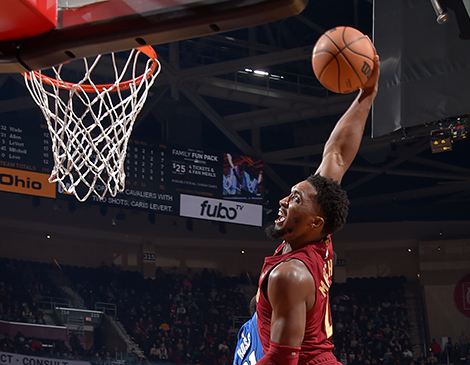 (Photo courtesy Getty Images)
DM:
*laughs*
And then my last thing with that championship, man? What was it like? There's a picture in Koby (Altman's) office. I saw that parade. It looked crazy. You know, that's one of the things I watch. If there's ever a clinching game, I always watch. I don't really like watching the
Finals because the past three years I felt like we should have been in that position.
KL: No, it's hard.
DM: But I'll watch the last one to see a bunch of things: What it's like in a clinching game? The after. And I always watch the parades. What does that feel like?
KL: You finally start to understand that level of sacrifice and how hard it is to win night in and night out. You get to a
seven-game series, a six-game series, you're playing a team that you've gone over their sets a countless number of times, watched their film, you know their tendencies, bigs and smalls, you know what the coach is going to run after (timeouts), sideline out of bounds, baseline out of bounds, halftime, what they're going to come out with, what their rotations are going to be. Like, you understand all of that, and that becomes such a part of you, like you start having a cerebral brain and your recall is always going to be there because you've gone over it so many times, but you realize that nothing matters but the team. Like, you have to go out there and be yourself. You're there for a reason because of that attention to detail, because you put the time in and stuff that we don't see, that everybody doesn't see behind the scenes. And I think it's kind of like Mike said in The Last Dance. It becomes a vice. It becomes a drug.
I've actually talked to Draymond (Green, Golden State Warriors) about this, after having so many battles with him — where you go from the top and then you're kind of at the bottom and rebuilding. Those habits that you broke so long ago and you did that for the betterment of the team and you sacrifice. Like, you don't want to fall back into that. I think that's the hardest part for me.
DM: *Looks at cheat sheet* Ohhh, food and community, that's me.
Editor Dillon Stewart: We hear Kevin doesn't like to share his go-to food spots.
KL: I've got my pizza spot! Il Rione. Those are my guys. I want to take these guys there. It's a hell of a spot. Alright, I'm going to hit you with some lightning round questions here, so feel free to pass or tell me to stay away from that question. ... Favorite album ever.
DM: Blueprint. I gotta put Jay-Z in there for sure. Certified Lover Boy from Drake has really grown on me. And then any of the S.O.U.L. Tapes by Fab (rapper, Fabulous). I'd put the Drake album third. Jay-Z and Fab are my top two.
KL: All-time favorite sneakers.
DM: Mine. Done. 1, 2, 3 or 4.
KL: Yeah, that's why I crossed out this one down here, "If you could sign and wear only one brand or designer…"
DM: Yeah, Adidas.

KL: Favorite food.
DM: Sweet potatoes.
KL: Wow.
DM: Fan boy.
KL: Interesting. If you didn't play sports, what would be your career choice? Well, you would have been a baseball player.
DM: If I didn't play sports, I would have been a firefighter for sure.
KL: Respect. When you signed your first pro contract what did you buy?
DM: I want to say I got my mom a car. I'm almost positive that's what it was. And I bought my house.
KL: Look at you. Wow… this one, marry, f---, kill.
Communications Director BJ Evans: *panicked look*
DM: *uncontrollable laughter*
KL: Just kidding, just kidding. If you could invite three people from history to dinner, who are your three?
DM: Barack Obama. Denzel Washington. And then I have to split between Michael Jordan and Jay-Z. But if you're asking me if I would take the money or go to dinner with all them, I would definitely take the money.
KL: People are always like, would you take a million dollars cash or would you meet Jay-Z?
DM: Right, I would take the cash because Jay-Z would tell you to take the cash.
KL: Right, and then you could just be like 'Yo, can we go to dinner?'
DM: Right, a Zoom call. Anything!
KL: And I'd be like, 'Yeah,' and I got dinner.
DM: Actually, not at all. It's Jay-Z. He's got it.
KL: Dinner with the GOATs. OK, last one, Kate and I are coming over for dinner. What would you make for dinner if we couldn't go out?
DM: I mean… I can cook, like, some good good, Cap'n Crunch.
KL: I was going to say. I probably wouldn't even feed it to my dog.
DM: Honestly, it kills me. I continuously give them free promo and they don't give me anything, but I gotta do it because it's just that good: Boston Market. Uber Eats it to the house.
KL: You heard it here. Boston Market. Cleveland Magazine. The duo, the mix-up we never knew we needed. Donovan Mitchell. One hundred points in the first three games. Cleveland loves him. Sept. 7. Virgo. That's the interview. And we are done.
We've got your weekend plans covered with our free weekly "In the CLE" newsletter — your guide to fun throughout The Land. Arriving in your inbox every Wednesday, this weekend to-do list fills you in on everything from concerts to museum exhibits — and more. Click here to subscribe.