Cleveland sports fan have three key responsibilities: Wallowing in the pain over the losses, picking yourself up with everlasting hope for the next game and celebrating the wins significantly hard because we never know when we'll see another. Thankfully, we've experienced a lot of the latter recently.
It's no doubt that the Cleveland Cavaliers have surprised us so far this season. From their six-game winning streak to their fifth place standing in the Eastern Conference, the Cavs are beating the odds to become one of the NBA's most surprisingly successful teams at this point in the season. And confidence in the team is only growing as overall TV ratings are up, game attendance has been skyrocketing and ticket sales continue to increase as the season progresses.
All of which means it might be time to trade in your orange-and-brown fan gear for your wine and gold. However, getting your hands on some Cavaliers jerseys and apparel might be trickier than you think.
That's because you weren't the only one who didn't see all these wins coming.
"This season has been quite different and has caught us off guard," says Cleveland Clothing Company owner Mike Kubinski.

The Euclid Avenue shop has stayed the same course since Lebron James' second departure from the team in 2018. Since overall demand was down after James left, there was little need to print and restock the wine-and-gold themed apparel; only a few new items were added to keep people interested in the collection.
"We started the season with whatever we had in stock from the previous year," says Kubinski. "Demand has been high, and we have been designing new tees and apparel."
The January release of new merchandise will include new 100.7 WMMS basketball designs and Cleveland Clothing Co. classic items in new apparel colors.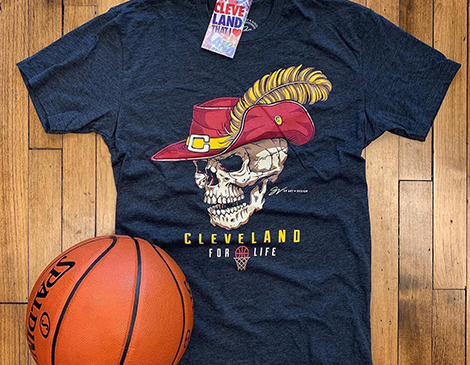 GV Art + Design specializes in print design and pop art illustrations that show support for local teams. "We're diehard Clevelanders who are loyal to the team no matter their record," says marketing coordinator Jamie Gregory.
But Gregory concedes that the renewed interest in the team has made it easier than ever to channel all that good energy into works of art. GV Art + Design plans on keeping up with the recent demand for merchandise with a full new basketball collection that will be launching in a few weeks.

"We're hoping the success of this team continues so we can continue to do what we love," says Gregory.