We've always had Cleveland pride. But it wasn't until Mike Kubinski and a friend launched CLE Clothing Co. in 2008 that it became cool to wear your love for our city on a T-shirt.

From ones that champion our sports teams to others that celebrate iconic spots such as the West Side Market, the T-shirt company creates clothes that make us happy, make us laugh (at ourselves most times) and make us, above all, proud of where we're from. "We try to be fun and quirky," says Kubinski. "We try to use Cleveland's sense of humor in our designs and products."

At CLE Clothing Co.'s flagship location on East Fourth Street, you'll find T-shirts — clas-sic "CLE" styles, as well as seasonal options for St. Patrick's Day, Halloween and even fish fries — mixed among other CLE Clothing Co. gear such as hats, sweatshirts and tank tops. But Kubinski also wants to support the city through more than his own designs.

The downtown location carries about 50 other local artists' and designers' work. It's all about creating a fun Cleveland experience. "You'll be able to walk through the store, kind of on a journey of different themed gifts and apparel," he says.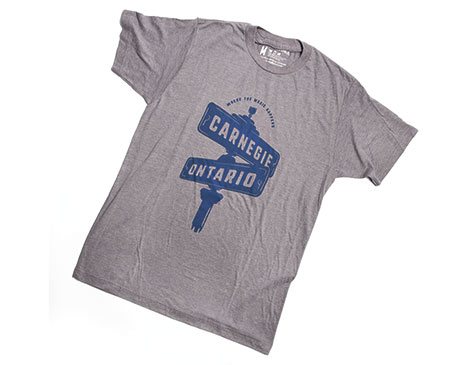 An Item We Love: "The Corner" T-shirt ($28) pays tribute to the intersection of Carnegie Avenue and Ontario Street where Progressive Field is located, and the popular phrase coined by Indians play-by-play announcer Tom Hamilton.

342 Euclid Ave., Cleveland, 216-736-8879, cleclothingco.com

Click here to explore more than 30 local shops and boutiques as part of this month's "Shop Local" package.