Fount is wasting no time making 2020 a year to remember.

The boutique with locations in Gordon Square and now in Tyler Village, where its production will take place, is celebrating its first release of the year, The Bellfield Crossbody, with a public launch party Feb. 7. It's the first of a series of products set for release this year from the luxury leather company known for its quality craftsmanship, spacious totes and easy-to-style accessories.

"This is the year we're hoping to launch 10 new products," says creative director and co-owner Jackie Wachter. "We hope our customers are excited because we basically went through and looked at the most requested items so hopefully they can take a guess at what will be on that list."

The Bellfield Crossbody ($380) is a scaled-down version of the original Bellfield Tote, Fount's most popular bag. The new take's smaller size and removable straps make it an ideal every-day bag — all while maintaining the Bellfield charm. It's also available in the same signature colors: goldenrod, hazelnut, cocoa, wolf, peppercorn and dark series.

"A crossbody is kind of effortless, you just throw it on and you can go throughout your day and you don't have to worry about holding it," Wachter adds. "It's large enough to hold a water bottle, smaller than an iPad, but it can definitely carry a significant amount of stuff."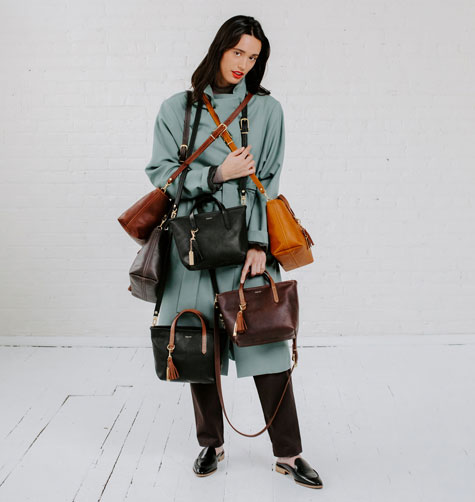 The new product, along with the rest of the items Fount plans to release this year, is evidence of the company's willingness to take stock of what buyers want to carry on their arms next. Wachter added that this bag is the first of the eventual launch of their upcoming "Go Lightly" collection, which will feature a series of smaller bags and accessories, directly inspired by their customer base.
"Our customers have really helped us design so many of our bags because we just listen to what they're asking for," she says.
The Bellfield Crossbody is available online and in-stores at 6pm this Friday. The launch party at its flagship location in Gordon Square includes
a pop-up from William Frederick Clothing
, which is featured in Fount's latest product shots.