When William McNicol talks about the inspiration for his William Frederick clothing brand, or his fashion sense in general, clothes rarely come up. Instead, he describes the curtains in his grandparents' house, the follies that colored his small town upbringing or the durable style of New Orleans jazz culture — all of which inspired his first three collections.

Next month, he drops his fourth, featuring a warehouse aesthetic taken from days working in his parents' restaurant supply company. The unisex pieces, which include shirtjackets, topcoats, trousers, warehouse jackets and pants, bucket hats and the brand's first two full suits, blend the workwear of the back warehouse with the business casual of the front office — all with slightly oversized tailoring that nods to the mid-'90s.

"I'm elevating what I saw into what I would want people to wear in my ideal office," says the native of Wellsville, Ohio. "But also something that would make sense to see on someone unloading a truck."

Big City Dreams: In 2017, McNicol took his first sample, a blue Melton wool topcoat with zigzags near the bottom, to New York Fashion Week for feedback. "I'd get into shows as a seat filler or go into the shops I loved, and people would ask me, 'Who made that coat?' " he says of the piece that ended up in his first collection. "When I got home, I was like, I think I've got something here."

Forever 'Fit: For all his love of '80s Giorgio Armani, McNicol's all-time favorite piece of clothing is an $80 Levi's Type III denim jacket that he got 11 years ago. "I wear it everywhere. It feels like part of my story," he says. "I would like my clothes to be part of your story, which is why I think so much about the longevity of the fabrics and the pieces."

Gotta Feel It: If the brand's use of fabrics such as wool crepe, Japanese heavyweight denim, salvaged chino and 1940s-era yellow wool seem a little foreign, that's because the vintage deadstock cloths are almost all the result of McNicol's hourslong expeditions inside a four-story, family-owned warehouse in New York City. "A lot of my success has been from people coming into my studio and touching the pieces in person," he says.

CLE Pride: Every stitch of William Frederick Clothing is manufactured at two Cleveland-based factories. "To me, civic pride means factory jobs in Cleveland," he says, "and making sure not only things are made in Cleveland, but making sure the people who make them are earning fair wages and being treated with respect."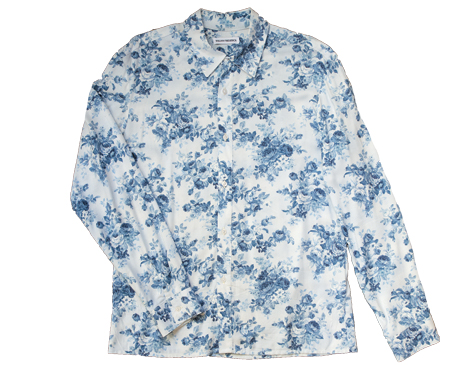 An Item We Love: The Blue Floral Shirt ($175) feels like you're wearing a cloud. Made from 100% rayon challis, the breathability of which made it our favorite summer shirt, the straight-fit long-sleeve button-up features an elegant and luxurious drape.