Gianni Donofrio was making Pinterest-level mood boards before they were "a thing."
As the founder and owner of the Cleveland-based clothing brand Stache Studio, these childhood memories of piecing together homemade collages out of magazine clippings and scrap materials were some of his earliest encounters with cultivating a brand aesthetic all his own.
"I feel like throughout my entire life, I've always been interested in fostering my creative side. I have no idea why, but I loved to draw and color, splice things together, build upon something else to make something new," Donofrio says while detailing what DIY projects his young self would dive into, and jokingly alluding to being a trailblazer for digital scrapbooking before, you know, digital got its -ish together.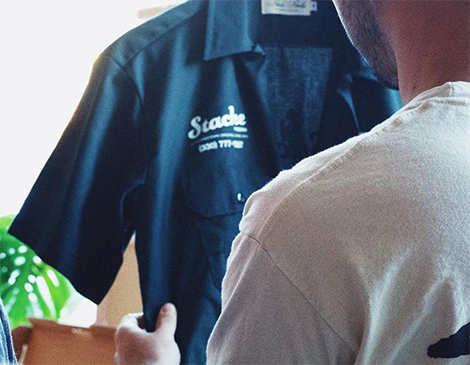 (Photo courtesy Stache Studio)
"It wasn't long before I was making myself the project. All of that energy just grew to become me caring a lot about what I wore while further fostering my genuine interest in clothes," he says.
With a backstory like this, finding a career within the fashion industry seems like a given. The idea to launch an original brand, however, would only come as the result of an unexpected tragedy.
"It was my freshman year of college, 2012, after my dad passed away. It was a pretty shocking experience for me, so it affected me for a while. At the time, like most 18- and 19-year-olds, I didn't know what I was going to do with my life, but after he passed, I knew I wanted to do something to honor him."
Donofrio wanted his father James' distinct character; his passion, his drive and his outgoing personality to be the heart of this yet-to-be-launched clothing company. To him, there was no better way to solidify that strong familial tie than by encapsulating his father's charisma through the brand name itself.
"My dad had a handlebar mustache — like my whole life. I mean, even before I was born, he had this great mustache," Donofrio recalls with a laugh. "I remember thinking of ways that I could name the brand after my dad without naming the brand after my dad and I couldn't get his mustache out of my mind. His 'stache' was just the perfect symbolization of him. It stood out. Everyone noticed it."
With a name selected, Donofrio could finally get cracking on the content. The only obstacle in his way: the lack of a clear blueprint. "I really didn't know what I was doing with the clothing at first — like, at all," he says, "I just knew I wanted to do it. I was motivated with no clear direction, so really the first eight years of Stache was me just figuring a lot of logistical stuff out; learning what I liked about clothing and how I wanted to create."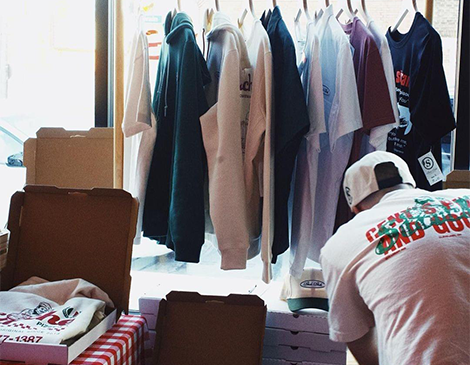 (Photo courtesy Stache Studio)
For a brand celebrating its 10th year of existence, referring to eight of them as more or less blind trial and error is bold, but Donofrio makes a distinction between paving his own path and going down it alone. Even in his earliest stages, he had friends to lean on and encourage him to continue refining Stache's identity.
It was his friendship with fellow creators like Vince Manzano, founder of Heart & Sole, the now-closed sneaker hub in Cleveland Heights, who encouraged him to make the jump from Youngstown to The Land in 2014, when Stache was still in its beginning years. It was his friendship with fellow art students like Ben Mirka and his sister, Carli, that helped to kickstart the brand's print graphics while he was cultivating his artistic skills as an undergrad at The North Coast College, formerly Virginia Marti College of Art and Design. And it was his friendship with the inhabitants of the city while he was releasing every small-batch collection that opened the door to collaborations with popular veterans of coolness like Cent's Pizza + Goods, the Detroit-Shoreway shop that's been referred to as a better place to spend your weekend than any club, bar or lounge in Cleveland.
"I was so fortunate. I met all of the right people at the right time. In a way, I feel that I owe a lot of that to my parents. My mom and my dad raised me to have a lot of respect — for myself and others. Manners were everything. From there, all that I've got in my personality toolbox worked. The combination allowed me to avoid rubbing people the wrong way," says Donofrio. "It allowed me to be accepted. Other creators could see me and be like, 'Oh, yeah, you're not from here, but you're still cool.'"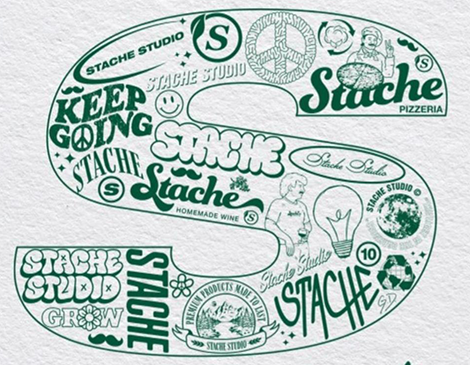 (Photo courtesy Stache Studio)
Perhaps it was the immersion into Cleveland's network of fast-paced creativity, its hustling entrepreneurs and committed producers, that helped bumper Stache's upbringing into the confident brand that stands today — unapologetically family-inspired and genuine to its maker. If so, that doesn't bother Donofrio at all. The brand has found itself, and its fan base is only increasing from here.
** Stache Studio will be celebrating its 10-year anniversary with a celebratory appearance at Whiskey Grade. Stop by to shop the new collection. Stay in touch with Stache via their social feeds here.
Start your day the best way by signing up for our free daily newsletter. Arriving in your inbox every morning to keep you in the loop on the best guides, home and style tips, and news briefs for all things Cleveland. Click here to subscribe.