Lauren Tamir was watching The Hunger Games as Katniss Everdeen fought to survive in a world far from ours and thought to herself: "What a badass."
Something she noticed though was the clothes Katniss was wearing. A huntress cowl that was keeping her warm and empowering her to keep going.
"[She] was a warrior, and she was going through tough stuff, but she was getting through it," Tamir says. "She became my archetype. I was like, 'I can bring Katniss energy to my life.'"
That energy came into her life in 2020 in the form of her company, HNTRESS, a brand that supports female empowerment through HNTRESS cowls which are a combination vest, scarf and hoodie that combines comfort, style and functionality. Working from home and with manufacturers in both Columbus and Cleveland, she crafts garments akin to what she saw Katniss wearing that one fateful day.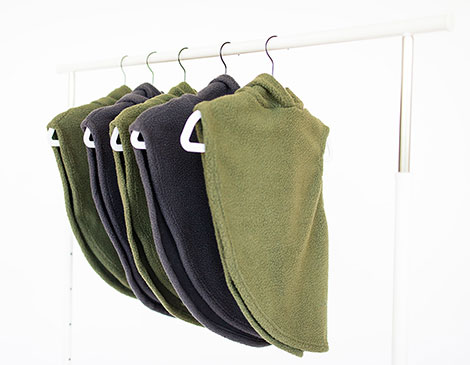 Tamir would later realize wearing a huntress cowl like Katniss throughout her life would bring her the empowerment she so profoundly needed. Tamir spent her young adult years in more pain and taking more pills than most people do in a lifetime.
"At age 12, I had my first migraine ever, and from there, I started declining rapidly. I had a lot of health issues, and no one knew what was wrong with me," says Tamir. "By the time I was 15, they diagnosed me with adolescent fibromyalgia … [with] that came a whole lot of mental and emotional struggles. By the time I was 18, I was diagnosed with Lyme (Disease), fibromyalgia, chronic fatigue. You name it, I was labeled it, and had the pills to go along with it."
Her years spent at Ohio State's Fisher College of Business not only gave her the tools she would need to succeed as a business owner, but they would also be full of hardship, struggling to get through while taking up to a dozen pharmaceuticals a day.
She would return from classes to the apartment she shared with her boyfriend (now husband) where he would meet her at the bottom of the stairs, take her backpack and help her up to their apartment.
"I got home, and he wasn't there [one] day," Tamir Recalls. "I made my way up and just totally collapsed. I had this total meltdown and thought to myself 'if I'm this sick this young, what do I have to look forward to the rest of my life?' In that moment of despair, I said 'I'm going to heal myself or die trying'"
Tired of the pills and the pain, she got up, ripped the medicine cabinet off the walls and discarded all the pills inside, deciding to turn to natural health remedies and never look back.
Her life is now about empowerment and overcoming. She has used her certification in natural healing (a college graduation gift from her parents) to recover. While she still suffers the occasional migraine, the ailments of her past are gone.
Her articles are a symbol of strength and a reminder, not just to herself about her past, but for others as well, to keep going no matter what comes next.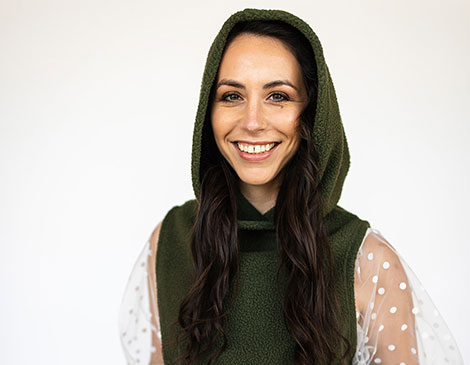 This reminder was sent in the form of her cowls to Ukraine, where her family hails from. Tamir is a first-generation Clevelander her parents came to America after the fall of the Soviet Union. Tamir was born and raised here, and earlier this year, she sent her empowering pieces to her homeland at a time they needed it most.
For every 10 cowls bought, one is donated to a good cause. While that cause is usually local women's shelters around the area, this year's cause was those suffering from the war in Ukraine as Tamir is strongly connected to her heritage and thankful for those connections in Cleveland.
"It's a very strong community. Very supportive," she says. "They all came here with nothing like my family and just seeing what's possible when you work and put your heart and mind into it."
HNTRESS Cowls can currently be purchased online at Tamir's website, but her aspirations point toward getting them into the retail space.
"HNTRESS is more than a piece of clothing," Tamir says. "It's infused with magic and it helps the wearer feel empowered, courageous and warm. What could be better than that?"