Being in the presence of Haley Himiko Morris's work is like entering another world. The local artist has become well known for her eclectic style of pattern blocking and '80s inspired psychedelic colors, often seen in interactive mediums such as dance parties and unique face mask patterns.
Now, Morris's latest art piece is an experiential retail shop in Gordon Square called Cool World, which opened on Oct. 1. Since acquiring the space two months ago, Morris has completely transformed the 650-square foot location with Himiko Memorabilia's signature brand and aesthetic. Shoppers can expect vintage furniture and clothes as well as handmade jewelry and accessories.
While the store is a one-stop shop of all the products Morris creates, she's also aiming to build a transformative and nostalgic experience, like walking through a theme park or carnival.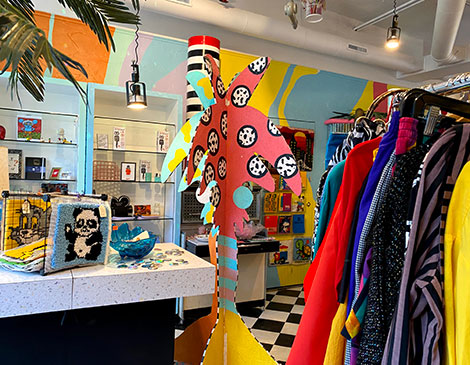 "I feel like experiential retail, even dining, is something people really love and even crave," she says. "I've wanted to have a store for a really long time. I've been sort of taking notes of like, what I would do, what it would look like, but, you know, just mainly creating an experience that draws people in, that is entertaining."
Whether she's installing public art in Miriam Ortiz-Rush Park, organizing themed parties in the Mahalls' 20 Lanes dance room in Lakewood or singing with the boundary-pushing Pleasure Leftists, a transformative experience is something fans of Morris's work have come to know her for.
"That's what I've tried to do with my events and art installations and feel like with a shop," she says. "Maybe you're not going to go back and buy something, but maybe it's just to take a little break, go somewhere different, just transport yourself."
Here are three things to know about the new Gordon Square store.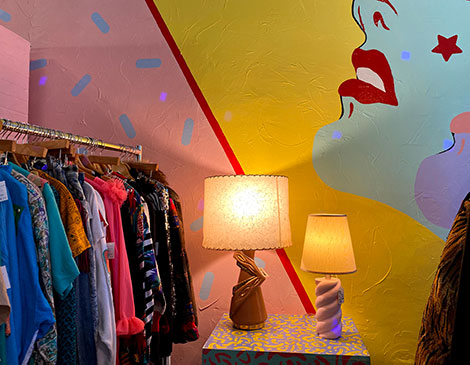 Funky Finds
The store is lined with unique, one-of-a-kind items that range from Morris' own art to curated vintage furniture to knickknacks that will peak anyone's curiosities. One is bound to find the statement item of their dreams, whether it be a crop top from Morris' own collection, a pair of her handmade earrings that come in unique shapes such as skeleton, daisies or watermelons.

A store like this wouldn't be complete without threads and finds from the past, so visitors can also browse through vintage furniture and a special curated collection of vintage clothing from local vintage seller, Re-Collection. Eventually, Morris plans to have colorful stationery and journals for sale. She also plans to use the space as a home base for renting her many unique art installations for parties and events.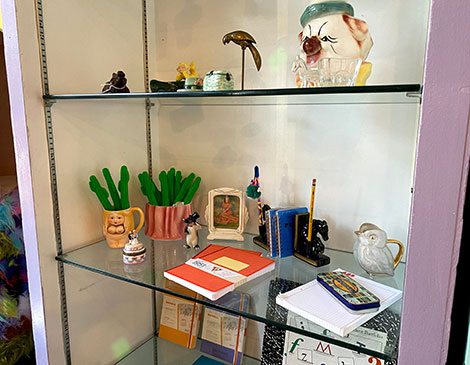 Neighborhood Groove
Cool World's location sits at the perfect epicenter of foot traffic that usually consists of curious shoppers and lovers of window browsing in the heart of Gordon Square. Joining other popular, longtime boutiques such as Fount Leather and Oceanne, the store will be adding its own unique flair that is sure to add an artistic kick to the hip shopping district.

While Morris' shop is impossible to define, one decade prevails for those wondering what to expect. "I wouldn't be offended if somebody said, 'Oh, it's that '80s store,'" Morris says. "But I don't want to box myself in completely, it's just one of my favorite, decades and arrows of like design and music and pop culture.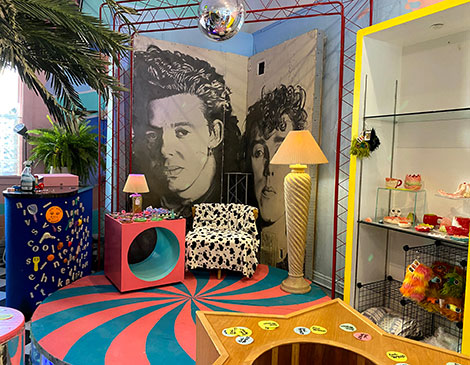 Setting The Stage
A fuzzy hexagon resembling something out of a Dr. Seuss book is one piece in the shop that might catch your eye. Looking up, a paper-mache sculpture of a dragon on top of an industrial pipe could be the next thing. Or maybe your eyes immediately go toward the many aqua blue, peachy pinks and neon yellow murals that blend into each other on the ceilings and walls. "I have a spectrum of things I like, but I know I can't have all of them at once. I just wanted to perfect some of my favorites," says Morris. "I have all these ambitions of stuff I want to do to the space and two months is not enough time to do it."
When You Go: 6511 Detroit Ave., Cleveland, Thurs. & Fri. 12 p.m. - 7 p.m., Sat. 11 a.m. - 6 p.m., Sun. 11 a.m. - 5 p.m. instagram.com/coolworldcle