Kelsi McCafferty always has florals on her mind.
She gravitates toward various flower patterns and prints at secondhand shops and thrift stores, and feels compelled to give them new, blooming life.
After working at local high-end leather shop Fount as a sewing manager for about four years, she took the leap of starting her own business over a year ago. The result is Kelma Collection, an online shop featuring handmade pieces created from repurposed fabrics.
"When the pandemic hit, you know, things got a little crazy," says McCafferty. "I decided to start making masks for friends and family and then kind of got into a groove by myself where I was like, Okay, I think maybe I could do this."
Her shop, which hosts various pop-ups around Cleveland, offers signature floral-patterned blouses, dresses and accessories, as well as simple miniskirts — most of which take three to eight hours to make by hand. Each piece has a romantic flare to it, while still remaining versatile, ready to fit into the life of whomever chooses to pick it up.
"I think the person who wears my clothes is definitely fashion-conscious … but maybe they don't want to go full out in a look every day," she says. "They want something in their closet that maybe is a little stretch for them, something a little brighter or a different silhouette that they're not used to."
Style Cycle
McCafferty fell in love with whimsical prints while studying print design in college. The downside was the high price of creating her own patterns, as well as the difficulty of sourcing brand-new fabrics. So, using thrifted and vintage materials was a practical fix. "I do also think that it's kind of circular that I can find the things in Cleveland that make up the clothes, and then it's like I'm putting them back into the fashion industry here without having to use new fabrics."
Timeless Shape
McCafferty's pieces feature romantic details such as elegant square necklines, slightly puffed shoulders, bell sleeves and modern crops. Reminiscent almost of a Regency-era gown combined with a 1970s prairie dress, the shape creates a delicate outline that mixes well with colors like pink, orange and yellow. "Sixties and '70s mod, I think, used a lot of square necklines and more structured dresses like shift dresses, so that's probably where I got that element," she says.
All in the Details
While McCafferty's store features a few variations of skirts, dresses and blouses, you're getting quality over quantity when you shop her brand. This can be seen in the fabric and in delicate yet practical details such as a line of snaps along a skirt or a romantic tie for the closure of a blouse. "I always like using ties; I think that they're just so flirty and pretty," says McCafferty.
Worn in
As picturesque as her pieces are, McCafferty's designs aren't meant just for special occasions. "I really like to marry hyper-femininity with a casual, tossed-on feel, because that's how I dress myself," she says. "I like something really flirty and feminine, but then I'll throw on, like, combat boots with it or jeans or something that just makes it feel more wearable and accessible."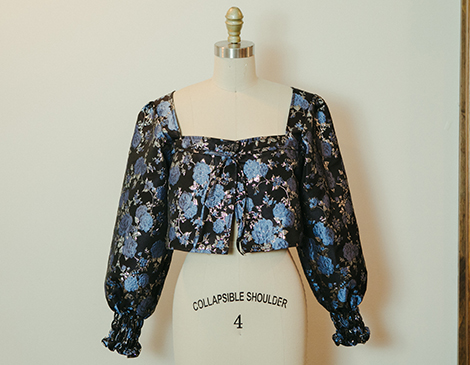 An Item We Love: The light and airy Brigitte tie top ($85), which comes in a variety of patterns, features puff sleeves and a flirty tie at the front.