Click here to read this year's Readers Picks, where our readers responded with their favorite picks in more than 60 categories such as best happy hour, best pizza, best boutique and more!
Food & Drink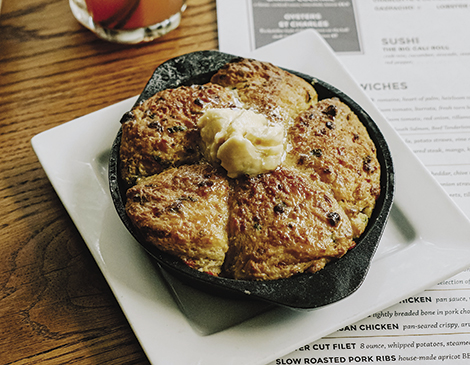 17 River Grille's Heavenly Biscuits
Served in a cast iron skillet and covered in honey butter, this Chagrin Falls biscuit maker is first-come, first-serve. Read More >>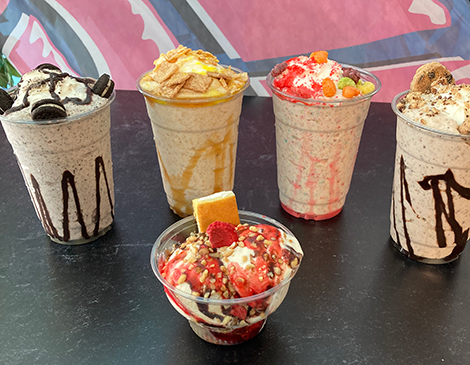 222 Cold Brew's Specialty Drinks & Cereal Bar
Whether you choose to play it safe and get your cereal in a cup or try one of the cereal shakes, this Euclid joint is tangible proof of why breakfast is the most important meal. Read More >>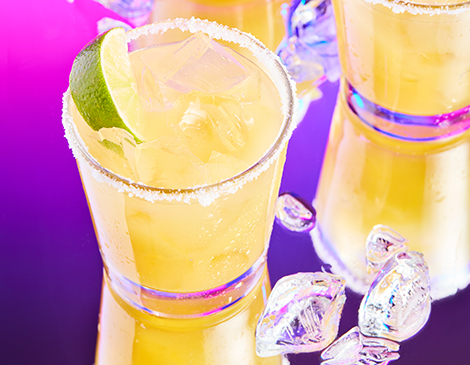 Avo Modern Mexican's Avocado Margarita
Experience avocado in a whole different way with this Ohio City restaurant's unique take on a margarita. Read More >>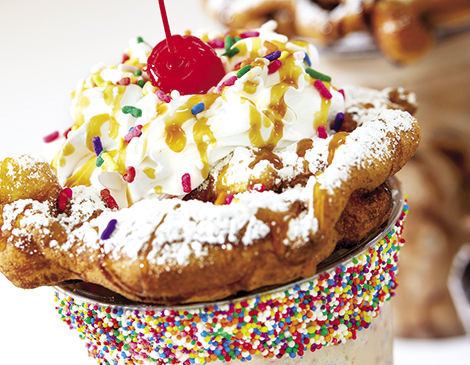 Boujie Bakery's Funnel Cake Shakes
The Cleveland Heights shakes, a Friday-only special, are the perfect way to ring in the weekend. Read More >>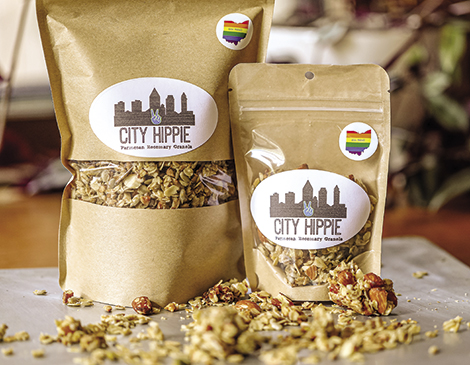 City Hippie's Savory Granola
This granola is a snack that eats like a meal, boasting ingredients such as avocado, cherry tomatoes, fresh mozzarella and Kalamata olives. Read More >>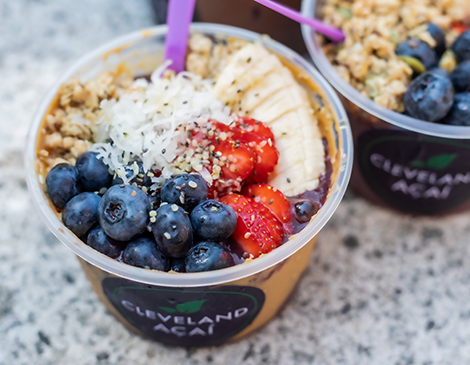 Cleveland Acai's Acai Bowls
This healthy Cleveland food truck offers three different bowls all based around a smooth acai base. Read More >>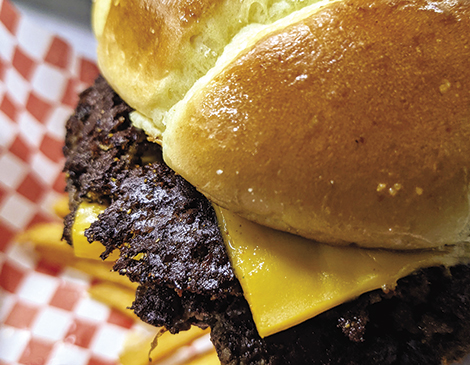 CleaveLand Grocers & Grill's Halal Grocery Store
In addition to having angus beef, boer goat and chicken, this Brook Park grocer also has smash burgers and sandwiches. Read More >>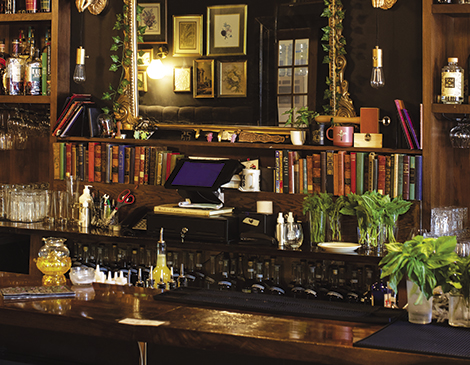 Cloak And Dagger Vegan Cocktail Bar
This Tremont cocktail lounge boasts an ever-changing collection of cocktails comprised of seasonal ingredients and tinctures made in-house. Read More >>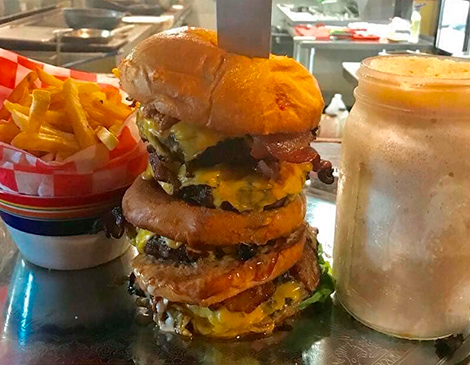 The Farmer Butcher Chef Bistro's Massive Burger Challenge
Paying homage to the restaurant's location, the Route 45 Austinburger Challenge involves noshing down on three half-pound burgers made of steak and rib trimmings. Read More >>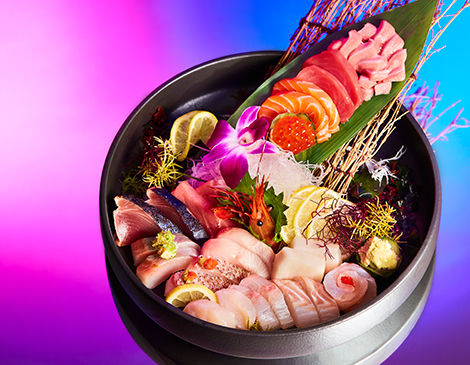 Goma's Sashimi Tasting
With 12 different kinds of fish flown in twice a week from Japan, the Downtown restaurant's tasting option is perfect for adventurous eaters. Read More >>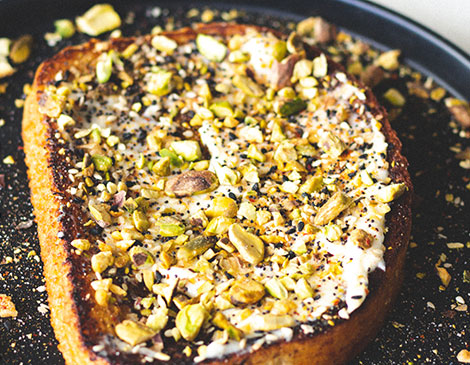 Kindred Spirit's Everything Pistachio French Toast
Made with sourdough bread and in-house batter, this Shaker Heights delicacy is topped with a hint of Chardon maple flavoring. Read More >>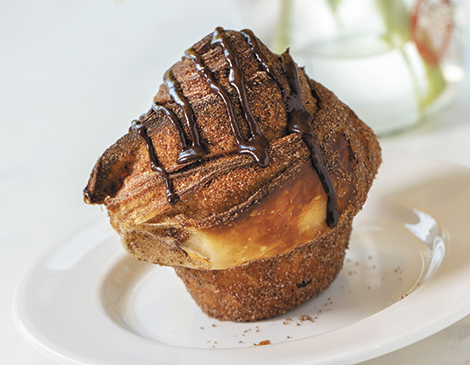 Leavened Bakery's Cruffins
Be sure to check Instagram every Saturday morning when head baker Ian Herrington posts the cruffin of the day, of which the Cleveland baker makes just 80 a day. Read More >>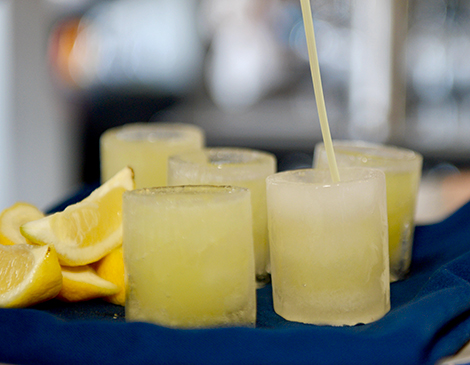 Leo's Italian Social's Cello Shot
After you chug this shot of limoncello, take the ice cube shot glass it was served in and test your luck hitting the bar's antique bell. Read More >>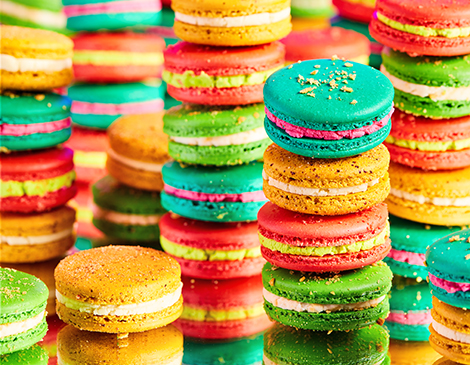 Little EmporiYum Bakery's Savory Macarons
Whether you're looking for a traditional flavor or something savory such as tangy ranch corn chip, this online shop has the macaron for you. Read More >>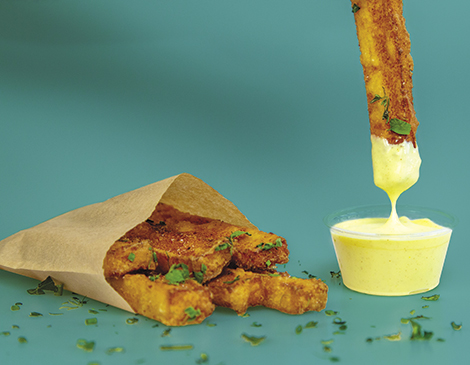 Martha On The Fly's Cornmeal Fries
Inspired by the cooking of his paternal grandmother, Martha on the Fly chef Ryan Beck packs his family legacy into every bite. Read More >>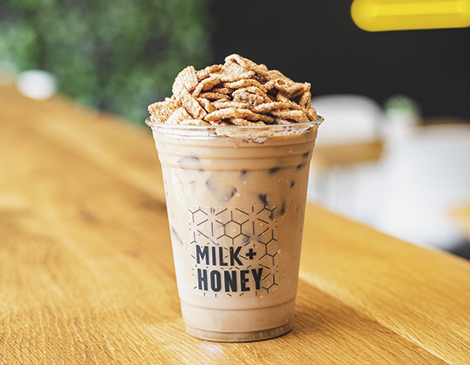 Milk & Honey's Cereal-Inspired Latte
The Superior Avenue coffee shop's cinnamon toast latte is the best parts of breakfast combined into one cup. Read More >>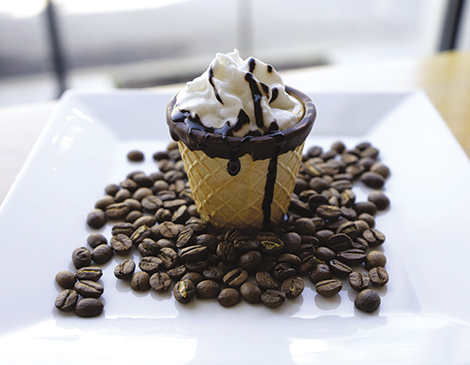 Nature's Oasis' Waffle Shot
These three-ounce waffle cups are filled with Birdtown coffee and topped with whipped cream. Read More >>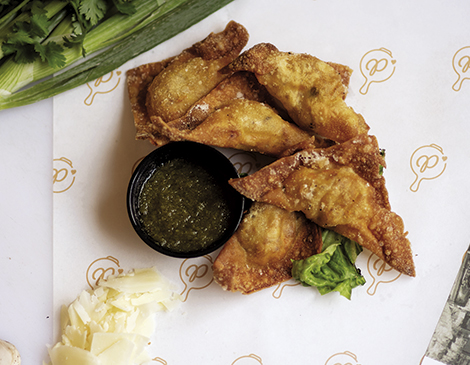 Pearl's Kitchen's Flower Bombs
The dish's sweet and sour flavor is a perfect complement to the crunchy wonton exterior. Read More >>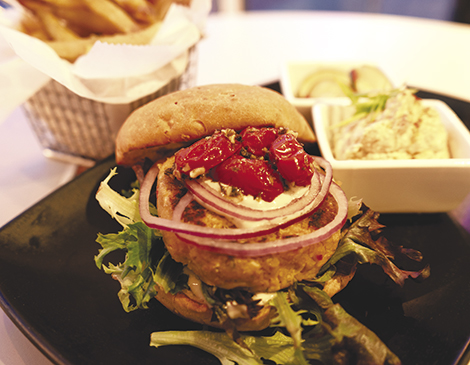 Planted's Krabby Patty Burger
Are ya ready.... for this Lakewood restaurant's faux crab sandwich that makes you feel like you're in a pineapple under the sea. Read More >>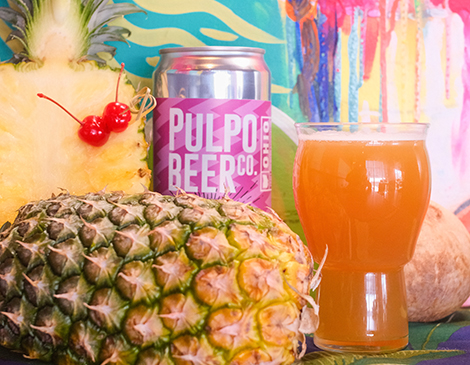 Pulpo Beer Co.'s Tropical Thunder IPA
Available at Hola Tacos and Barroco Arepa Bar, this Cleveland-made beer is made using all fresh ingredients. Read More >>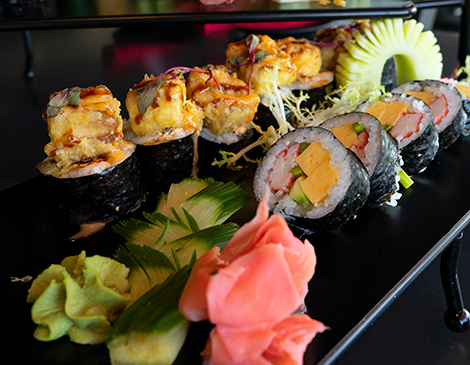 Sakana Sushi's Vegan Sushi
With a menu that has 16 vegan sushi varieties, you'll have to visit this Rocky River restaurant multiple times to truly experience the menu. Read More >>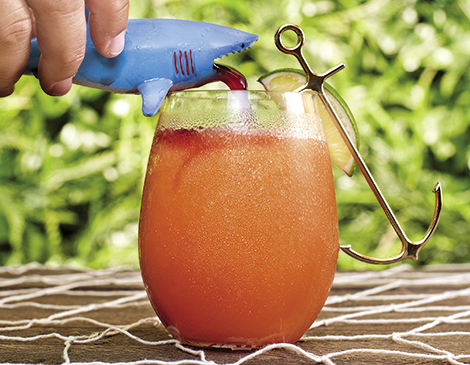 Sixth City Sailors Club's Alcoholic Slushi
The Jungle Bird is a fruity concoction comprised of rum, Campari, pineapple and lime. Read More >>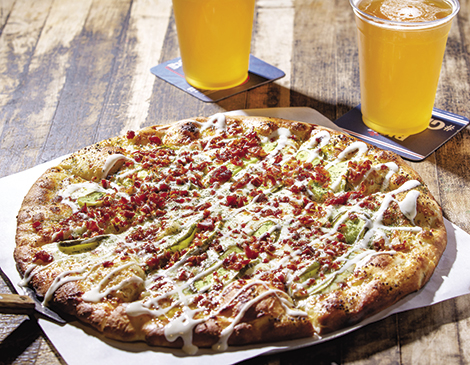 Smash Pizza Express's Dilly Dilly Pizza
This pickle-covered pizza from the North Ridgeville restaurant combines the best of a pizza and cheeseburger. Read More >>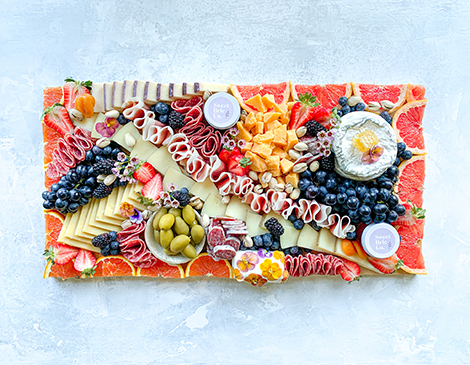 Sweet Brie Co.'s Custom Charcuterie Boards
These intricate custom food boards taste just as good as they look. Read More >>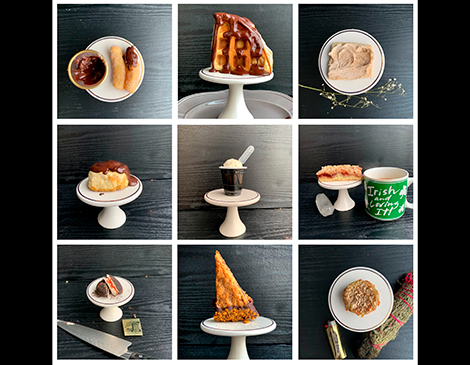 Sweet Costo's Limited-Edition Themed Desserts
After becoming a full-time chef last year, West Side pastry chef Shelby Costo unveiled offerings that were timed with Swift's new releases. Read More >>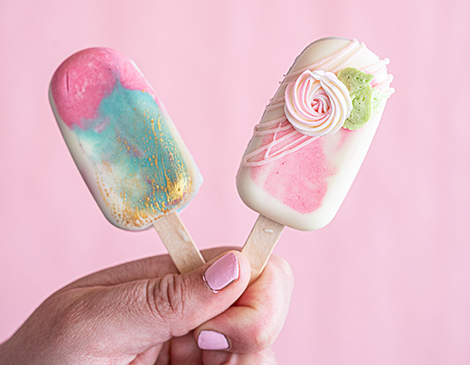 Best Of The Best: Eat On The Go With These 3 Treats On A Stick
Don't worry about needing a table for these mobile delicacies, which range from traditional desserts to seafood on a stick. Read More >>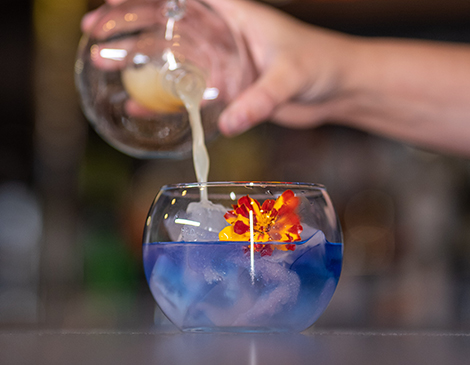 Best Of The Best: 3 Butterfly Pea Cocktails That Mix Business And Pleasure
From a tribute to Heath Ledger to a tasty rainbow and a tiki-style drink, 27 Club Coffee, Craft Social and The Last Page offer your butterfly pea fix. Read More >>

Shopping & Retail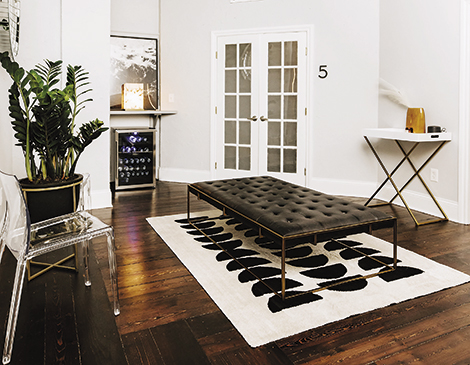 Advanced Aesthetics' Diamond Facial
The 3-in-1 treatment from the Cleveland spa involves microdermabrasion along with a serum infusion. Read More >>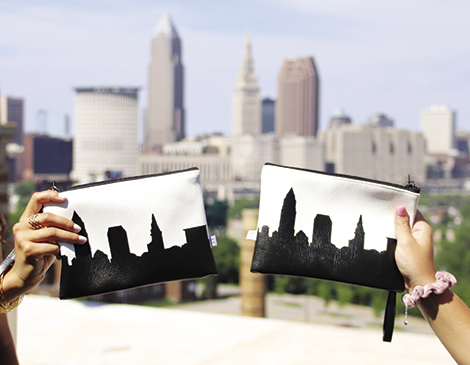 Anne Cate's Skyline Bags
The bags, which range in size from mini purses to travel bags and can be designed with one of 160 skylines, lets you bring your favorite city with you. Read More >>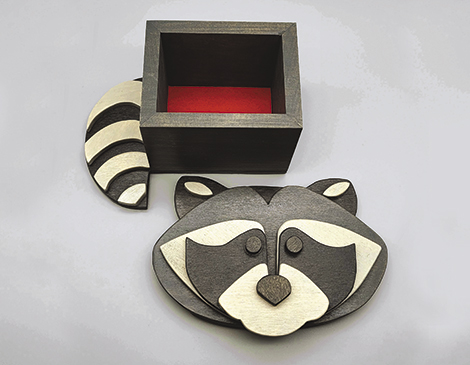 Beastie Boxes' Animal-Shaped Wooden Boxes
The 4-by-5 1/2-inch boxes from the local maker are the perfect gift for you Cleveland bestie. Read More >>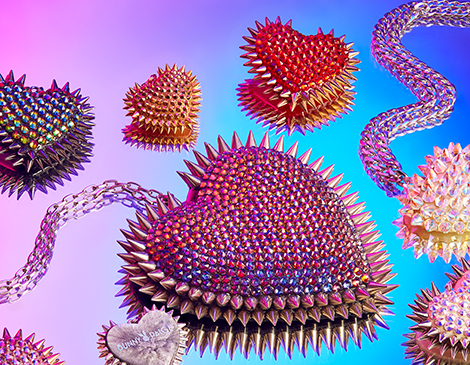 Bunny Paige's Spiked Heart Necklaces
Get these multi-purpose fashion statements in colors ranging from turquoise to silver. Read More >>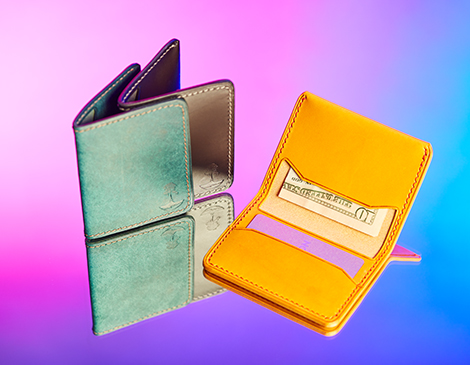 Cedar Grove Leather's 3 Pocket Wallet
Jessi Chapin, who started making her collection of accessories in 2018, crafts the perfect wallets for everyday carry. Read More >>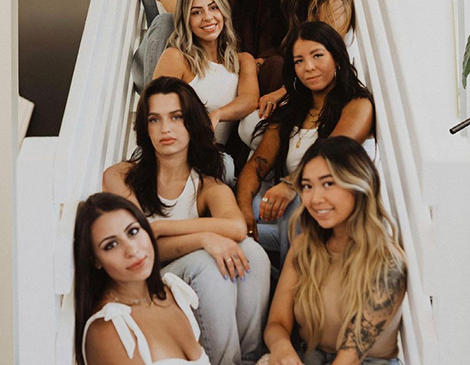 CLE Glo's All-Natural, Vegan Spray Tan
The Lakewood-based company uses a spray tan solution from California that's vegan-certified by PETA. Read More >>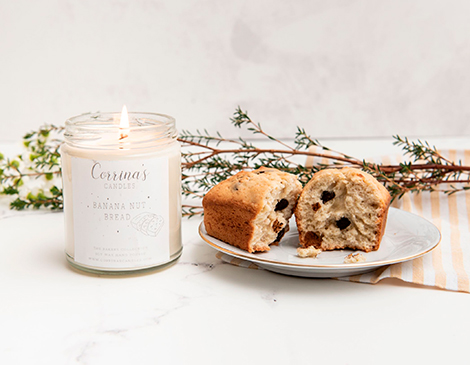 Corrina's Candles' Bakery Scented Candles
With everything from birthday cake candles (complete with sprinkles) to blueberry cheesecake, Corrina Colyer's candle scents are the real deal. Read More >>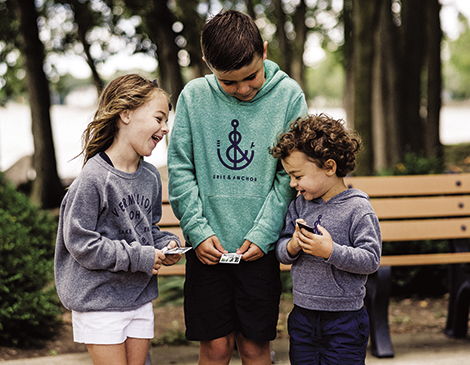 Erie And Anchor's Lake-Inspired Clothing
After opening an online store in 2017, Micah Roberts opened a physical storefront in February 2020. Read More >>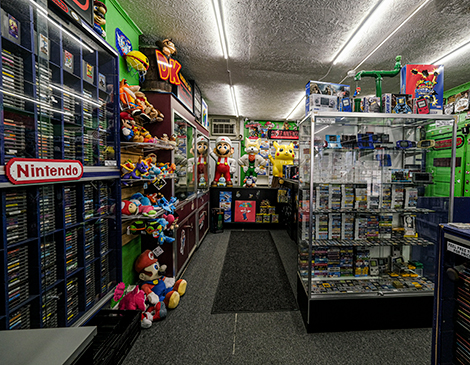 James Games & More's Video Game Store
Whether you're looking to get the newest hit or take a ride on the retro side, this Lakewood game shop has what you need. Read More >>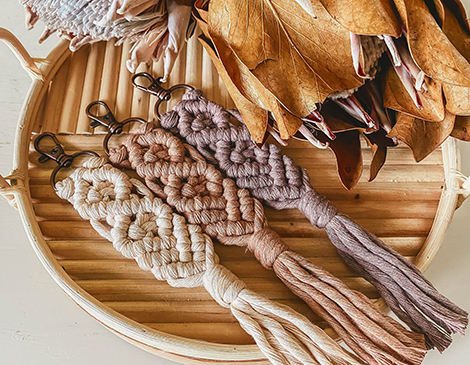 Knot Co.'s Macrame Keychains
Whether this keychain holds a practical purpose or is pure decoration, you'll never want to leave home without it again. Read More >>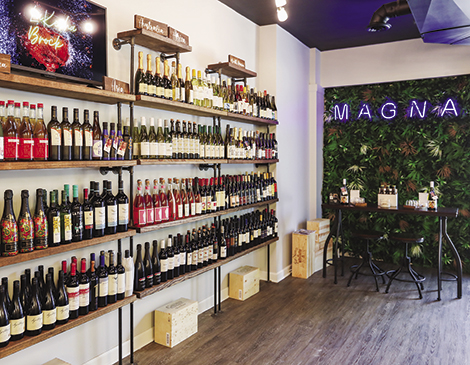 Magna Wine Boutique
The wine shop with locations in Bedford and Cuyahoga Falls has roughly 20-30 bottles of minority-crafted wine on their shelves at any given time. Read More >>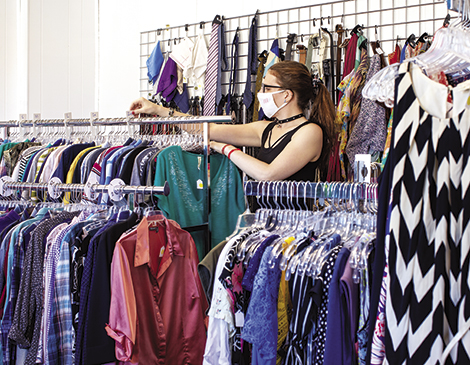 Margie's Closet's Transgender Thrift Store
In addition to having dressing rooms designed specifically for members of the trans community, transgender individuals can shop for free through a voucher program. Read More >>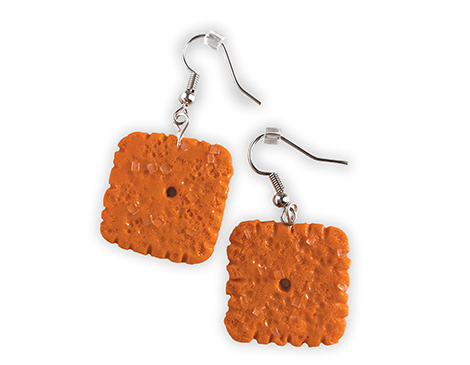 Turquoise Kitten's Miniature Food Earrings
Made with clay, resin and blending clays, offerings include earrings designed to look like nachos, egg roll wrappers and chicken noodle soup. Read More >>
Entertainment & Things To Do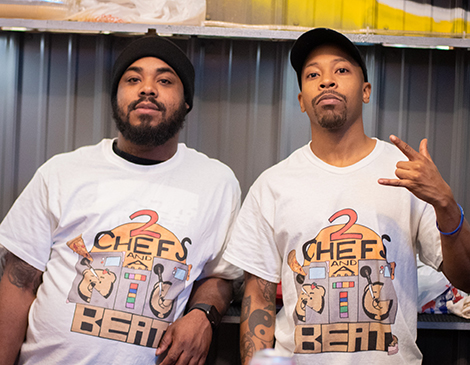 2 Chefs And A Beat's Musical Pop-Up Dining Experience
The monthly dining event is organized by Cleveland kitchen legend Carlos Singleton. Read More >>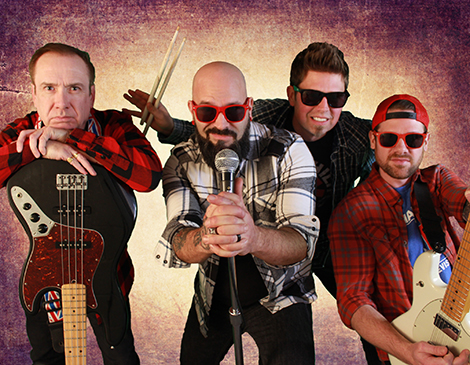 '90s Cover Band Flannel Planet
Enjoy their renditions of the decade's greatest hits such as chart-toppers from Green Day, Nirvana and more. Read More >>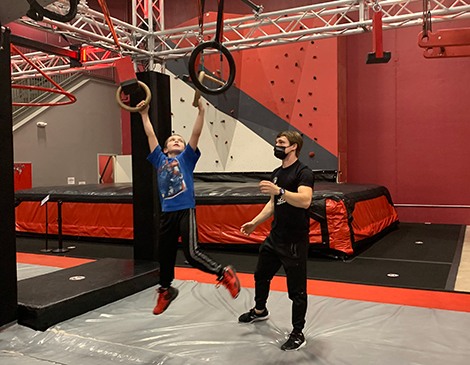 Adrenaline Monkey's American Ninja Warrior Training Gym
The 24,000 square foot space in Cleveland has more than 50 obstacles used on American Ninja Warrior. Read More >>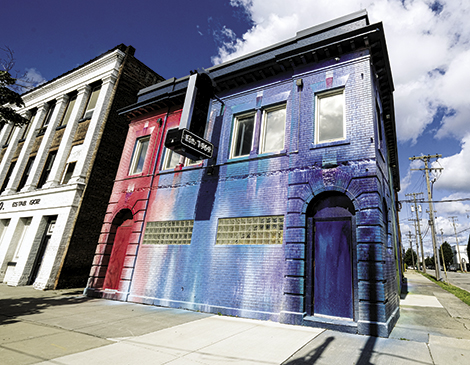 Graffiti Heart's Rainbow Mural
The Superior Avenue mural is comprised of roughly 30 different colors and was created over a five day period. Read More >>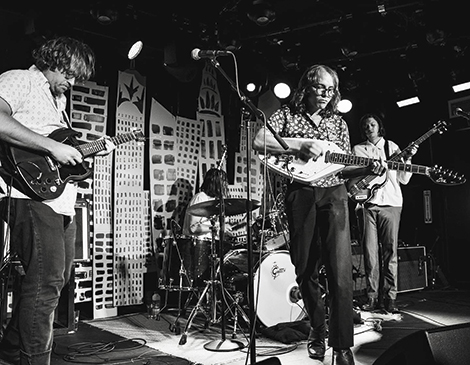 Ma Holos, Cleveland Indie Band
This self-proclaimed flower-punk group's short, impactful songs are perfect for anyone who enjoys vibing along with what they're listening to. Read More >>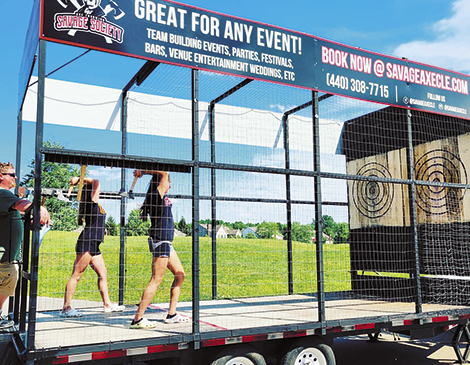 Savage Society Axe Throwing's Mobile Axe Throwing
Let the world (literally) see your axe throwing skills with this mobile throwing trailer from Savage Society Axe Throwing in Amherst. Read More >>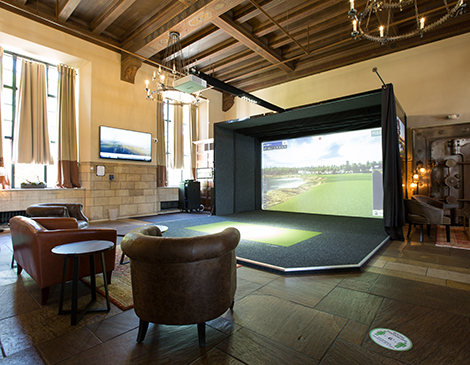 ProXimity Golf Lounge's Golf Swing Simulator
This Cleveland Heights venue features five golf simulators that let you "play" at courses from all over the world. Now you really don't have any excuse to shank your first shot of the spring. Read More >>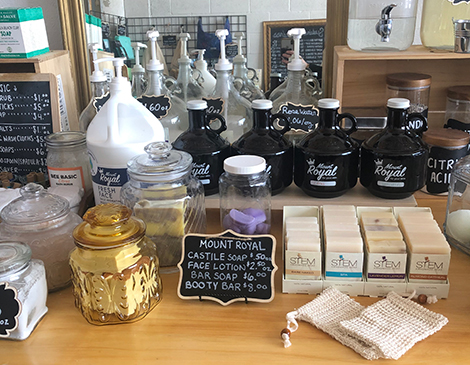 Refill Goddess' Refill Store
This Lakewood shop offers two dozen products that feature packaging that can be recycled. Read More >>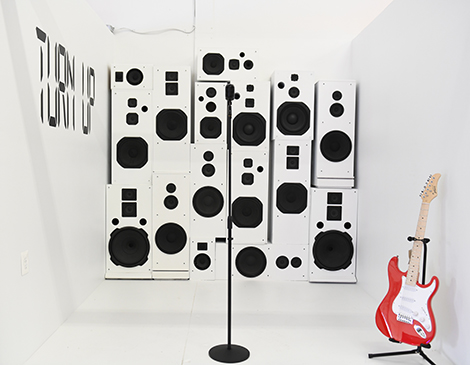 Social Selfies' Selfie Background
Located in Eastlake, this photography studio has more than 20 interactive rooms and photo backgrounds. Read More >>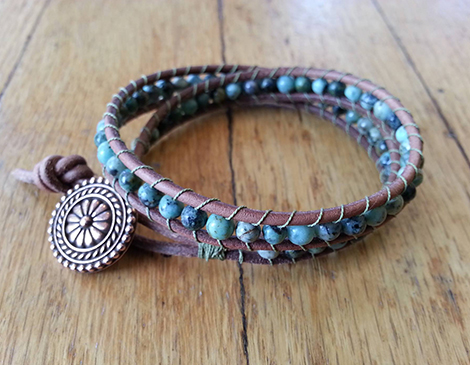 Best of the Best: 3 Area DIY Classes To Learn A New Talent
Whether it's baking or jewelry making, these DIY classes from Little Birdie Wine Nest, Cleveland Rocks Beads and Jewelry and Annie's Signature Sweets will help you find your next favorite hobby. Read More >>
Click here to read this year's Readers Picks, where our readers responded with their favorite picks in more than 60 categories such as best happy hour, best pizza, best boutique and more!