After John Adams passed away in late January, local blues musician Colin Dussault reworked one of the most iconic baseball songs ever as a way to honor the Cleveland baseball drummer.
Dussault's new song, "Left Centerfield" is a creative cover of "Centerfield" by John Fogerty, with lyrics rewritten to pay homage to Adams. Adams was known for his steady drumbeat, providing a rallying thump for baseball fans since 1973.
Dussault's version alters the chorus, alluding to Adams' impact on Cleveland baseball:
"
In CLE, there's an empty seat in left centerfield."
The song features Dussault's vocals and harmonica skills, along with Jim Tigue on guitar, Eroc Sosinski on bass and Jimmy Stamper on drums.
The CD will be released on April 7, also the Guardians' Opening Day at Progressive Field. It's available for purchase for $10 (with $3.50 shipping) at Dussault's website, colindussault.com. Proceeds will benefit the John Adams Scholarship Fund, a new charity for the arts.
Read more: Cleveland Music Scene Shares Impact of the Guardians Drummer
Outside of his Cleveland baseball fandom, Adams was an ardent supporter of Cleveland's local music scene. He was a founding member of the Cleveland Blues Society and occasionally performed with area groups.
"
His face would light up, and you could tell he loved it," singer-songwriter Tracy Marie told Cleveland Magazine earlier this year. "He supported the local music scene and helped launch the Cleveland Blues Society from the ground up. John had a way of creating his own place in baseball history as well as a legacy in Cleveland's music economy."
Read the full lyric sheet below.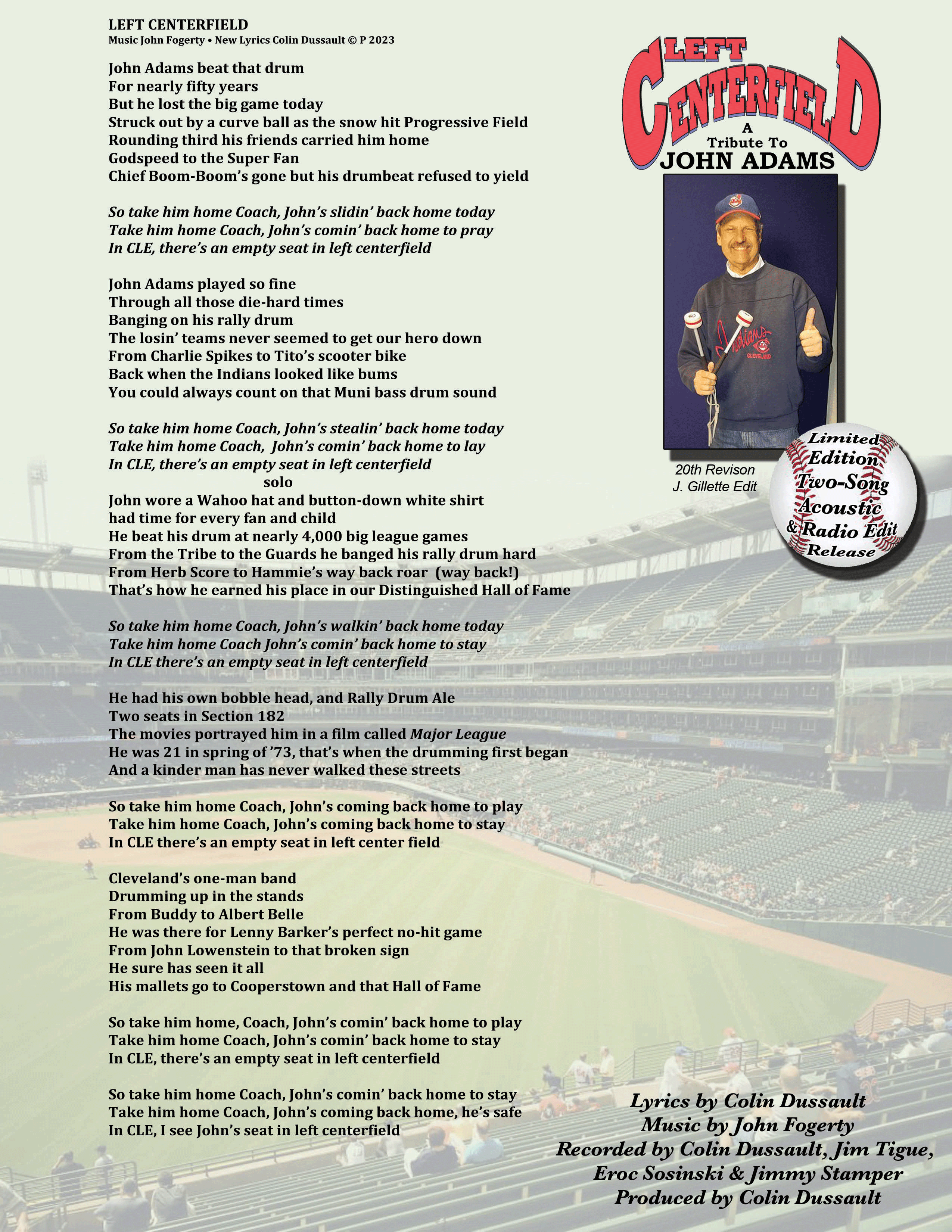 Get ahead of the weekend by signing up for our free weekly "In the CLE" newsletter — your guide to fun throughout The Land. Arriving in your inbox every Wednesday, this weekend to-do list fills you in on everything from concerts to museum exhibits — and more. Click here to subscribe.