Things have definitely gotten more comfortable in the last year: how we dress, work and eat. Though the COVID-19 pandemic made fast and delicious takeout foods a way of life, the shift towards casual eating has been a long time coming. "Around 2008, the food truck scene started to happen," says Carmen Paponetti, chef and owner at Domo Yakitori & Sushi. "Talented chefs were bringing incredible tasting food to people in a way that hadn't previously been done." So while the trend may have started years ago, it's definitely here to stay with the continued popularity of food delivery apps and more restaurants shifting towards a scaled back, casual approach. Here's four ways to dig in.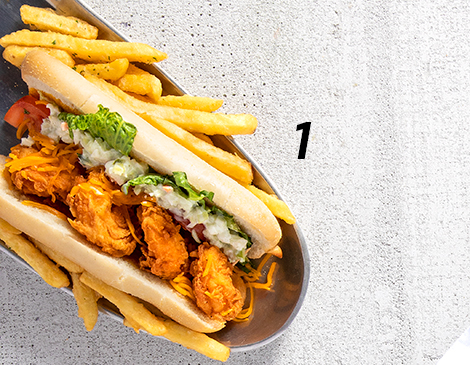 1. Gusto's Seafood & Chicken's Shrimp Po'boy ($9.99)
Inspired by a trip to New Orleans, this shrimp po'boy combines crispy, breaded seafood with lots of flavor. "It has a little flair to it, and that's what we wanted," says Jacory Stone, co-owner of Gusto's and creator of the po'boy recipe. While a classic po'boy contains mayonnaise, Gusto's features its bestselling honey gold sauce giving it an intriguing taste. 12310 Superior Ave., Cleveland, 216-999-7717, gustossc.com
2. Cilantro Taqueria's Carnitas Bowl ($9.99)
The secret to this delicious carnitas bowl is the way it's prepared — the pork is slow-cooked in oil over several hours. "It's a unique taste," says Rey Galindo, co-owner of Cilantro Taqueria. "It's a sweet, salty and citrusy melts-in-your-mouth shredded pork." On Mondays, enjoy the $7 carnitas bowl special. Various locations, cilantrotaqueria.com
3. Domo Yakitori & Sushi's Okonomiyaki ($9)
"There are two basic styles of the okonomiyaki," says Paponetti of the Japanese savory pancake. "Ours is the Hiroshima-style, which is more of a layered dish." By using high-quality ingredients, Paponetti delivers a variety of flavors and textures in one tasty meal. The restaurant also uses locally sourced bacon, putting a unique twist on this traditional Japanese street food. 3441 Tuttle Road, Shaker Heights, 216-316-5534, domoyakitori.com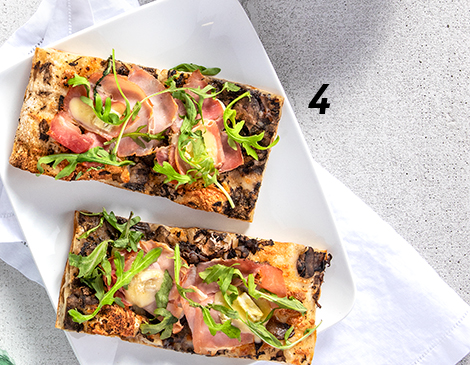 4. Citizen Pie Roman Cafe's Cotto and Brie Pizza ($5.50 per slice)
This pizza blends brie cheese with earthy truffle oil, salty prosciutto cotto and a mushroom base. "Those three flavor combinations are just like peanut butter, jelly and white bread," says Vytauras Sasnauskas, chef and partner at Citizen Pie. Grab a slice when walking down East Fourth Street or enjoy it with a glass of beer or wine while relaxing on the Roman Cafe patio. 2057 E. Fourth St., Cleveland, 216-394-0155, citizenpie.com
If you enjoyed this story, dig in to the rest of May's Best Restaurants issue below.
How Cleveland Is Eating Now
From fried chicken, casual pop-up options and new local chefs to watch, the Cleveland food scene is finding new ways to thrive. Plus, the up-and-coming chefs we're most excited about. Read More >>
Cleveland 10 Best New Restaurants
From pizzas to tacos, New American comfort food, tightly packed sushi and decadent multicourse meals, these restaurants have made a lasting impression over the past year. Read More >>
An Ode To 5 Restaurants We'll Miss
From iconic downtown spots to a trailblazing New American joint to family favorites, these restaurants lost during our pandemic year have forever left a more. Read More >>
How 5 Dining Spots Expertly Pivoted During The Pandemic
By creating more diverse menus that travel well, doubling down on their communities and rebranding all together, these Northeast Ohio restaurants found new ways to do what they do best. Read More >>
Ghost Kitchens' Small Footprints And Huge Ambitions Take Cleveland By Storm
The COVID-19 pandemic jumpstarts the ghost kitchen trend in Cleveland with options such as Good Meal Jane and Amba. Read More >>
Local Restaurants Expand And Experiment With Vegan Offerings
From GoBuddhaMeals' walnut taco bowls to The Vegan Club's fettucine Alfredo, we highlight four unique vegan dishes created by local kitchens. Read More >>
Cleveland's Fried Chicken Craze Is Here To Stay
White House Chicken, Angie's Soul Cafe and others offer up unique fried chicken options that comfort and inspire. Read More >>
Pop-Up Eateries Thrive In The COVID-19 Era
The Roaming Biscuit and FatBoy Sammies are among area pop-ups finding success. Read More >>
Chefs To Watch

Laura Jerina-Potts Takes A Detailed Approach To Desserts
Thyme Table's pastry chef has been serving up intricate delicacies and sweets for the last three years. Read More >>
Jarrett Mines Eager To Leave His Mark With Cleveland's Filter
With the opening of the new Warehouse District restaurant, the former personal chef is ready to wow the city with his interactive dishes. Read More >>
Vinnie Cimino's New Immigrant Son Brewery Menu Pays Homage To His Ancestors
The 'quasi-nomadic' chef is settling down with a new Lakewood brewery menu inspired by light, communal, immigrant-inspired fare. Read More >>
Tiwanna Scott-Williams' Homemade-Style Comfort Food Shines At Pearl's Kitchen
A former nurse, chef Tiwanna Scott-Williams tells us why she's ready to take Cleveland by storm with her homecooked, comfort-food style. Read More >>
Jose Melendez's Twisted Taino Expertly Blends Caribbean And Latin Flavors
A Sauce the City Food Hall staple, Twisted Taino is expanding to a second location in Parma that will house catering, carryout and delivery services. Read More >>