Shawnda Moye looks back on the past year with awe.
"2020 was learning the art of the pivot," says the owner of The Roaming Biscuit, a breakfast sandwich pop-up.
When the pandemic began, Moye had to reconfigure her business model on the fly. Accustomed to working out of various locations across the city, she soon settled into a more permanent schedule with Six Shooter Coffee in Collinwood. Now, Moye calls Six Shooter home five days a week while managing a variety of simultaneous pop-ups across the city.
Without her own kitchen to work in, Moye relies on host restaurants — but the loyal following she's built on social media ensures that her hosts are all but guaranteed to see returns.
"When I reach out to a business to do a collab, I say, 'It's a proven fact, I'm going to bring customers to you,' " she says, confidently. "It's a win-win for both of us."
Mahall's 20 Lanes in Lakewood has been banking on the buzz that its pop-ups provide. Typically a live music venue, Mahall's has morphed into one of the city's key pop-up partners throughout the pandemic, working with The Roaming Biscuit and others.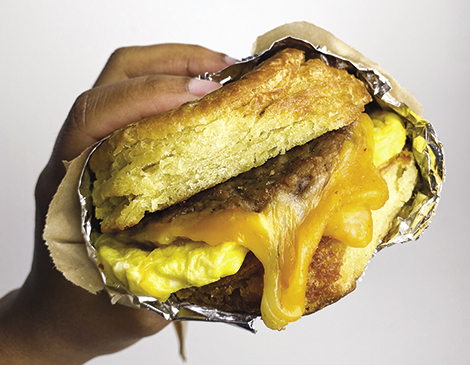 It hosted FatBoy Sammies, chefs Vinnie Cimino and Ryan Boone's '90s-themed pop-up serving decadent, gargantuan sandwiches, as well as chef Parker Shaffer's eponymous Parky's Pop-Ups, offering alternating fried chicken and burger menus.

"We've had great turnouts to our events and feel very connected with our customers," says Cierra Shaffer, co-owner of Parky's. "We'd love to keep that going and eventually open a space of our own to let other aspiring chefs work out of."
Madison Pierce, owner of Burial Grounds Vegan Bakery, says being able to use another restaurant's kitchen allowed her to get her business off the ground. For four months, she operated as a semipermanent entity within Rood Food & Pie in Lakewood, her desserts appearing on its main menu but under her company's name.
"Being welcomed with open arms into such a nice kitchen was significantly more affordable than renting a commercial kitchen," says Pierce, who has since moved to a home-based business in Akron. The following she built while partnering with Rood Food allowed her the stability to strike out on her own.
After a year of selling at farmers markets and breweries, even Autumn Johnston, perhaps better known as The Pierogi Lady for the last 10 years, says she has faith in the future of pop-ups.
"I think 2021 is a banner year," she says. "People appreciate pop-ups and the events they didn't get to do last year even more."
If you enjoyed this story, dig in to the rest of May's Best Restaurants issue below.
How Cleveland Is Eating Now
From fried chicken, casual pop-up options and new local chefs to watch, the Cleveland food scene is finding new ways to thrive. Plus, the up-and-coming chefs we're most excited about. Read More >>
Cleveland 10 Best New Restaurants
From pizzas to tacos, New American comfort food, tightly packed sushi and decadent multicourse meals, these restaurants have made a lasting impression over the past year. Read More >>
An Ode To 5 Restaurants We'll Miss
From iconic downtown spots to a trailblazing New American joint to family favorites, these restaurants lost during our pandemic year have forever left a more. Read More >>
How 5 Dining Spots Expertly Pivoted During The Pandemic
By creating more diverse menus that travel well, doubling down on their communities and rebranding all together, these Northeast Ohio restaurants found new ways to do what they do best. Read More >>
How Cleveland Restaurants Have Adapted To The Demand For Casual Dining
Gusto's Seafood & Chicken, Cilantro Taqueria, Domo Yakitori & Sushi and Citizen Pie Roman Cafe are elevating quick, comfortable eats. Read More >>
Ghost Kitchens' Small Footprints And Huge Ambitions Take Cleveland By Storm
The COVID-19 pandemic jumpstarts the ghost kitchen trend in Cleveland with options such as Good Meal Jane and Amba. Read More >>
Local Restaurants Expand And Experiment With Vegan Offerings
From GoBuddhaMeals' walnut taco bowls to The Vegan Club's fettucine Alfredo, we highlight four unique vegan dishes created by local kitchens. Read More >>
Cleveland's Fried Chicken Craze Is Here To Stay
White House Chicken, Angie's Soul Cafe and others offer up unique fried chicken options that comfort and inspire. Read More >>
Chefs To Watch

Laura Jerina-Potts Takes A Detailed Approach To Desserts
Thyme Table's pastry chef has been serving up intricate delicacies and sweets for the last three years. Read More >>
Jarrett Mines Eager To Leave His Mark With Cleveland's Filter
With the opening of the new Warehouse District restaurant, the former personal chef is ready to wow the city with his interactive dishes. Read More >>
Vinnie Cimino's New Immigrant Son Brewery Menu Pays Homage To His Ancestors
The 'quasi-nomadic' chef is settling down with a new Lakewood brewery menu inspired by light, communal, immigrant-inspired fare. Read More >>
Tiwanna Scott-Williams' Homemade-Style Comfort Food Shines At Pearl's Kitchen
A former nurse, chef Tiwanna Scott-Williams tells us why she's ready to take Cleveland by storm with her homecooked, comfort-food style. Read More >>
Jose Melendez's Twisted Taino Expertly Blends Caribbean And Latin Flavors
A Sauce the City Food Hall staple, Twisted Taino is expanding to a second location in Parma that will house catering, carryout and delivery services. Read More >>