In the past, the idea of eating vegan had a stigma of sacrificing taste. But as more people adapt to this lifestyle, local chefs are proving that flavor and creativity go hand-in-hand with mindful eating. "A couple years ago in the industry, that's when some of the restaurants looked at increasing plant-based options," says Joshua Ingraham, co-owner and chef of Go Budda Meals in Rocky River. "The rest of the community needed to catch up to the trend. Here in the Northeast Ohio area, we're seeing more of a progressive mindset. " Here are four restaurants dedicated to veganism and some dishes you'll love.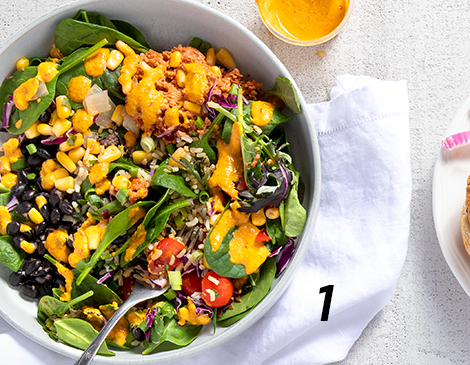 1. Go Buddha Meals' Walnut Taco Bowl ($12)
A crumbly blend of ground walnuts and lightly roasted and seasoned cauliflower stems create the base of this dish. The tomato paste in the mixture caramelizes in the oven, giving it a texture similar to taco meat. "The chipotle cheez sauce is made from red peppers, soaked cashews, nutritional yeast and seasonings, blended very smooth," says Ingraham. The end result is intense, robust taco flavors with a kick of heat and spice. 19900 Detroit Road, Rocky River, 216-352-0820, gobuddhameals.com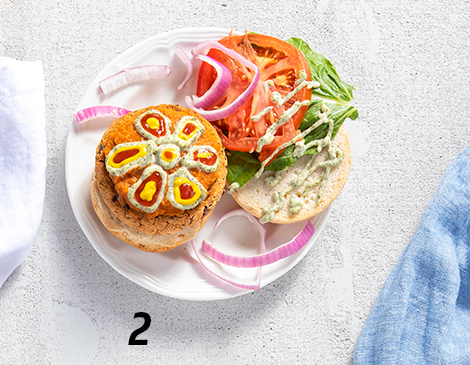 2. SomethinGoodTo Eat's Good Burger ($7)
Owner Andrew Taysha estimates he probably made "a few thousand" burgers for family and friends before settling on this recipe, which starts with a protein-packed base of black beans and brown rice flour. "The biggest complaint from people who make their own veggie burgers is that they tend to fall apart," says Taysha. "Ours stay together utilizing a chia egg, a blend of chia seeds and water that coagulate into an eggy-type substance after mixing and sitting a few minutes." 12210 Larchmere Blvd., Cleveland, 216-956-5701, somethingood.co/toeat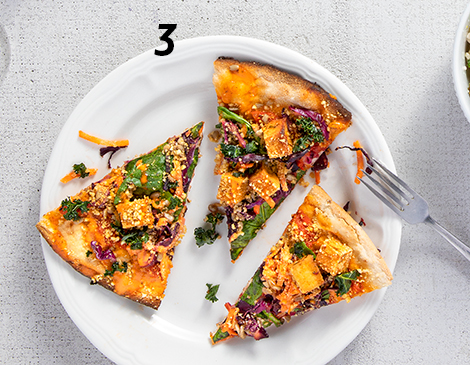 3. Planted's Cauliflower Crust Pizza ($13, plus $4 per topping)
Cauliflower, rice and potatoes create the spongy, chewy crust that's so close to a classic recipe it fools people, says Erica Carlberg, part owner of this ghost kitchen located inside Red Lantern Kitchen & Bar. "We'll have customers call and say, 'You gave me the wrong crust. I ordered the cauliflower crust and this is regular.' And I'll tell them [the cauliflower crust] is the only crust we have." Top yours with the spicy, savory pesto-style red pepper cashew sauce, marinated tofu, garlicky red cabbage and cashew Parmesan for the perfect "cheesy" touch. 17446 Lorain Ave., Cleveland, 216-284-6090, planted.restaurant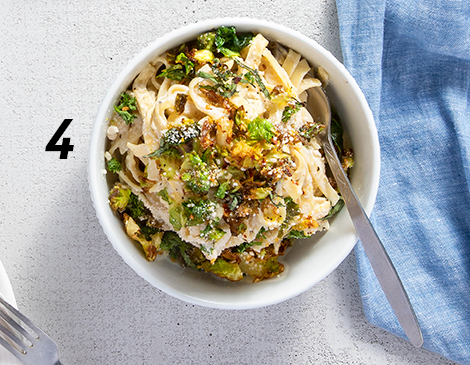 4. The Vegan Club's Fettuccine Alfredo ($18)
Coconut milk and raw cashews are the creamy base on this dish, which executive chef Porscha Phillips created in order to tick a culinary box. "I looked at things I was missing when I first became vegan," she says. "It's hard to find a creamy vegan sauce anywhere, and it was important for me to put a creamy sauce on our menu." For the record, she nailed it. The roasted, caramelized Brussels sprouts on top bring the perfect amount of crunch as well as a savory zing. 13228 Shaker Square, Cleveland, 216-465-2054, theveganclubcle.com
If you enjoyed this story, dig in to the rest of May's Best Restaurants issue below.
How Cleveland Is Eating Now
From fried chicken, casual pop-up options and new local chefs to watch, the Cleveland food scene is finding new ways to thrive. Plus, the up-and-coming chefs we're most excited about. Read More >>
Cleveland 10 Best New Restaurants
From pizzas to tacos, New American comfort food, tightly packed sushi and decadent multicourse meals, these restaurants have made a lasting impression over the past year. Read More >>
An Ode To 5 Restaurants We'll Miss
From iconic downtown spots to a trailblazing New American joint to family favorites, these restaurants lost during our pandemic year have forever left a more. Read More >>
How 5 Dining Spots Expertly Pivoted During The Pandemic
By creating more diverse menus that travel well, doubling down on their communities and rebranding all together, these Northeast Ohio restaurants found new ways to do what they do best. Read More >>
How Cleveland Restaurants Have Adapted To The Demand For Casual Dining
Gusto's Seafood & Chicken, Cilantro Taqueria, Domo Yakitori & Sushi and Citizen Pie Roman Cafe are elevating quick, comfortable eats. Read More >>
Ghost Kitchens' Small Footprints And Huge Ambitions Take Cleveland By Storm
The COVID-19 pandemic jumpstarts the ghost kitchen trend in Cleveland with options such as Good Meal Jane and Amba. Read More >>
Local Restaurants Expand And Experiment With Vegan Offerings
From GoBuddhaMeals' walnut taco bowls to The Vegan Club's fettucine Alfredo, we highlight four unique vegan dishes created by local kitchens. Read More >>
Cleveland's Fried Chicken Craze Is Here To Stay
White House Chicken, Angie's Soul Cafe and others offer up unique fried chicken options that comfort and inspire. Read More >>
Chefs To Watch

Laura Jerina-Potts Takes A Detailed Approach To Desserts
Thyme Table's pastry chef has been serving up intricate delicacies and sweets for the last three years. Read More >>
Jarrett Mines Eager To Leave His Mark With Cleveland's Filter
With the opening of the new Warehouse District restaurant, the former personal chef is ready to wow the city with his interactive dishes. Read More >>
Vinnie Cimino's New Immigrant Son Brewery Menu Pays Homage To His Ancestors
The 'quasi-nomadic' chef is settling down with a new Lakewood brewery menu inspired by light, communal, immigrant-inspired fare. Read More >>
Tiwanna Scott-Williams' Homemade-Style Comfort Food Shines At Pearl's Kitchen
A former nurse, chef Tiwanna Scott-Williams tells us why she's ready to take Cleveland by storm with her homecooked, comfort-food style. Read More >>
Jose Melendez's Twisted Taino Expertly Blends Caribbean And Latin Flavors
A Sauce the City Food Hall staple, Twisted Taino is expanding to a second location in Parma that will house catering, carryout and delivery services. Read More >>