Cleveland rocked as the American League notched its 45th win 4-3 over the National League in the 90th Midsummer Classic. While the 36,747 fans who packed Progressive Field cheered the home team to a 4-3 victory, the city saw a grand slam blast of energy and things to do. The first-ever Play Ball Park brought a brand new interactive fan experience, two concerts and more to the outdoor Malls and Huntington Convention Center of Cleveland, restaurants and bars were packed (in a good way) and we tried to spot as many celebs as we could. While Clevelanders wait until 2022 for the NBA All-Star Game to come to town, here are 11 (because 10 just isn't loud enough) memories from the game and beyond.

1. Bieber's MVP performance
In a stellar effort, Cleveland Indians starting pitcher Shane Bieber struck out three straight batters to end the bottom of the fifth inning, preserving the American League's slim 2-0 lead. A late addition to the All-Star roster, the 24-year-old was named the game's MVP.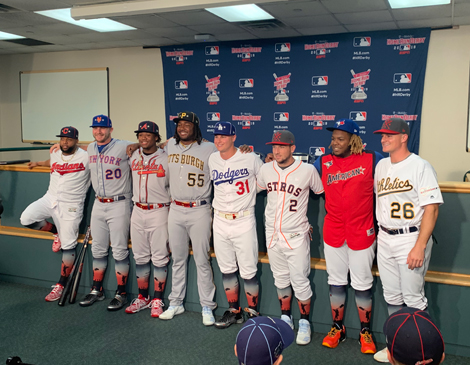 2. Vlad Jr. lights up the Home Run Derby
While Pete Alonso of the New York Mets won the Derby, Toronto Blue Jays phenom Vladimir Guerrero Jr. won the night, hitting 91 home runs, including a few shots off the left field scoreboard, a feat that only a roided-out Mark McGwire accomplished.

3. Hafner, Lofton, Baerga, MGK and shirtless J.R. homer in the Celebrity All-Star Game
Drew Carrey's Cleveland team lost to The World team in this year's Celebrity Softball Game, but fans still got their fair share of great Cleveland moments. Former Indians Kenny Lofton, Travis Hafner and Carlos Baerga cranked home runs over the 250-ish-foot fence, rapper Machine Gun Kelly hit a goofy, little-league-esque inside the park home run and a shirtless J.R. Smith hit his own inside-the-park homer and celebrated by rolling around on the ground behind home plate. We miss you J.R.




4. Progressive Field stands up to cancer
In a moment of solidarity, nearly the entire crowd stood up during a mid-inning break and held up personalized "I Stand Up to Cancer" signs. Indians All-Stars Francisco Lindor, Carlos Santana, Bieber and Brad Hand, and manager Terry Francona, held up signs with "Cookie" written on them for teammate pitcher Carlos Carrasco, who disclosed his diagnosis of a treatable form of Leukemia earlier this week. We're not crying. You're crying!

5. Moment of silence for Tyler Skaggs
Major League Baseball observed a moment of silence for Los Angeles Angels starting pitcher Tyler Skaggs, who was found dead in his Texas hotel room July 1. Teammates Mike Trout and Tommy La Stella wore No. 45 jerseys in Skaggs' honor, while every player donned a black "45" patch throughout the game.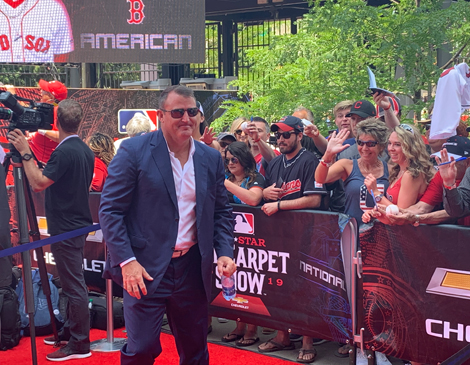 6. Thome and Brantley's homecoming
Thome and Michael Brantley were welcomed back to Cleveland with open arms. Thome participated in the softball game, coached in the Futures game and served as an ambassador during the Home Run Derby and All-Star Game. Meanwhile, Brantley got arguably the loudest round of applause when he was introduced. It was the former Indians outfielder's first time returning to Progressive Field since signing with the Houston Astros in December 2018.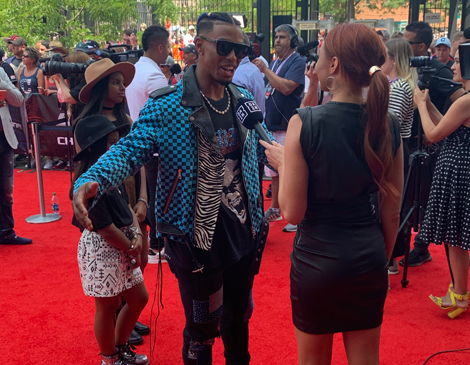 7. Frankie's All-Star Look
Lindor embraced the "Cleveland Rocks" theme wholeheartedly on the All-Star Game red carpet Tuesday afternoon. He went full rock star with a blue leather jacket, suede boots covered in chains, a bedazzled concert t-shirt and blue, braided hair.

8. Sabathia throws ceremonial first pitch
Former Indians pitcher C.C. Sabathia threw the ceremonial first pitch to former Indians catcher Sandy Alomar Jr., who famously hit the game-clinching home run in the 1997 All-Star Game. This is Sabathia's seventh and final All-Star appearance as the Yankees pitcher is set to retire at the end of the season.

9. Santana comes up short
While Santana certainly enjoyed his first All-Star appearance, strolling into media day blinged out with all cameras on him, the Indians slugger had a quiet performance in both the Home Run Derby and the All-Star game. But we'll always remember that our favorite first baseman started for the AL squad in front of the hometown crowd.

10. Chapman's cold shoulder
The only thing louder than cheers for Brantley, Santana and Lindor? Boos for New York Yankee and former Chicago Cub Aroldis Chapman — even when he came in to pitch for the home team. Same goes for just about every other Yankee or Cub on the field Tuesday night. Nice job outta you, Cleveland.

11. Welshly Arms Rocks Cleveland
The Cleveland rockers opened up for Columbus natives Twenty One Pilots at Play Ball Park on Friday night. The band also kicked off the Celebrity All-Star Game with a two-song set of its hits "The Only" and "Legendary."