Cleveland, we're on the clock. For the first time ever, Northeast Ohio has been chosen to host the NFL Draft. After it was announced in spring 2019, we had visions of hundreds of thousands of football fans donning jerseys and face paint lining the busy streets of downtown Cleveland. Parties, concerts, celebrities. You name it — the world would be watching us.
But then COVID-19 happened and as Cleveland's sports history goes, the draft began to feel more like The Fumble than a Baker Mayfield fourth-quarter drive. Not so fast, says Destination Cleveland president and CEO David Gilbert. While he understands that the draft, which runs April 29 through May 1, won't be what was originally envisioned, his hope is that the event can still be special.
"By almost any measure, it is one of the largest events in sports, if not the largest in some ways, that Cleveland was set to ever host," says Gilbert. "We'll still have the same footprint and showcase our beautiful lakefront with the draft being held with the lake on one side, downtown on the other."
The NFL is certainly doing its part with a lakeside NFL Draft Theater, where the picks will be announced and all attendees will be vaccinated, and an NFL Draft Experience, which will present immersive exhibits and interactive games for all fans. Both experiences are free with a reservation, though the NFL Draft Theater is already at capacity.
"You're going to see all the fan favorites that we bring on the road when we go to the Super Bowl and the NFL Drafts," says Nicki Ewell, NFL Director of Events. "Cleveland is probably not going to get the chance to host a Super Bowl, so this is your opportunity to see how the NFL puts on an event, and we're the best in the world at doing it."
Below, we have all the information you'll need to feel like a first round pick this week in Cleveland.
When and where is the NFL Draft?
The 86th Annual NFL Draft is being held April 29 to May 1 on Cleveland's North Coast Harbor. The main event takes place in the NFL Draft Theater, a temporary amphitheater built on the shoreline next to FirstEnergy Stadium. Here, the picks will be announced by Commissioner Roger Gooddell and vaccinated fans will cheer on their team's picks and boo Gooddell, as is tradition.
The first round starts on Thursday at 8 p.m. and runs approximately until 11:30 p.m. Friday's portion of the draft (which consists of the second and third rounds) starts at 7 p.m., while Saturday's portion (rounds four through seven) begins at noon.
All fans who got a free ticket to attend the NFL Draft Theater also got a free ticket to attend this year's NFL Draft Experience inside and around FirstEnergy Stadium. If you didn't get a ticket to the NFL Draft Theater, you can still reserve a spot to the NFL Draft Experience, which will host 50,000 fans per day. There, you can participate in various activities such as attempting a field goal at FirstEnergy Stadium or doing a vertical jump against NFL pros on an LED screen. For more information about the NFL Draft Experience, click here to read our full event guide.
How do I get free tickets to the NFL Draft Experience?
Download the NFL's free OnePass App, which has ticket reservation opportunities, event day directions and other resources you'll need.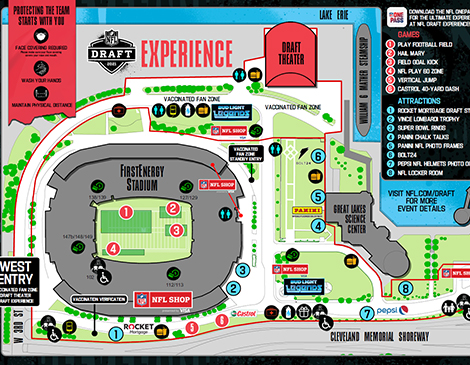 What's different this year compared to years prior?
Well, if we're basing it off last year… everything. While Las Vegas was initially picked to host last year's draft, the COVID-19 pandemic forced the NFL to change plans and pivot to a virtual draft. Instead of announcing picks from a stage in Las Vegas, Goodell announced last year's picks from his basement. That won't be the case this year, as Goodell will be on stage in Cleveland, ready to deliver the good news in person.
Now, compared to earlier years, this year's event will still look a little different. All fans will be required to wear a facial covering while inside the NFL Draft Experience along with having to sign a health promise within the app before entering. Fans are also asked to maintain a physical distance separation of six feet with other fans and all lines for food for food and merchandise will also have physical distancing measures in place. Autograph opportunities will also be replaced with "chalk talks" with NFL pros and legends.
Is this a big deal?
Yes, yes it is. With no in-person draft last year, this year's draft is a huge step towards things in the sporting world getting back to normal. Additionally, this year's draft should have a huge impact on business in downtown Cleveland. According to the NFL, 2019's draft brought $133 million in revenue to Nashville. The year prior, Dallas gained $74 million in revenue from hosting the draft. While COVID might limit this year's revenues, the event is still a much-needed shot of life for a downtown still recovering from the pandemic.
Eh, I'm not sure if I want to go downtown. Is it on TV?
It is. All seven rounds of the draft will be aired on ESPN, ABC and the NFL Network. Mike Greenberg will be this year's host for ESPN and will be joined by Mel Kiper Jr., Louis Riddic and Booger McFarland. ABC's coverage will have more of a college football focus, with Rece Davis, Maria Taylor, Kirk Herbstreit and Desmond Howard serving as the main pundits. On NFL Network, mainstay Rich Eisen is joined by Daniel Jeremiah, Charles Davis and David Shaw.
When do the Cleveland Browns pick?
For the first time in seemingly forever, the draft isn't appointment viewing for most Browns fans. Sure, they still have a pick in the first round (the No. 26 pick, to be exact) but that's a far cry from when they had the first pick in the draft back to back years. The Browns also have pick 59 in round two, picks 89 and 91 in round three, pick 110 in round four, picks 132 and 169 in round five, pick 221 in round six and pick 257 in round seven. Click here for our breakdown of who the Cleveland Browns should take in rounds one and two.
From the must-see events to a special exhibit at the Rock Hall, here are a few more stories to get you ready for the NFL Draft weekend.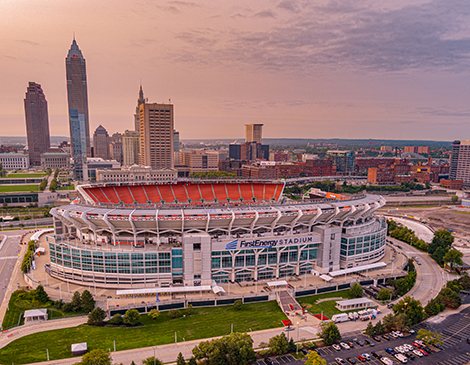 Events, Parties And Things To Do In Cleveland
From a documentary on the NFL's role in saving the coral reefs to an exhibit highlighting Paul Brown's history to a social justice conference, we highlight some events worth checking out this week in Cleveland. Read More >>
3 First-Round Options The Cleveland Browns Should Consider
While the Cleveland Browns are looking stacked this season, there are still some improvements to be made. Here are a few moves we'd like to see the team make. Read More >>
Notre Dame Offensive Tackle Liam Eichenberg Is A St. Ignatius High School Grad Likely To Get Drafted Early
Coach Chuck Kyle shares three things you need to know about the top offensive line prospect. Read More >>
Meet The Sunrise Jones, The Cleveland Cover Band Tapped As The NFL's House Band
The local cover band was tapped by the NFL to play in between picks and commercials over three days at the NFL Draft Theater. Read More >>
First Look: Inside The Rock and Roll Hall Of Fame's Super Bowl Halftime Show Exhibit
The Biggest Show On Turf: 55 Years Of NFL Halftime Shows, which runs from April to September, features an impressive lineup of music memorabilia from football's biggest stage. Read More >>
NFL Draft Gear Guide: T-Shirts, Hats And Souvenirs Every Clevelander Needs
With the NFL world descending on Cleveland for the draft, there's never been a better time to rep Cleveland. Luckily, there's no shortage of options to complete your 216 look. Read More >>