Ghost kitchens have long been popular in bigger cities like New York, Los Angeles and Chicago, but only recently have they really made their mark in Cleveland. More permanent than pop-ups, ghost kitchens allow chefs to utilize the kitchen of an existing restaurant to operate stand-alone concepts — typically with takeout- and delivery-only menus.
"[In Cleveland], if there's no COVID, there's no ghost kitchens," says Tom McIntyre, owner of Kate's Fish at the West Side Market. "There were a lot of concepts in talented chefs' minds that they'd never been able to bring to the light of day."
Creative individuals like McIntyre and others banded together to set up shop within restaurants that had closed or were seeing less business than usual. McIntyre partnered with chef Brett Sawyer to launch Kate's Good Fish Co. in January out of the temporarily defunct Good Company in Gordon Square, with a fast-casual seafood menu that sold out in its first weekend.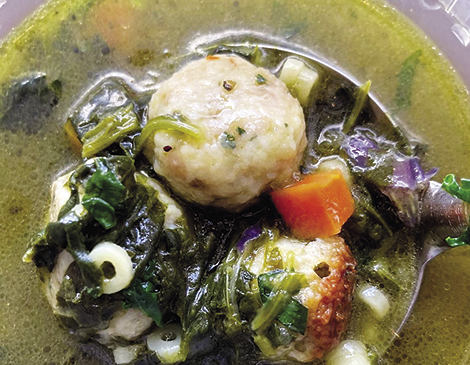 In Moreland Hills, David Chin operates Mr. Chin's Ramen out of Flour, where he's chef de cuisine. In Tremont, Bar Oni's David Kocab and Matthew Spinner serve Italian comfort food at Conforti, using the kitchen at Freddie's sandwich shop next door. And in Kent, the owners of Wild Goats Cafe started operating Front Door Burger right out of their own kitchen as a means of branching out. These collaborative efforts garnered enough excitement and brought in ample customers to keep their host restaurants in business.
Even chef Douglas Katz joined in on the local haunt trend: when his catering commissary sat empty amid the pandemic, he seized the chance to try entirely new ideas he had brewing for a while: Chimi, a South American concept, and Amba, which serves Indian-style food.
"We were lucky to have opportunities to start working on new concepts during a time when there wasn't so much going on," says Katz.
And Detroit-style pizzeria Good Meal Jane, which started as a two-week ghost kitchen out of UnBar Cafe on Larchmere, has already moved into a more permanent home at the Sauce the City Food Hall in Ohio City.
"The pop-up forced the hand of the brick-and-mortar," says Good Meal Jane's chef Will Lewis.
McIntyre is also working on finding a long-term home for Kate's Good Fish Co. — and while there's no telling whether the ghost kitchen trend will last — he thinks the popularity of ghost kitchens has changed the local dining scene for good.
"Fine dining isn't dead, but it will be different," McIntyre says. "People are attracted to casual concepts in more fun and temporary environments."
If you enjoyed this story, dig in to the rest of May's Best Restaurants issue below.
How Cleveland Is Eating Now
From fried chicken, casual pop-up options and new local chefs to watch, the Cleveland food scene is finding new ways to thrive. Plus, the up-and-coming chefs we're most excited about. Read More >>
Cleveland 10 Best New Restaurants
From pizzas to tacos, New American comfort food, tightly packed sushi and decadent multicourse meals, these restaurants have made a lasting impression over the past year. Read More >>
An Ode To 5 Restaurants We'll Miss
From iconic downtown spots to a trailblazing New American joint to family favorites, these restaurants lost during our pandemic year have forever left a more. Read More >>
How 5 Dining Spots Expertly Pivoted During The Pandemic
By creating more diverse menus that travel well, doubling down on their communities and rebranding all together, these Northeast Ohio restaurants found new ways to do what they do best. Read More >>
How Cleveland Restaurants Have Adapted To The Demand For Casual Dining
Gusto's Seafood & Chicken, Cilantro Taqueria, Domo Yakitori & Sushi and Citizen Pie Roman Cafe are elevating quick, comfortable eats. Read More >>
Ghost Kitchens' Small Footprints And Huge Ambitions Take Cleveland By Storm
The COVID-19 pandemic jumpstarts the ghost kitchen trend in Cleveland with options such as Good Meal Jane and Amba. Read More >>
Local Restaurants Expand And Experiment With Vegan Offerings
From GoBuddhaMeals' walnut taco bowls to The Vegan Club's fettucine Alfredo, we highlight four unique vegan dishes created by local kitchens. Read More >>
Pop-Up Eateries Thrive In The COVID-19 Era
The Roaming Biscuit and FatBoy Sammies are among area pop-ups finding success. Read More >>
Cleveland's Fried Chicken Craze Is Here To Stay
White House Chicken, Angie's Soul Cafe and others offer up unique fried chicken options that comfort and inspire. Read More >>
Chefs To Watch
Laura Jerina-Potts Takes A Detailed Approach To Desserts
Thyme Table's pastry chef has been serving up intricate delicacies and sweets for the last three years. Read More >>
Jarrett Mines Eager To Leave His Mark With Cleveland's Filter
With the opening of his new Warehouse District restaurant, the former personal chef is ready to wow the city with his interactive dishes. Read More >>
Vinnie Cimino's New Immigrant Son Brewery Menu Pays Homage To His Ancestors
The 'quasi-nomadic' chef is settling down with a new Lakewood brewery menu inspired by light, communal, immigrant-inspired fare. Read More >>
Tiwanna Scott-Williams' Homemade-Style Comfort Food Shines At Pearl's Kitchen
A former nurse, chef Tiwanna Scott-Williams tells us why she's ready to take Cleveland by storm with her homecooked, comfort-food style. Read More >>
Jose Melendez's Twisted Taino Expertly Blends Caribbean And Latin Flavors
A Sauce The City Food Hall staple, Twisted Taino is expanding to a second location in Parma that will house catering, carryout and delivery services. Read More >>