Chris Allen wants you to know that he isn't a whiz at making latte art.
"I'm never going to be the guy that makes the prettiest latte," he says during a surprise rush hour at Ready Set Coffee Roasters' cafe in Gordon Square.
Roasting great-tasting coffee, on the other hand, is something he'll go to bat for.
"I can make a great-tasting drink, but that's something we all take pretty seriously [here]. I mean, when you know you've created something that people like, it's thrilling. We had someone come in the other day and he was like, 'This is my favorite espresso.' That espresso roast was something we worked really hard on, and it's something that we're extra proud of, so that's rewarding; knowing you are a part of someone's morning ritual."
RELATED: Take a sip of Cleveland's coffee scene at these 34 shops and cafes.
He lets it be known that coffee roasting wasn't a God-given talent. He had to learn and practice, experiment and perfect; starting from a novice in the fall of 2018 to now a fully competent drum roaster and coffee shop owner.
But novice is a general title, and it only opens the door to a freshly brewed cup of questions. Was the Chris Allen of five years ago — musician, songwriter and world-performing artist — hunched over in a garage packed with band equipment, smoke billowing out of the gate, while a DIY YouTube video plays on a floor-set laptop nearby?
Sort of, but not really. Although aspects of this scene weren't too shy of reality, Allen's actual journey began through slightly more conventional means.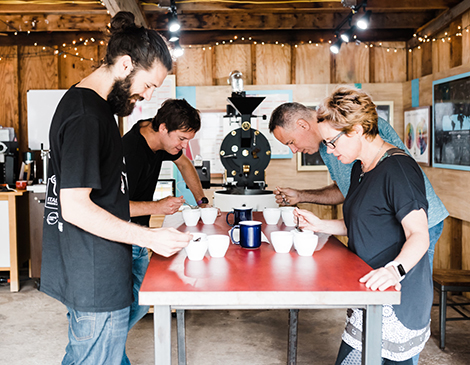 (Photo by Amber Patrick)

It wasn't him alone in a cramped garage teaching himself from start to finish. He had help. More than that, he had peers in the form of his sister and eventual co-owner, Molly Allen, and business partner Jeff Dangremond.
"If you are thinking about the start. I'd say it was the passion for coffee, and the curiosity to learn everything about it," laughs Allen, thinking back. "Before coffee, I was a full-time musician. I had been repeatedly playing at every venue I could in town, touring the states and all over Europe, but I just had this growing obsession for cooking and crafting. By trade, my sister Molly is a restaurant designer, and Jeff is a builder, so when the idea of opening a coffee shop floated around we knew we had the skills to create something in Cleveland that would be special."
With all on board, the team knew that they needed to learn coffee on a more advanced level.
"We wanted to get certifications. We wanted to know all of the ins and outs of making it, serving it, the works. The two-week course at Espresso Academy in Italy gave us that," says Allen of his November 2018 program. "Being on the floor, getting to smell the grounds, the sensory feeling of learning how to roast in a place like that sealed the deal for us."
When the course came to a close, they knew that they couldn't just brew coffee. They needed to roast it … in-house.
In January, the ambitious team had settled on a roasting machine, a 6-pound San Franciscan Coffee Roaster from Utah delivered straight to Allen's garage a few months later. "It took some time, but during that initial period, we were able to take on more skills and knowledge about operating the equipment. We got some time in with a master roaster in North Carolina, learning how to take care of the machine, clean it, all the safety stuff," Allen says.
The experimentation period was next.
"Jeff being the builder came in handy at this point because we really needed to soup up my garage to vent the smoke and create a safer environment before using this thing," Allen says, "then came the hours and hours of everyday roasting."
Not sure what that looks like? Allen paints his own picture.
"It's like flying and landing a plane. You take the heat up really high, and then slowly take the heat off. You want to get it to where it just eventually slows down to that exact time and temperature you're looking for, and that's a process that requires focus."
This heightened sensitivity in roasting would be enough to drive anyone insane, but to Allen, that's what makes roasting so exciting and special. "You could roast a Brazilian coffee to 410 degrees 10 different ways, and it would taste totally different in every case," he says, adding that the entire process only spans between 10 and 15 minutes.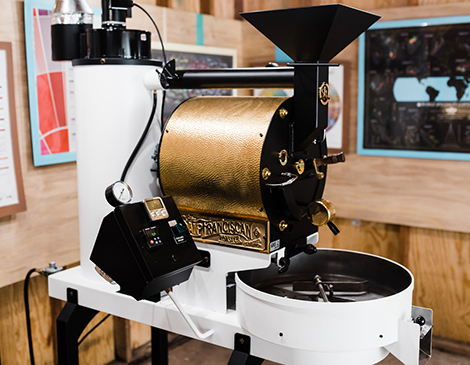 (Photo by Amber Patrick)

Allen says the first couple of "final product" roasts were… in need of some improvement. "It was mind-bendingly hot that summer we started. I remember the garage was just so hot, and we did trial after trial after trial. The first thing we used was a bean from Sertão in Brazil. We were told that it was good to have a benchmark coffee, and since coffee from Brazil has such a standard for being relatively affordable, we thought it would make for great practice."
Soon enough the Brazil coffee went from a practice-product to the basis of their signature blend and bestseller, humorously and accurately labeled "Garage Blend Deep Track."
"We always had a record player going in the garage. It seemed like the perfect fit," he says.
Comparing the garage team then to the thriving business owners Cleveland knows today, Allen says that the evolution from 2018 to 2023 is drastic, more on an emotional level than a logistical one.
"It used to take the three of us huddled over that coffee roaster, and now it just needs one of us. We used to take all of our notes with pen and paper, and now our notes are digital, but we still do the blind cup taste testing, we still do majority rules and debate our opinions on whether a roast is good enough or needs to be changed," he says.
"Everything else though is totally different. I went into Florence a nervous student and now, I was talking to someone about the roasting process of an Ethiopian coffee and I was like, 'I can't believe what's coming out of my mouth.'"
Over the years, the Ready Set team has built a community — not only with cafe patrons, but fellow roasters within the city.
"No matter the location," Allen says, "I think by nature, roasting is a craft that people are pretty protective of in terms of the way they do things. I totally get it and respect that. But it's also a lot of fun when you get to collaborate with someone who's just as passionate about coffee as you."
Dan McLaughlin of Golden Triangle Coffee is one such person. Together the two java-enthused teams have held lighthearted coffee square-downs with public cupping sessions where Clevelanders decide which roaster fixed the best brew, but Allen never forgets his roots.
"That first summer we roasted, I felt like, 'God, I'm such a fraud. What right do I have to do this at this stage in my life?' The answer I would give back to my 2018-2019 self would be that you have every right to do it. It might seem crazy to do all of this but remember what drew you in, in the beginning," he says. "You wanted to create something out of nothing. It's this thrill that stays with me, and all of us every day."
Take another sip of Cleveland's coffee scene:
Start your day the best way by signing up for our free daily newsletter. Arriving in your inbox every morning to keep you in the loop on the best guides, home and style tips, and news briefs for all things Cleveland. Click here to subscribe.