Bridgit McCaffrey, Brewella's Manager
Bridgit McCaffrey, the charismatic Brewella's Coffee, Crepes & Collectibles' manager, and ultimate oat-milk latte connoisseur, says the Lakewood cafe-slash-boutique is hands-down the most eclectic spot you'll ever visit. "It's very 'your grandma's dream shop.' Tons of vintage energy, and super cozy," she says. To her, the best part about the shop — apart from the crepes — is the fact that the barista team doesn't take itself too seriously. "Coffee should be enjoyable, and absolutely for everyone. It doesn't have to be bland if you don't want it to be. We're very open-minded to orders and know that sometimes the best flavor combos come from unexpected pairings."
brewellas.com
Fall menu favorite?
"Oh, definitely the Jack-O-Latte. It has our pumpkin spice syrup that we make in-house."
Hardest thing to learn behind the bar?
"Not to take things too personally with customers, and to remember to have fun."
Go-to coffee order?
"Mine would be a hot decaf oat milk vanilla latte."
RELATED: Take a sip of Cleveland's coffee scene at these 34 shops and cafes.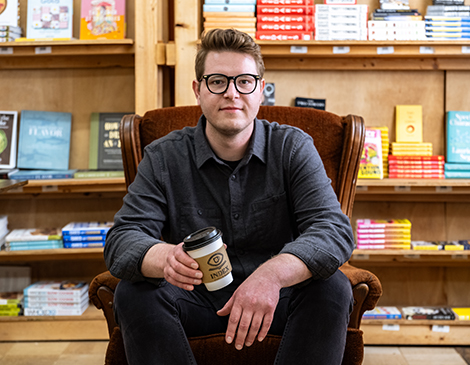 (Photo by Gabe Wasylko)

Austin Fedor, Index Coffee & Books Co-owner
Austin Fedor, co-owner of Index Coffee & Books in the heart of Ohio City, wants you to know how much he loves a good pour-over. "It's a great way to engage with customers about what they're drinking and why it's special," he says, linking the uniqueness of a great pour-over to the uniqueness of his part multi-roaster cafe and part bookstore space. No need to question it: Books and brews are the ultimate combo.
indexcleveland.com
Fall menu favorite?
"Probably the Toasted Marshmallow Latte. It's got an espresso base with homemade toasted marshmallow syrup — and we're talking real marshmallows melted into it."
Hardest thing to learn behind the bar?
"Customer service is key. Remember that making people feel welcome is a great priority to have."
Go-to coffee order?
"I will typically go for an espresso — whichever one sounds the most eccentric, and some sort of filter brew coffee like a pour-over, or drip. That's where my go-tos lie."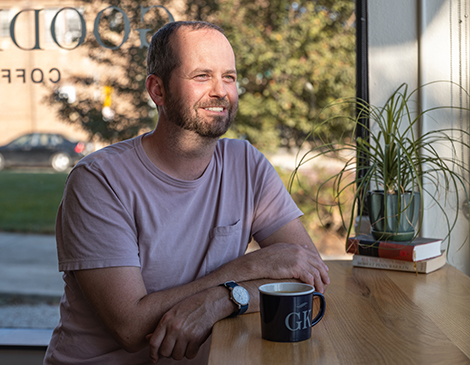 (Photo by Gabe Wasylko)

Parker Bell, Goodkind Coffee Owner
Parker Bell, owner of Goodkind Coffee in Lakewood, loves an urban atmosphere with a hometown spirit. "We're pretty urban-feeling in style, but we have tons of regular customers and have been able to build a really strong community. The baristas and the locals, we're all on a first-name basis," he says, while adding that the shop relies on fresh, ethically sourced coffee that has been brewed to perfection.
goodkind-coffee.square.site
Fall menu favorite?
"We just added a new one. It has homemade rosemary syrup, light caramel, so not overly sweet, and Maldon salt. So, a rosemary, caramel and Maldon sea salt drink. When that salt that's been sitting on the foam hits your lips, it's really good."
Hardest thing to learn behind the bar?
"Latte art. It's a hard thing to perfect, I think even more so than just your typical coffee skills. That in addition with being able to hold down the fort in a tight kitchen and bar space while there is a line out the door. That's a real challenge."
Go-to coffee order?
"I love a black coffee. It's simple, but it can tell you a lot about a shop if it's your first time ordering there."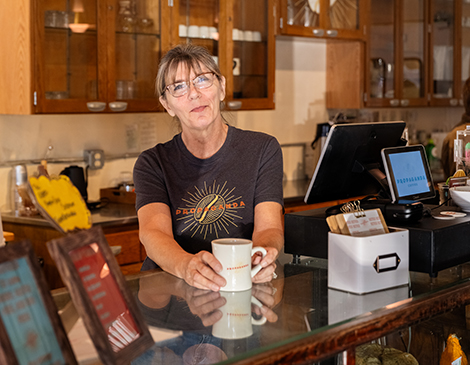 (Photo by Gabe Wasylko)

Ruth Kawecki, Propaganda Coffee General Manager
What Ruth Kawecki loves the most about her Lakewood shop Propaganda Coffee is seeing how much of a relaxation station it has become for Cleveland ever since it opened in 2021. "We're gluten-free, vegan and in-house centralized. It's just a really nice place to come in and relax, eat something great and drink something soothing," she shares. It makes the space a favorite for anyone with dietary restrictions.
propagandacoffee.com
Fall menu favorite?
"The Riverside is my favorite. It has a little bit of brown sugar, vanilla, espresso and some milk."
Hardest thing to learn behind the bar?
"Learning how to foam vegan milk. We have almond and oat milk and, trust me, they're a different consistency than regular milk."
Go-to coffee order?
"Are you asking me right now? Ah! I don't even know. You know what, my go-to is just a regular cup of coffee with cream or, you know, lightener — whatever you want to call it."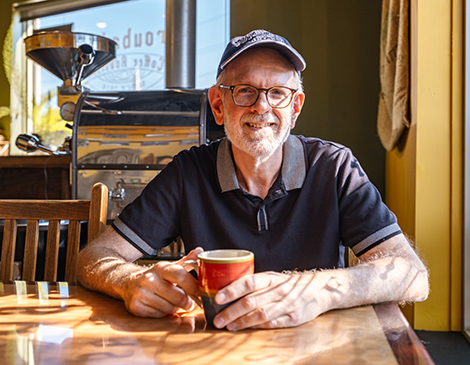 (Photo by Gabe Wasylko)

Tony DiCorpo, Troubadour Coffee Roasters Owner
Like Troubadour Coffee Roasters in Fairview Park itself, owner Tony DiCorpo is a purist when it comes to coffee. "We don't have a fall menu. Our menu is the same all year long. We don't go into seasonal specials and things like that. We're purists, it's just pure coffee here with a focus on micro coffees," he says. As to his favorite bean? DiCorpo says it's all subjective. "Every country that produces coffee has a high quality and a low quality, so I don't really particularly think there's any one region that's perfect out there. Every bean is good in some respects and poor in others. It's just subjective."
troubadourcoffeeroasters.com
Fall menu favorite?
"We're not Starbucks."
Hardest thing to learn behind the bar?
"Customer service. You either have it or you don't."
Go-to coffee order?
"A pour-over coffee. Any good, single origin coffee."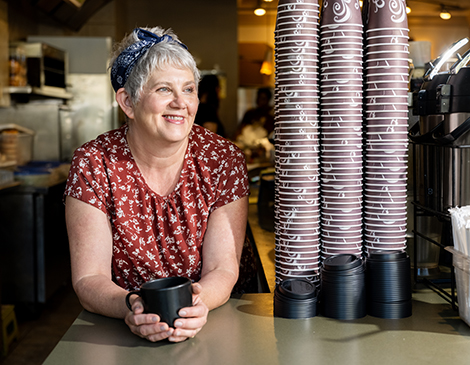 (Photo by Gabe Wasylko)

Mary Wright-Ally, Cafe Ah-Roma Co-Owner
When it comes to consistent visitations, Mary Wright-Ally, owner of Cafe Ah-Roma, knows her two brick-and-mortar havens in Berea and Downtown make your list. And if they don't, they should. "We're your third place. You have work, you have home, and then you have us. We're like the community space around those things."
cafeah-roma.com
Fall menu favorite?
"Each store is a little bit different, and our offerings aren't typically the same, but we have a pumpkin sauce latte with hazelnut in it."
Hardest thing to learn behind the bar?
"Making a good cappuccino. Hands down. Frothing the milk properly is tricky, and everyone likes their cappuccino a bit
different."
Go-to coffee order?
"I'm a drip coffee girl. I just like really good coffee that tastes like the ground it was grown from."
Take another sip of Cleveland's coffee scene:
Start your day the best way (with your favorite local latte) by signing up for our free daily newsletter. Arriving in your inbox every morning to keep you in the loop on the best guides, home and style tips, and news briefs for all things Cleveland. Click here to subscribe.