27 Club Coffee
Why We Love It: Pink Brews. Want a little punk rock with your morning brew? This coffee shop from Cleveland-bred rapper Machine Gun Kelly pays homage to artists and musicians who died at 27 years old. The color theme is black and pink, with menu items ranging from Pink Lattes ($5.95-$6.95) with sugar-rimmed glasses, to the dark black Diablo Latte ($5.95-$6.95), infused with activated charcoal. 7 a.m.-5 p.m. Monday-Thursday, 7 a.m.-9 p.m. Friday-Saturday, 7 a.m.-6 p.m. Sunday, 1215 W. 10th St., Cleveland, 216-727-0027, 27clubcoffee.com
AffoGATO Cat Cafe
Why We Love It: Cats. AffoGATO Cat Cafe is the perfect place if you are in need of some caffeine and pet therapy. Half-cafe, half-cat paradise. When you come and visit, most of the furry friends you see are actually available for adoption. The majority of the cats at AffoGATO are from the Cleveland Animal Protection League, so be sure to stick around if you're looking for one of your own kitties to take home. Due to popular demand, the owners of AffoGATO suggest making a reservation before stopping in. Closed Monday-Tuesday, 7:30 a.m.-11:30 a.m., 3-7 p.m. Wednesday - Friday, 9:30 a.m.-1:30 p.m., 3-7 p.m. Saturdays, 9:30 a.m.-2 p.m. Sundays, 761 Starkweather Ave., Cleveland, 440-941-5130, affogatocatcafe.com
Arabica Coffee House
Why We Love It: Sweet Treats. Nestled in Downtown Willoughby since 1996, Arabica is the spot to grab a drink or snack before walking around town. Known for its mochas, the coffee shop also has a food menu with an assortment of baked goods. "We bake all of our muffins, scones and cookies in the store daily. [For] other stuff, we partner with local businesses. On the weekends, we partner with Wojtila's in Euclid. We also partner with a gluten-free bakery, The Sweet Geek, in downtown Willoughby for gluten-free items," says Timothy Snider, owner and manager of Willoughby's Arabica outpost. 7 a.m.-9 p.m. Monday-Thursday, 7 a.m.-10 p.m. Friday-Saturday and 8 a.m.-6 p.m. Sunday, 4138 Erie St., Willoughby, 440-510-8191, arabicawilloughby.com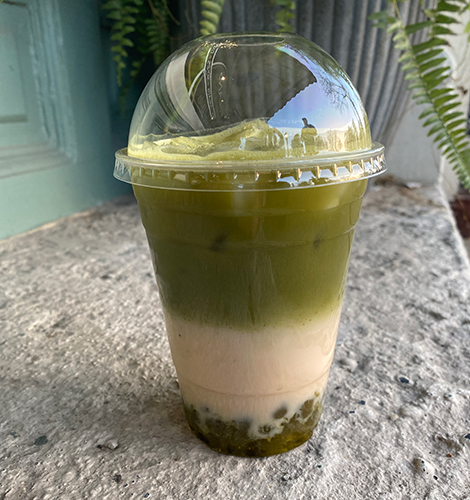 (Photo courtesy Beans Coffee Shop & Bistro)
Beans Coffee Shop & Bistro
Why We Love It: Coffee-Shop Boba. Beans Coffee Shop & Bistro combines community, coffee and specialties like boba and bubble tea at its shop in Chardon's historic square. Choose from the 10 different bursting boba and five different crystal boba currently featured in rotation for a delicious drink such as The Fab ($5.95), made with Beans' in-house black tea, lavender syrup, honey bubbles and Himalayan salted cold foam on top. "Beans is coffee and community come together. That's what sets us apart," says owner Sylvia McGee. 7 a.m.-2 p.m. Monday-Thursday, 8 a.m.-3 p.m. Saturday and 8 a.m.-12 p.m. Sunday, 121 Main St., Chardon, 440-279-4230, beans-coffee.com
Black Key Coffee
Why We Love It: Locally Roasted Beans. A proud family business, Black Key Coffee roasts and sells whole beans that would rival any other brew around. Roasted by co-founder Andrew Blakley, the classically trained barista fell in love with roasting as a means of therapeutic escape from depression and anxiety. Now, the Avon shop provides its carefully roasted bags of beans to eager locals, including its light Brazilian Peaberry ($18), or the dark Guatemala Espresso ($17). Closed Monday, 7 a.m.-2 p.m. Tuesday-Friday, 8 a.m.-2 p.m. Saturday-Sunday. 37063 Colorado Ave., Avon, 440-427-4811, blackkeycoffee.com
Meet The Baristas: Catch up with the baristas from Brewella's, Index, Propaganda, Troubadour, Cafe Ah-Roma and Goodkind about what makes a great cup of coffee.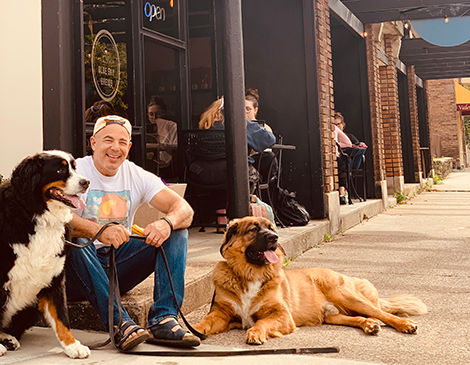 (Photo courtesy Blue Sky Brews)
Blue Sky Brews
Why We Love It: Beer Selection. Fans of all brews can find a drink to enjoy at Blue Sky Brews, with the shop's wide selection of coffee, tea and — later in the day — beer, to choose from. "About 28 years ago, I started saying I wanted to open a coffee shop, and I talked about it with my wife and all my friends. I went to a place while living in Portland, Oregon. It served coffee in the morning and beer at night. [It was the] first time I went to a place that had both. [I thought], that's the ticket, that's what I want to do," says Ray Herschman, owner of Blue Sky Brews. 7 a.m.-8 p.m. Monday-Friday, 7:30 a.m.-8 p.m. Saturday and 8 a.m.-6 p.m. Sunday, 2187 Murray Hill Road, Cleveland, 216-417-8080, blueskybrews.com
The Coffee House at University Circle
Why We Love It: Great For Study Sessions. If you're looking for a place to get to work, look no further than The Coffee House at University Circle. A staple to Case Western Reserve University students for the past 30 years, it's a solid place to get some cramming in — it even has a couple second-floor study rooms. "We're basically here to fuel the students and staff and surrounding areas," says manager Anna Hoffman. "I do think that our biggest focus is just taking care of people and making sure that people leave here happy and satisfied." 7 a.m.-5 p.m. Monday-Sunday, 1300 Juniper Road, Cleveland, 216-791-0300, uc-coffeehouse.com
Common Grounds Coffee Shop
Why We Love It: Late-Night Hours. Bring your angsty inner-teenager back to life at Common Grounds, with grunge decor and old arcade games. Pop on your headphones, pick your favorite punk-rock album and sip on one of many coffee choices, into the late hours. While you're there, check out the bathroom — you've never seen anything like it. 17104 Lorain Ave., Cleveland, 216-713-0433, facebook.com/commongroundscoffee
The Copper Moon
Why We Love It: Surprise Drinks. Owner James Orlando has a special way of making coffee fun again — if you ask nicely, he'll make you a dealer's-choice drink based on just a few questions. He might ask how much sweetness you prefer, or whether you want enough caffeine to fly through your day or just enough to cruise. From there, he'll whip something up that will take your taste buds on an adventure through new territory. 7:30 a.m.-4 p.m. Monday-Friday, 9 a.m.-3 p.m. Saturday-Sunday. 1127 Euclid Ave., Cleveland, 216-296-9281, facebook.com/thecoppermoon
Floressa Cafe
Why We Love It: Bakery Variety. Many coffee shops offer a bevy of locally produced baked goods, with scones, cookies and croissants available at most cafes. However, Floressa takes coffee-shop baking to another level with the option to order house-made cakes ($30-$75+). Of course, the Tahini Marshmallow Cookies ($22 per dozen) are nothing to scoff at either. Closed Monday-Tuesday, 7:30 a.m.-3 p.m. Wednesday-Friday, 9 a.m.-2 p.m. Saturday-Sunday. 3328 W. 33 St., Cleveland, 440-941-1302, floressacafe.com
Ready, Set, Go: Meet Chris Allen and Ready Set!, his Gordon Square cafe and coffee brand.

Gypsy Beans & Baking Co.
Why We Love It: The Beach. Preparing for a day at the lake? Stop by Gypsy Beans & Baking Co. first to grab a bite to eat and a hot cup of coffee to warm up this chilly season. A five-minute drive and 20-minute walk from Edgewater Beach and the shores of Lake Erie, Gypsy Beans & Baking Co. is the ideal starting point for a trip to the waterfront. "We have all of our soups and chilis starting for the fall season. We just got a refrigerated display case for our front so we're going to be able to make our strombolis and hand pies grab and go. The biggest thing we try to do is have something for everybody," says owner Nicole Gillota-Brichacek. 7 a.m.-6 p.m. Monday-Sunday, 6425 Detroit Ave., Cleveland, 216-939-9009, facebook.com/gypsybeans
Heartwood Coffee Roasters (Chagrin Falls)
Why We Love It: Picturesque Neighborhood. Heartwood aims to bring communities together and provide a comfortable space for people to meet with friends, get work done or just relax with a good brew. In other words, it's a good fit for the idyllic downtown Chagrin Falls. Customers can take their coffee to go and walk down Main Street to sit by the cascading waterfall. 6 a.m.-5 p.m. Monday-Saturday, 8 a.m.-5.p.m. Sunday, 20 N. Main St., Chagrin Falls, 440-337-0089, heartwoodroastery.com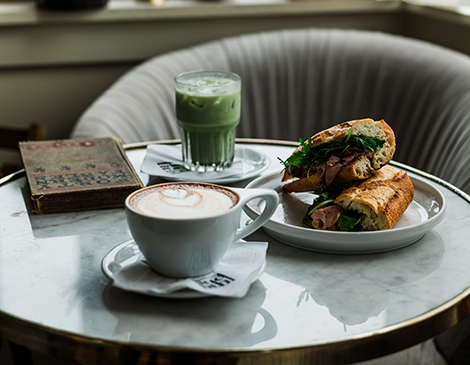 (Photo courtesy Daniel Lozada)
The Judith
Why We Love It: Fine Dining. Opened in February, the Judith brings French-influenced cafe life to Cleveland in a quaint, cozy space boasting a lived-in aesthetic with vintage decor and bare brick features. In traditional cafe fashion, the spot offers elevated small bites like the Jambon Buerre ($13.50) sandwich with Ohio City Provisions Prosciutto cotto and walnut-nutmeg compound butter, as well as delicious coffee courtesy of Onyx Coffee and Tea. 5222 Lorain Ave., Cleveland, thejudith.cafe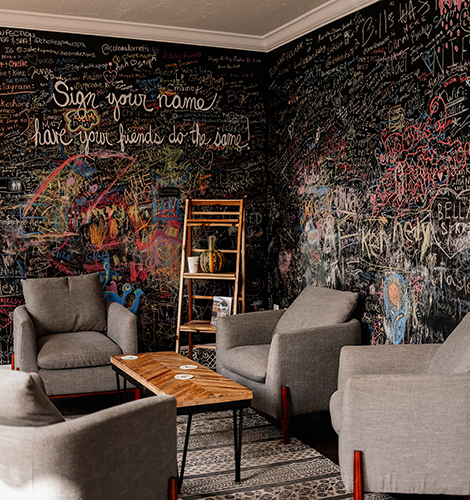 (Photo courtesy Sky Photography, Emiley Dahl)
Lakeshore Coffee Co.
Why We Love It: Old House. If you've ever been to Lakeshore Coffee Co. and thought it felt homey, you'd be correct. The shop is in an old charming house, now reimagined as the coffee shop of owners Elle and Stanley's dreams. "Lakeshore Coffee Co. has been built with the help of our friends and family as well as local vendors who have become friends. We pride ourselves in bringing you a quality cup of coffee made with local ingredients," the owners say on their website. 7 a.m.-3 p.m. Monday-Friday, 7 a.m.-3 p.m. Saturday-Sunday, 8595 Mentor Ave., Mentor, 412-715-5123, lakeshorecoffeeandover.com
Lekko Coffee
Why We Love It: Workday Hangout. Lekko Coffee prides itself on being knowledgeable about what makes a good cup of coffee. "Not everything about coffee is super accessible, or there's not a lot of great knowledge out there," says owner Matt Ashton. "A lot of different companies will use a lot of the same words for very different products. And we know that as a staff. So we really work hard to try to make it very accessible for people walking in to take the time to explain exactly what it is that we have that we're offering, and make them feel really welcomed in that process." Ashton says that the shop sees a lot of medical students hunkering down to study, as CWRU is only a 15-minute drive, so offering a quality, strong cup of Joe is essential. 7 a.m.-7 p.m. Monday-Sunday, 2529 Detroit Ave., Cleveland, 440-476-1159, lekkocoffee.com
A Coffee Bean's Journey: Roasted brings its beans from Honduras to Cleveland.
Lionheart Coffee
Why We Love It: Downtown Location. Whether you're headed Downtown for a concert, a show at Playhouse Square or to see one of Cleveland's professional sports teams play, Lionheart Coffee is your fix for a pick-me-up. With a storefront facing Euclid Avenue, the coffee shop is conveniently located for anybody spending the day Downtown to drop by and drink up. "It's fun that we know a lot of the time when the rushes are going to happen. It helps us connect more with the specific clientele that are only going to be in once because their concert is around the corner," says manager Citori Luecht. 7 a.m.-5 p.m. Monday- Friday, 8 a.m.-5 p.m. Saturday, 8 a.m.-3 p.m. Sunday, 530 Euclid Ave., Suite 21, Cleveland,
lovelionheart.com
Loop
Why We Love It: Record Store. With rotating local art displays on a towering wall, a first-floor CD section and expansive shelves of vinyl on the second floor, this shop is every creative's dream. "It's more than just a record shop, more than just a coffee shop. They kind of play off each other in a synergistic way," says owner David Foran. 7 a.m.-5 p.m. Monday-Friday, 8 a.m.-5 p.m. Saturday-Sunday, 2180 W. 11th St., Cleveland, 216-298-5096, instagram.com/loop_tremont

(Photo courtesy Mojo's Coffee and More)
Mojo's Coffee & More
Why We Love It: Tea Menu. Mojo's takes the integrity of its freshly brewed tea very seriously. The chai tea ($3.95) is made from scratch with masala spices, grated ginger and some special secret ingredients. "We want tea to be served in its most natural form possible," says owner Tracy Metcalf. 6:30 a.m.-6 p.m. Monday-Thursday, 6:30 a.m.-5 p.m. Friday-Saturday, 7 a.m.- 5 p.m. Sunday, 600 Dover Center Road, Bay Village, 440-892-4040, mojoscoffeeandmore.com
Nervous Dog Coffee Bar
Why We Love It: Creative Latte Flavors. With four locations in Northeast Ohio, Nervous Dog Coffee Bar is adored for its creative and unique latte flavors that'll make you want to come, sit and stay. Manager of the West Akron location C.J. Thompson is quick to call out everyone's favorite latte flavor at the moment. "Definitely our real pumpkin latte ($5.25-$6.15); we make it with a pumpkin puree," Thompson says. The freshness and authentic taste makes it an instant classic for a fall drink. Two flavors that are not-so-common at a local coffee shop are its signature Monkey Dog frapp ($5.25-$5.55), a dark chocolate and banana frappuccino, and its Nitro Dog ($4.65-$4.95): nitrogen-infused coffee which makes it look like a Guinness beer. 6 a.m.-6 p.m. Monday-Friday, 7 a.m.-6 p.m. Saturday-Sunday, La Place, 2101 Richmond Road, Beachwood, 216-508-4154, nervousdog.com
Phoenix Coffee Co.
Why We Love It: Single-Origin Roast. Phoenix Coffee Co. caters to customers in their Cleveland-focused cafes by going to producers themselves to find the roasts they sell and offer. In addition to trendy roasts, they also seek out less-touched markets, like their Ratnagiri from India. "While we're on trend with our coffee, which is important to us, we're still connected with our community like we always have been," says Sheerin, manager of Phoenix Coffee Co.'s Coventry location. Various locations, phoenixcoffee.com
Rising Star Coffee Roaster
Why We Love It: Specialty Espresso. For those looking for sweetness with a little kick, Rising Star shines with its menu of specialty espresso drinks. You could play it safe with a standard mocha ($5) or open yourself up to something new like the Cardamom Bomb ($5) made with a mix of espresso, cardamom spice and brown sugar. Various locations, risingstarcoffee.com
Scribbles Coffee Co.
Why We Love It: Board Games. If you find yourself in Kent with an afternoon to kill, Scribbles is the perfect remedy with an open-yet-cozy space behind the coffee bar stocked with fan- and family-favorite board games. Grab a delicious chai latte and show your friends why you can't be trusted over a game of Monopoly. 7 a.m.-6 p.m. Monday-Sunday, 237 N. Water St., Kent, 330-346-0337, scribblescoffeecompany.com
Six Shooter Coffee
Why We Love It: Subscription Service. While Six Shooter maintains a reputation as one of the best cups of coffee in Northeast Ohio, they offer something extra you won't find at many other shops — a subscription service for caffeine lovers. Ranging from two to four bags of coffee beans a month ($36-$72), Six Shooter makes it easy for locals looking for quality Joe at home. 7 a.m.-5 p.m. Monday-Sunday, 4193 Pearl Road, Cleveland, 216-860-0055; 7 a.m.-7 p.m. Monday-Sunday,15613 Waterloo Road, Cleveland, 216-417-4177, sixshootercoffee.com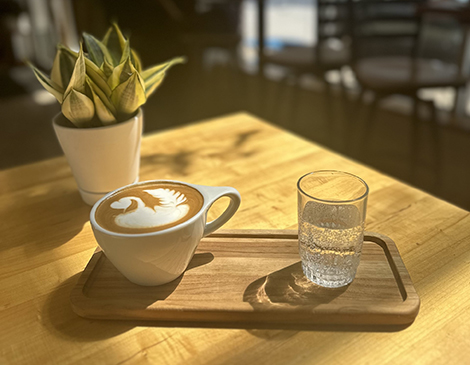 (Photo courtesy Lavendar Swan)
Solstice Roasters Coffee
Why We Love It: Pour-Overs. Solstice Roasters Coffee cares about quality in every aspect. The shop's warm and inviting environment brings work from different local artists, and its coffee is sourced directly, locally and ethically. A unique specialty to Solstice is its pour-overs ($4.30). Pouring hot water onto freshly ground coffee brings bold and original flavor, while keeping it environmentally friendly. 7 a.m.-2 p.m. Monday-Saturday, 7 a.m.-1 p.m. Sunday, 1101 Carnegie Ave., Cleveland, 216-241-3654, solsticeroasters.com
Speakeasy Coffee
Why We Love It: Live Music. At Speakeasy Coffee, enjoy more than just a cup of coffee with the cafe's unique live music performances. If you're looking for small, cozy, good vibes, then this coffee shop is for you. Employee Moriah Farris says that the previous manager of the shop started hosting live performances since she was a musician herself, and the new generation of management took over the tradition. "We have a lineup of musicians who enjoy coming here," Farris says. "We don't draw a super big crowd, but friends and family will come and enjoy the performances." 6:30 a.m.-6 p.m. Monday-Friday, 8 a.m.-9 p.m. Saturday, Closed on Sundays,128 Canal St. N, Canal Fulton, 330-408-7667, speakeasycanalfulton.com
Take another sip of Cleveland's coffee scene:
For more updates about Cleveland, sign up for our Cleveland Magazine Daily newsletter, delivered to your inbox six times a week.