Zachary Bond's long journey as a chef led him right back to where he started.
Last week, Bond launched The Spot on Lakeshore, a new concept on Lakeshore Boulevard that brings fine dining panache to typical breakfast and lunch. Located in a complex shared by Longo's Italian Restaurant and Mentor Family Foods, the space was previously the Lakeshore Eatery — the same place Bond first fell in love with cooking at 21 years old under owner John McGlaughlin.
"It was a scratch kitchen, everything made in-house. Knife skills were very important," he says. "John really inspired me and kind of gave me the taste for being a chef."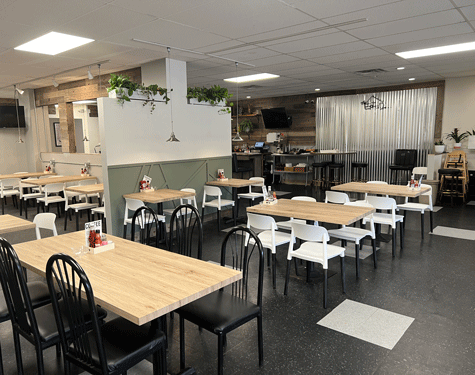 From there, Bond cut his teeth at some of Lake County's best restaurants of the time, including Concord's John Palmer's and Quail Hollow Country Club before becoming chef de cuisine at Ballantine's Gastropub and Willoughby Brewing Co. in downtown Willoughby. But East Side suburbanites have a reputation for being simple eaters (our words, not Bonds'). After a while, he began to feel a bit like a big perch in a small lake. He felt like he could swim farther if he headed closer to downtown to learn from the best.
So, he took a "big ol' paycut" to train at L'Albatros under chef and owner Zack Bruell and chef de cuisine Temple Turner.
"L'Albatros is the best restaurant in Cleveland, just the dynamic layers of service, the cheese board, the wine selection, not to mention the food," he says. "It was an amazing experience doing 500 covers a night, cooking until one o'clock in the morning and cleaning until 2 a.m. That high-intensity, give-it-all-you-got thing, that fired me up."
Eventually, Bond was tapped to run Table 45. The audition for Bruell felt like a Hail Mary, he says. But somehow, he got the job and began running his own troop of militant chefs for the high-powered clients of the InterContinental Cleveland.
And then — like every chef story — the pandemic changed everything. The downtime made Bond reconsider things.
"I wanted to see my kids grow up more than I had and spend time with my wife, who supported me through all the challenges of being a chef and chasing this dream," he says. "Then, one day, John (McGlaughlin of Lakeshore Eatery) called me and said, 'Hey man, I'm done. Do you want it?' And I thought all the thoughts before I was like, 'yeah.'"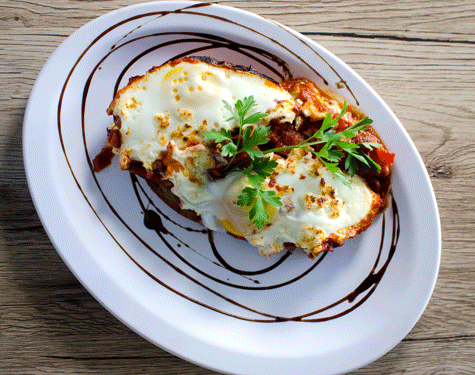 Don't let the words brunch or breakfast fool you. This ain't your poppa's diner.
The menu is exactly what you'd expect from a chef with Bond's resume. Skillets such as the Cro ($11), which offers Croatian cevape from Zagreb Meats in Cleveland and house-made ajvar (a Croatian roasted red pepper spread) and the Slo ($11) with smoked Slovenian sausage from Radell's Sausage Shop, braised cabbage and paprika sour cream, nod to the area's immigrant community. The pastrami salmon toast ($11) features cold-smoked salmon with a pastrami rub on an everything bagel with green onion cream cheese. Other surprising breakfast specialities include the torn tiramisu pancakes ($10) and the coffee-rubbed, four hour-braised short rib hash ($12), while the lunch menu, which starts at 11 a.m., includes similarly ambitious sammies and salads.
More gastropub than greasy spoon, the 4,600-square-foot space, which currently seats about 117, features modern decor with metal- and wood-paneled walls decked out in psychedelic paintings of outlaw chefs such as Marco Pierre White and Anthony Bourdain. The bar led by general manager Kevin Patrick — previously of The Pompadour, Society Lounge and Quintana's Speakeasy — pumps out twists on mimosas, bloody marys and boozy coffees as well as fresh, house-made detox juices and ginger beer. Meanwhile, the grab-and-go station feeds the early morning glories with goodies from pastry chef Tim Braddach.
"We do your everyday breakfast items — pancakes, waffles, stuff like that — but it's a different take," he says. "I wouldn't call it fine dining. But we do some fun stuff from scratch, and we do the simple stuff very well."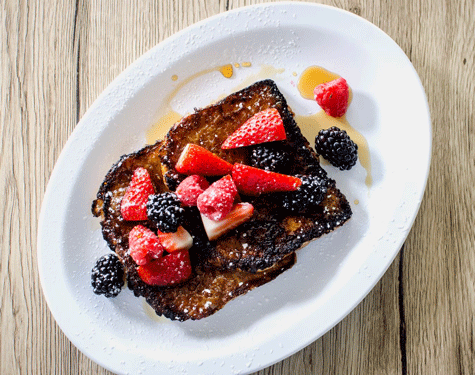 For Bond, things have come full circle. In the same space he fell into the life of a chef, he's hoping to create an environment that enriches the careers of his talented staff without subjugating them to the 80-hour work week. While Mentorites are already clamoring for dinner hours, he has no intention to expand the hours. Those restrictions give him the freedom to get home by the time his 7-year-old is off school. He does, however, plan to add a 50-seat party room and, thanks to a liquor license, host occasional nighttime events like small weddings, chef pop-ups and open mic nights.
And in Lake County, he's finally embracing his little lake — and maybe even making it a little bit bigger and tastier.
"How many friends did I have that were going to the orchestra or staying at the InterContinental Hotel?" says Bond of his time in fine dining. "Now, I'm cooking for my friends and family — people that I understand. It's amazing hearing people in the community saying, 'Thank you so much for doing this here.'"