It's safe to say a lot has changed in Northeast Ohio's dining scene in the past 12 months — and Cleveland Magazine was here to capture those changes in real time.
Ambitious restaurants have popped up in every corner of the city, with new flavors and tastes emerging on inventive menus.
Looking back, we're taking note of the big shifts and trends in Cleveland's restaurant industry. Here are a few things we noticed:
Ohio City's Dining Dominance
A small stretch of West 25th Street has long been a dining hotspot in the city, but it exploded with new concepts in 2022, including three new eateries in the Intro apartment building (Jaja, Edda and Pioneer) and a variety of newcomers on the main stretch, including Choolaah, Pins Mechanical Co. and 16-Bit Bar + Arcade, Day & Night Cereal Bar and Bartleby. The whole scene surrounding West Side Market has further cemented this trendy area as a foodie's paradise. — Annie Nickoloff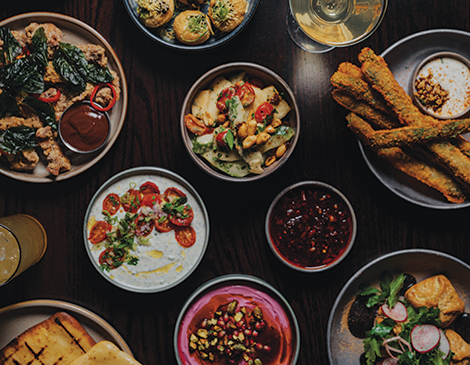 (Photo courtesy Tiffany Joy Photography)
Built to Share
When something is good, like a song, you want to share it with the people you love. The same goes for food. Whether it's Zhug, Amba, The Last Page or JaJa, some of the city's most groundbreaking restaurants offer ambitious shareables. Restaurateurs say the tide is turning in a classically bigger-the-better town, as more and more diners want to try a little of everything. Even the burger comes split four ways at Cordelia. — Dillon Stewart
Mocktails
Maybe I noticed it more because my wife was pregnant, but mocktails were on nearly every menu. While some lack body due to the lack of alcohol, Cordelia uses alcohol-free spirits to keep the integrity of your favorite cocktails.— DS
Vegan Reubens
This year felt like vegan reuben mania as nearly every herbivorous establishment took a swing at the corned beef classic. Trying to get the sandwich at Cleveland Vegan on St. Paddy's Day proved close to impossible as dozens of orders raced in and out of the kitchen. At Birch Café on the East Side, supplies ran out several times as hungry vegan Clevelanders descended on the restaurant's website to preorder. — Anthony Elder
(Photo courtesy Sora Sushi)
Ghost Kitchens' Next Lives
During the pandemic, ghost kitchens became a trend to serve takeout-only options and cut costs on rent and prep. Now that diners are craving in-person restaurant experiences, some of those ghost kitchens have found new life as fully realized brick-and-mortars, proving that a ghost kitchen can be a useful part of R&D. Two of the year's most-hyped eateries — Chef Douglas Katz's classy Indian-fusion restaurant Amba and Fabio Salerno's popular sushi spot Sora — trace their roots back to ghost kitchen beginnings. — AN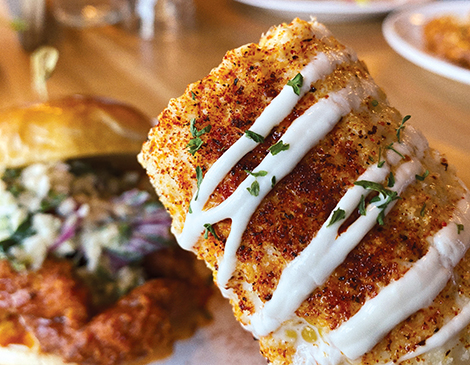 (Photo courtesy Lily Richard)
It's CORN!
Maybe thanks to the viral "corn kid" on TikTok, or Ohio's position as a major corn producer, corn can be found all over the place in Cleveland cuisine. Sip a sweet corn cocktail at Salt in Lakewood or Tremont's Spotted Owl; order exquisite elotes from Sauce the City in University Heights or from Cilantro Taqueria's many spots in town; take a hefty dip of corn queso from Barroco; get a scoop of seasonal sweet corn ice creams from Gingham Market and Mitchell's. "I can't imagine a more beautiful thing." — AN
Exceptional Hospitality
Despite a year of turnover, so-called "quiet quitting" and legendary staffing problems, Cleveland restaurants — from Aqua di Luca's don't-lift-a-finger luxury to Cordelia's family-style atmosphere — demonstrated an exceptional dedication to service. There's even been innovation in the space, with an influx of digital tableside checkouts and downtown newbies Agave and Rye implementing a unique green light-red light service system. — DS
Restaurant Revamps
Like most diners, we're often distracted by shiny, new objects, but brand refreshes have come back to old haunts. Karen Small's James Beard-recognized Flying Fig relaunched as Pearl Street Wine Market, and Sam McNulty's Bier Markt/Bar Cento turned into the light, airy Bright Side, which thankfully still serves the classic Sunnyside Pizza ($19) with egg and prosciutto. — DS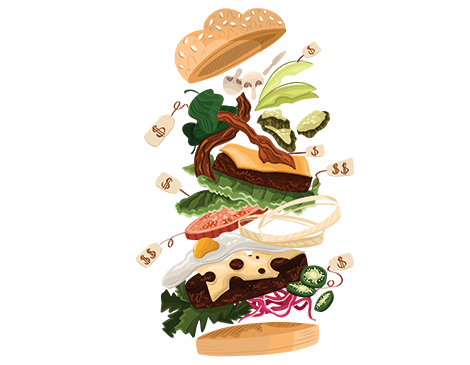 (Art by Madeline Salata)
Rising Costs
From burgers to crab legs, local operators have been feeling the effects of rising food costs. As a result, menu prices have noticeably increased this year. But diners have still come out in droves since the pandemic shutdowns. — DS
Read more: Why Does My Burger Cost $15? Cleveland Restaurants Are Drowning Under Rising Food Costs
Themed Beans
Sure, you can get a dark or light roast or whatever else from Starbucks — or, you could visit one of Cleveland's many coffee roasteries for something more unique and fun. I'm a fan of the "Deep Track" vinyl-themed roast from Ready Set! Coffee on Detroit Avenue, as well as any of Birdtown Coffee's excellent bird-themed bags of beans (Hummingbird, Morningbird, Cardinal and Raven) in Lakewood. — AN
Chicken Tenders
Yeah, yeah — chicken tenders have been around since you were eating off kids' menus. But one look at the winding drive-through line at Raising Cane's chain location is proof of the dish's skyrocketing demand. We, however, prefer the locally owned Crispy Chick in Cleveland's Central neighborhood for delectable baskets of crinkle-cut fries, sandwiches, coleslaw and, of course, some of the best freshly made chicken tenders in town. — AN
Natural Wine
Better late than never, natural wine — extolled by prominent foodies such as rapper and TV personality Action Bronson for at least the past five years — has finally hit in Cleveland. The term loosely refers to a style of wine that is organic and made with minimal interference. Often they're gritty, sparkly and funky, like orange wines and Pet-Nats. You know what, we'll just let Karen Small of Pearl Street Wine Market & Cafe explain: "These farmers let the grapes be the grapes. There is an inherent respect for the land and the terroir really comes through," Small says. "These wines are unique, funky and special." You can also find natural wines at Flight Cleveland in Gordon Square and Cent's Pizza on Lorain Avenue in Ohio City. — DS
Tiki Drinks
The wave of Porco's Lounge's influence has finally crashed almost 10 years later. It seems every good cocktail menu in town has something tiki-inspired now. A few favorites include the Last Page's Mai Tai, served in a ceramic fish glass; Zhug's No. 1, which uses carrots and turmeric to put its Mediterranean spin on the genre; and JaJa's pineapple and rum Starlight Sizzle. In Lakewood, Iggy's Bar has made Tiki Tuesday part of its core offerings, while Tiki Underground is building something truly special in Cuyahoga Falls with its dive bar approach. All that said, a recent visit to King Wah is a good reminder that the Hom family has been delivering solid tiki for years. — DS
Read More: Check out Cleveland's 50 Best Bars.
A New Generation of Chefs
From Heart of Gold's Adam Bauer to Cent's Pizza's Vincent Morelli to Rood Food's Rachelle Murphy, a younger generation of executive chefs is putting its own spin on Cleveland culinary scene. We're excited to see what they keep doing in 2023. — DS
Dig in to the food, sports and news stories that defined 2022 with our full list of year-end wrap up stories.
Bite into the Cleveland dining scene by signing up for our free weekly CLE Food & Drink newsletter — your guide to food and drink throughout The Land. Arriving in your inbox every week, this coverage fills you in on everything from mocktails to shareable plates — and more. Click here to subscribe.