Cleveland winters are rough and we all know it. But rather than sulk and wait around for the sunny, warm days of spring, let hygge help you enjoy these snowy, chilly times. The Danish design trend is all about filling your home with items that bring you comfort such as throw pillows, blankets, books and your favorite knickknacks — anything goes, as long it makes you happy. "One of the most hygge things is a fireplace. There's something so comforting about sitting by a fire while the snow falls," says JD Drcar, hygge specialist at New Vista. "But if you don't have a fireplace, candles are another on-point hygge item." Hygge also follows a very neutral color palette: think whites, creams and grays, mixed with pops of green from plants or wood for texture. "You want your space to look relaxing, but not cluttered," says Drcar. "It's all about making a space that makes you happy and comfortable."

Hygge Must-Haves
Get your home in peak hygge mode with these three local items.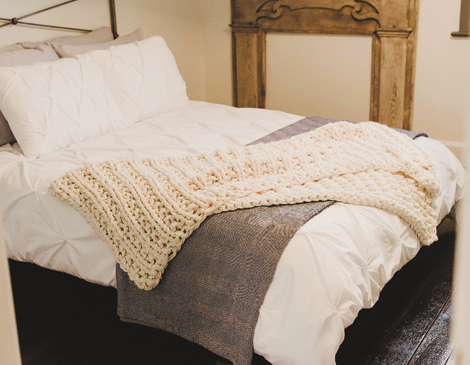 1. Little Birdie Design Studio's Chunky Knit Blanket ($200)
This hand-knitted blanket comes in five neutral colors and is made from a washable, dense yarn. "The yarn is so heavy, it feels like a weighted blanket," owner Tori Tedesco says. "That adds to the coziness and that weighted feeling gives you a sense of security." littlebirdiedesignstudio.com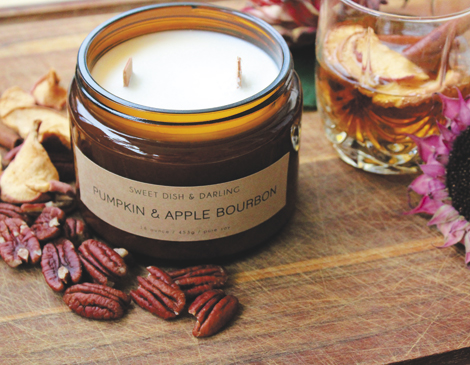 2. Sweet Dish & Darling Pumpkin & Apple Bourbon Candle ($16)
This candle's crackling wood wick and sweet-yet-spicy scent is key for relaxing. "Our high-quality ingredients and top-shelf oils make for a truly unique scent that carries through your whole home," says owner Sarah Sampsell. darlingcandles.com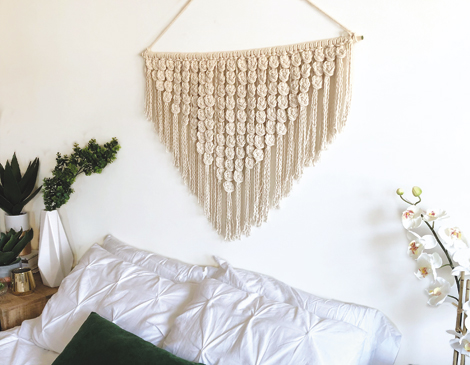 3. Tori Simonds Art Amber Macrame ($123)
Add texture to your space without the distraction. Artist Tori Simonds crafts each piece with 100% natural cotton cord. "It's an effortless way to create conversation, dimension and comfort to your space," says Simonds. torisimondsart.com


3 Steps to Snug
Take it easy, Drcar gave us three simple ways to up your hygge factor in your home.
Stick with a Palette
The hygge process relies on neutrals such as whites, grays, browns and muted blues and greens. The stress of matching your pillows to your blankets isn't as daunting with neutral colors because they all match. If you want to add some texture, try a faux fur throw pillow or rug or even a few new plants. "You don't want too much contrast in your colors. It's distracting to the eye," says Drcar. "By sticking with neutrals you are creating a space that is calm and simple."

Divide Your Space
If you have a smaller apartment or want to incorporate a reading nook into a larger room, use the lines of your decor to separate your space. Try using furniture such as tables and rugs to create division in a room. "A rug that covers just one small space is going to make that space feel like its own area," says Drcar. Try putting a small rug in a corner with just a chair and a bookshelf for a reading area.

Take It Outside
Hygge isn't just an indoor option. Incorporate it into your patio with outdoor lighting, candles, a fire pit and greenery. For the most comfortable outdoor area, Drcar suggests soft lighting supplemented by path lighting and mixing textured plants such as ferns and hostas. "It's all about embracing the winter weather, and you might have to take a step outside to totally do that," Drcar says.
Check It
We break down what qualifies as a hygge hobby and what doesn't cut it.

YES:
Reading a book.
Drinking hot chocolate.
Wearing your favorite pajamas.
Going for a walk.
Watching a movie.
Cooking your favorite food from scratch.
Knitting, crocheting or working with your hands.
Playing board games.

NO:
Sitting on your phone.
Restricting your diet.
Staying home alone
Purchasing things just for appearances, rather than what you like.
Going out to a club or bar.
Eating fast food.
Going to the mall.