Brian and Megan Matthews joke that homes in their Rocky River neighborhood sleep 10 and feed two.
The original eat-in kitchen of their 1962 center-hall colonial was a prime example of the good-natured jab's origins. It felt and functioned more like a small-apartment counterpart. In fact, the range was a compact 27 inches wide instead of the standard 30 inches.
Cabinet space was so limited that Brian, a Hyland Software account executive and middle son of Cleveland Browns great Clay Matthews Jr., and Megan, a prosecutor and assistant law director for the city of Berea, used one hall closet as a pantry and the other as a utility closet for cleaning supplies.
"It would take twice as long to cook dinner," Megan says. "You didn't have the counter space to prep and leave stuff."
The couple bought the house in May 2016 with the intention of enlarging the space by opening it up to the narrow dining room. But after months of do-it-yourself projects — and learning Megan was pregnant with twins — they decided to put off the renovations for a while.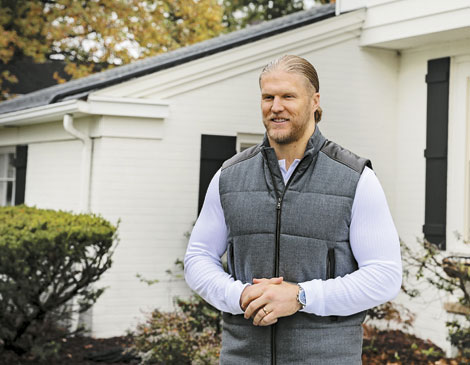 That all changed when Brian's younger brother, Green Bay Packers linebacker Clay Matthews III, called and wanted to help. The 10-year NFL pro had partnered with interior design and home remodeling website Houzz and Middleburg Heights-based Hurst Design Build Remodel to provide a makeover that would be featured in a March webisode of My Houzz.
There were only two hitches: Work would begin around Megan's September due date, and the couple would have little input in the project. The kitchen, dining and family room would be screened from view with heavy black plastic while they inhabited the rest of the house. They wouldn't see the result until it was revealed to them on-camera.
"That was one thing that we kind of sat down and we discussed," Brian admits.
While the couple's design aesthetics differ, they met with Hurst owner Pat Hurst and interior designer Bridget DiFilippo to offer some guidance. Megan likes clean, modern design, while Brian tends toward the warmth and coziness evoked by more rustic decor.
But they both agreed on neutral colors and the desire to keep their dining room table and chairs.
"The rest, we just told them that we trusted them to get creative," Brian says.
Construction began Sept. 12, the day after Megan came home from the hospital with sons Cooper and Dalton. The load-bearing wall between the kitchen and dining room was removed and replaced with a steel-beam support, while the HVAC ductwork was rerouted into a beam-concealing soffit.
"When you walk in, it feels huge," Hurst says of the result. The wall between the entry hall and dining room also was eliminated to achieve a similar effect.
Tile floors in the entry hall and kitchen made way for hardwoods sanded and stained to match the originals in the dining room.
Clay helped pick out some of the special touches, including handblown blue glass pendant lights and a 36-inch Castlewood chimney hood that's a focal point of the kitchen.
Hurst's team shortened the window opening over the kitchen dining nook, extended white cabinets by Omega Cabinetry into the space and enlarged the window over the sink to achieve symmetry and allow more natural light into the room.
The sink was relocated to an island installed between the kitchen and dining room. "When there's a neighboring space, it makes it more accessible," Hurst explains.
New drywall, insulation, electrical wiring and recessed LED lighting replaced paneling in the family room. Walls were painted a light gray, save for a pale-green accent wall, and the space was carpeted in a herringbone-patterned sisal.
The result has been life-changing. The kitchen has become the center of domestic activity Megan always envisioned. It now accommodates her, Brian and the twins in their high chairs. They even eat everyday meals at the dining room table.
"It was one of the first things we purchased for this house," Megan says. "But before the remodel, we'd probably sat down and eaten there three times."
Their favorite piece of furniture, however, may be the new sectional. One segment is wide enough for Megan and Brian to crash side-by-side. "We'll lay on our backs and rest the babies on our stomachs so that they're sitting up and play with them that way," Megan says. "And then, of course, the dog comes up in between us and lays down."
Everything, in fact, is perfect. "How they left it staged, everything is still the same," Brian declares.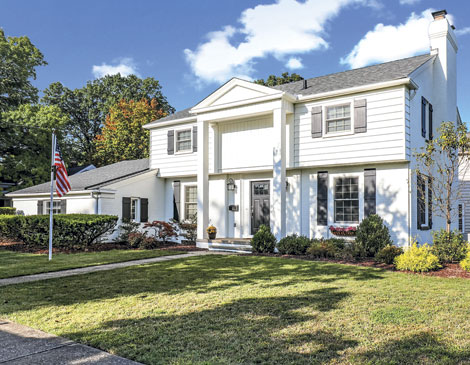 Team Effort
Here's how Clay Matthews III, Hurst Design Build Remodel and Houzz tackled the makeover.
1. The Entry - A hall closet was sacrificed in the makeover, but Hurst Design Build Remodel created a mini mudroom just inside the dining room. Hooks were hung on a section of wall covered in shiplap, right over a Safavieh Lonan wicker storage bench. "Things are more informal," says Pat Hurst, owner of Hurst Design Build Remodel. "We're finding more and more people just want to throw [a coat] up on a hook."
The Entry- Before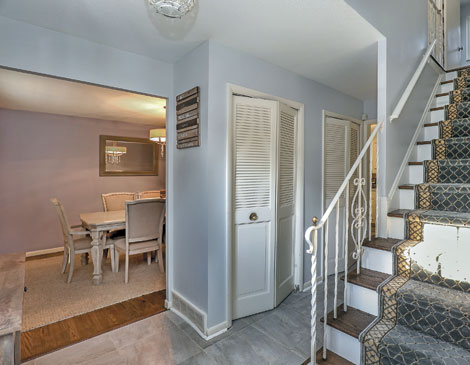 The Entry- After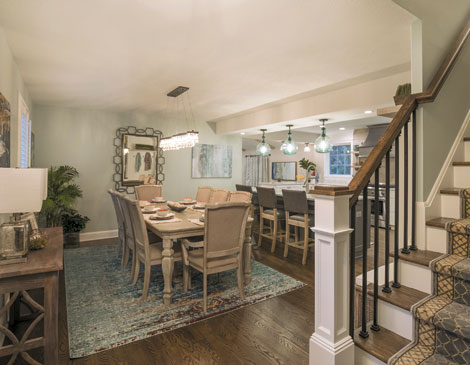 2. The Range Hood and Backsplash - The stainless-steel gas range was transformed into a focal point by outfitting it with a Castlewood Epicurean Chimney Hood brush-finished in a metallic zinc and a backsplash of QDI Stone's Allwood glazed porcelain tile. "Even when you're standing there in person, people will say, 'Is that wood?' " Hurst says.
The Range Hood and Backsplash -Before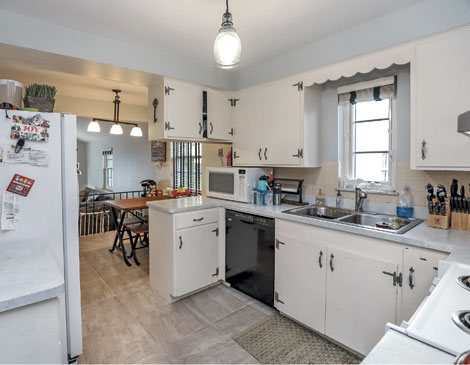 The Range Hood and Backsplash -After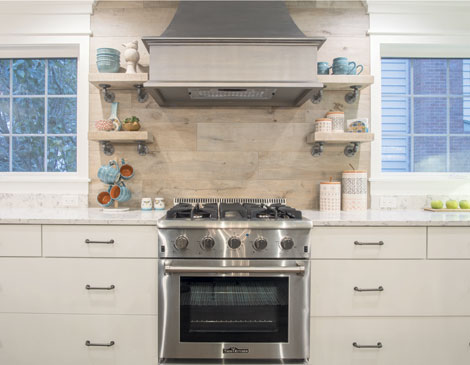 3. The Kitchen Island - The stainless-steel dishwasher and apron-front sink allow Brian and Megan Matthews to interact with guests while prepping food or cleaning up. Counter stools in gray bonded leather replaced the former casual kitchen eat-in space. The island, like the rest of the cabinetry, is topped with Blanca Arabescato quartz that resembles the look of marble.
The Kitchen Island- Before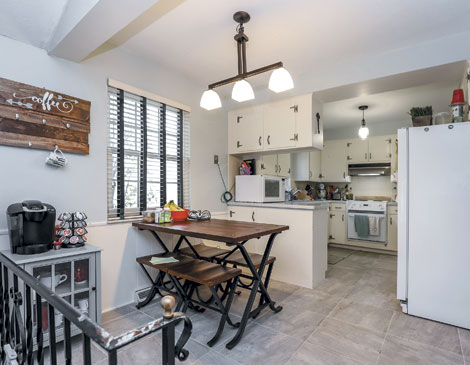 The Kitchen Island- After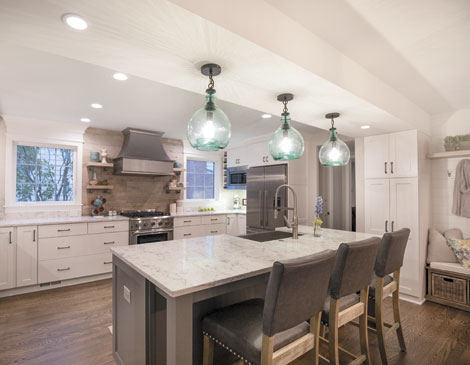 4. The Family Room Ceiling - Ridge and rafter beams of rough-sawn white oak make the room look bigger and feel cozier. "We pickled [them] a little bit — it's a little bit of white with some gray in the stain," says Hurst of the finish. "It really soaks it in."
The Family Room Ceiling- Before



The Family Room Ceiling- After