You don't need to spend thousands of dollars to give your home a facelift. Kim Ripley, owner of Grace & Polish, suggests removing everything from a room and establishing a focal point. Drill down to basics and figure out what the main purpose of the room is. Next, browse Pinterest, Instagram, magazines and books to create a mood board filled with personal preferences. "Don't decorate for other people," she says. "You're the one living in your house. Go with what makes you happy." She offers some general tips on how to refresh and redefine certain rooms in your home.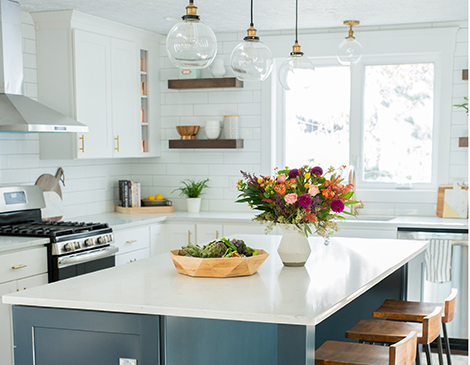 The Kitchen: Ripley recommends removing anything not used daily, including appliances, to open up space. Here she likes layers — wood cutting boards against the backsplash or framed art behind plates on an open shelf. Stack cookbooks and pop a candle next to them. Display baskets with fresh green apples, lemons or oranges. "Since we're not spending money, I love the idea of using nature — whatever branches or flowers are in the yard and arranging them, especially in fall," she says. "It's so much better than artificial, and not expensive." Ripley also suggests using a special recipe, maybe handwritten, reproduced and framed as art.
The Family Room: Think about your interests to create a focal point. "I had a client, a musician with a collection of vintage record labels," she says. "They looked great as a huge gallery wall in his den." She suggests rearranging furniture, especially breaking up big sectional furniture and substituting chairs to change the room's look. "Group objects in odd numbers," she adds. Use something tall like a vase, next to a stack of coasters or a candle and then add a couple of books. And switch out pillows and throw blankets to reflect seasonal changes.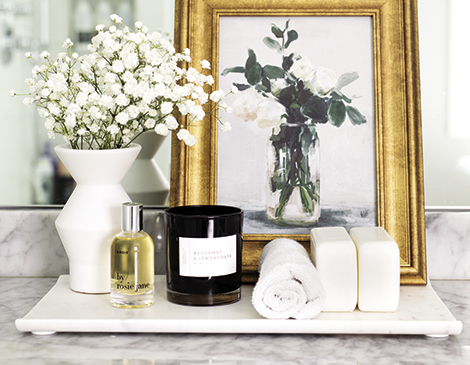 The Bathroom: Try a tray filled with rolled towels, appealing bar soap, colored glass bottles or framed artwork placed by or leaning against the mirror. "This is a great space to add something green," Ripley says. "Move a plant in there or use cut flowers in a colored vase. Bath salts look good in bottles as well." Place a basket on the floor by the shower and fill it with towels. Or put a step stool there and use just one towel or a candle. Ripley explains how some things always look good in a room — plants, artwork, or maybe books or a basket. "These are great no matter what your style is," she says.
The Master Bedroom: She recommends refreshing the room by removing extra articles from clothing to collectibles. Style a nightstand using a decorative box, a few books or a candle. Keep that thought for the dresser, and then layer artwork or mirrors of different heights as accessories. Switch out heavy bedding when winter turns to spring, and swap out rugs, just to see how different textures and colors change the room's vibe. "Organize and purge," Ripley says. "People have a lot of stuff, but less is more. Get rid of things and you already feel better. Work with closets and storage areas too — you might rediscover things you really like that were put away."
Meet The Designer: Kim Ripley is a Bay Village wife and mom. When her husband can't find her, she's usually at HomeGoods with a large coffee in hand. Her style is modern with a touch of coastal and she loves any design by Becki Owens. Ripley gets her inspiration from travel and her design must-haves are trays since they are great for displaying objects and look good in any room. @gracepdesigns
Click here to read more about the latest decor trends, DIY tips and at home inspiration from this month's Home issue.