The curiosity passersby experience when they first see Dr. David Perse's 4,300-square-foot Tremont home is a sharp contrast to the peace he's enjoying there. Outsiders see a slick, edgy abode with banks of floor-to-ceiling windows framing views of downtown Cleveland, along with first- and second-floor terraces perfect for hosting warm-weather gatherings.

Inside, the president of St. Vincent Charity Medical Center sits in the kitchen and gazes through similar windows at a quiet back garden enclosed by 90-degree angles of the house on one side and a concrete wall on the other.

"I like the idea of green and life," he says.

When Perse first sketched the structure on a napkin in 2009, he was a single man living in an upscale downtown apartment, digs he chose after a divorce and move from his Bratenahl home.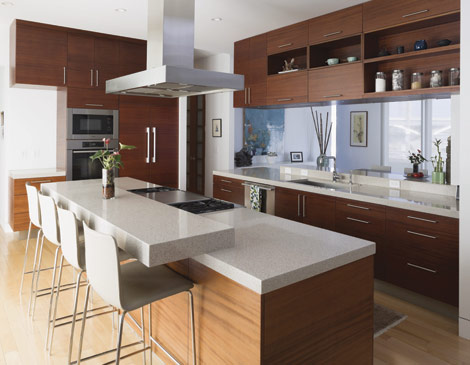 "The idea of me living in a suburban environment, in a building by myself without social contacts, was frightening," he confesses.

Perse enjoyed the inherent sociability of city living — bumping into neighbors on the street and chatting in the coffee shop with fellow patrons. But it was an inconvenience for the older of his two adult sons, who had to negotiate an elevator with four young children just to visit.

He bought a lot overlooking the Flats in nearby Tremont, captivated by the city view it afforded, and hired architect Denver Brooker to create a place where he could make a fresh start.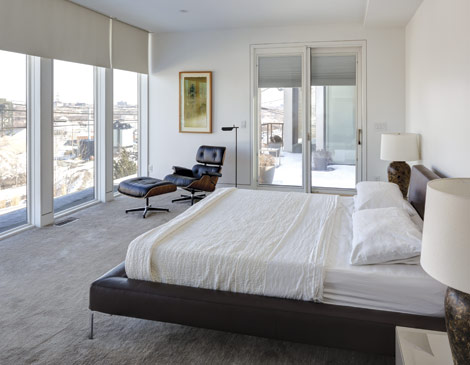 "Because of my life situation at the time, I wanted something serene," he says. "We had talked [about] the Japanese kind of quiet, clean-lined concept. And that dovetailed with modernistic style."

Brooker refined Perse's sketch by planning a three-bedroom, 3 1/2 bath layout that presented impressive city views to the more public foyer and dining room and put the living room and kitchen by the garden to ensure day-to-day privacy. The design incorporated the pervasive rectangles (even the toilets are rectangular), shadow-producing overhangs and concrete exterior that Perse desired.

"We're in the midst of an industrial part of the city," he points out. "It has a lot of concrete. That felt right." That concrete was augmented by mahogany planking used as siding accents.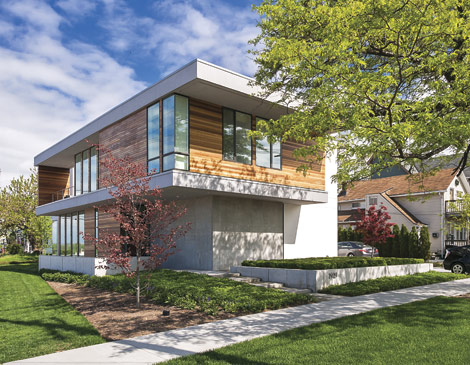 "It gave us the color, the richness, that we were looking for," Brooker says. "It actually was an extension of the cabinetry that's throughout the house."

Wood is everywhere in the home, from the long banks of mahogany cabinetry and kitchen island that make the room appear to pop out of the open floor plan to Japanese-style sliding doors and golden beech floors. "Wood became the tool to warm up a modern interior, make it approachable, give it scale," Brooker explains.

Touches of green were added by covering a section of wall behind the linear living room fireplace in dark-green slate, topping surfaces such as the floating bathroom vanities in Costa Esmeralda granite and shower doors with frosted green glass.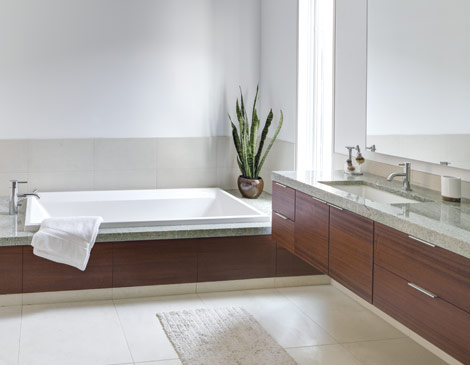 "I did not want to do each bathroom [in] a different design," Perse explains. "I just thought it would get busy. And it isn't thematic to keep changing up rooms."

Perse was so satisfied with the color these finishes added that he chose to paint all the walls white. It offers a graphic representation of his clean-slate existence and provides a gallery for the mix of contemporary paintings and Japanese antiques he collects. To maintain the palette, he furnished the rooms with predominantly neutral pieces such as white sofas in the living room.

"Color sometimes can be a bit arbitrary, particularly for this house," Brooker says. "It was more about the way spaces flowed from one to the other and how you expressed components."

Perse's favorite space, aside from the garden, is the little greenhouse off the kitchen's eat-in nook, where everything from cyclamen to a lemon tree grows. The feature was inspired by the greenhouse his paternal grandparents had on their property. "If I had a blank piece of paper again, I would do a solarium," Perse daydreams. "It would be plants all around with a body of water that you could use."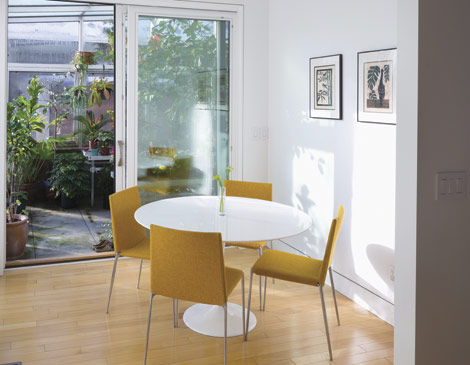 But there is an interactive water feature in the garden. Perse and his partner, Gail, converted the 6-by-21-foot koi pond into a wading pool for them and their kids, 2-year-old daughter Frances and 12-week-old son Aloysius, after they discovered the challenge of keeping algae in check.

"We splash around, and we sit on the edge and have a drink," Perse enthuses. "It's wonderful."

"It's amazing how much we use it considering it's only 3 feet deep," his wife adds. "We're in there all the time."

The pool is just one example of how well the home has adapted to the family Perse has built since the place was completed in 2012. The studio where he envisioned drawing charcoals at an old drafting table houses a cherry-and-maple worktable where Gail's 12-year-old son Ignatius builds Lego structures. And the ground-floor sitting area off the spa — a retreat with a sauna, double shower and four lockers — includes a rocking rabbit and bright-red child-sized chair.

"It was built for entertaining, especially when I was a bachelor," Perse says. "It was not built so much as a home — although luckily, we created that."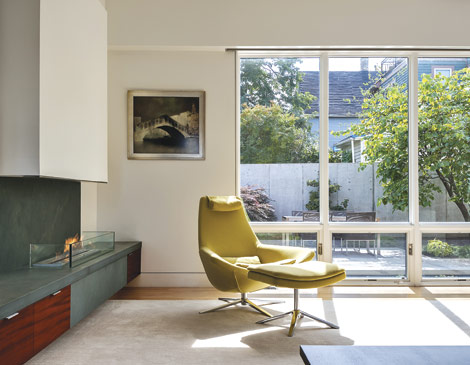 Get the Look
David Perse and architect Denver Brooker used furniture to add pops of color to the neutral decor. An example is the chartreuse metropolitan chair from Surroundings Home Decor. The shade complements the dark-green slate behind the fireplace and injects a contrasting shape into the rectilinear design. "It's one of few pieces in the house that has color," Brooker says. "It's almost like a piece of art."