The arched windows had been boarded up long ago. The plaster walls were cracked. The pumpkin-pine floor was caked with so much dirt that it appeared to be a dark gray. In fact, the only signs that the space might have been a ballroom that dominated the entire top floor of the onetime Eagle Hotel were the high ceiling and ornate cast-iron columns. But entrepreneur Graham Veysey and his wife, designer Marika Shioiri-Clark — the duo behind the redevelopment of the Hingetown neighborhood — were undeterred by the sight of the 150-year-old-plus Italianate building. They planned to turn two floors of the three-story former Schaefer Printing Co. structure at West 28th Street and Detroit Avenue into six apartments. More than two-thirds of that 3,800-square-foot ballroom would become their two-bedroom, 2 1/2-bath unit.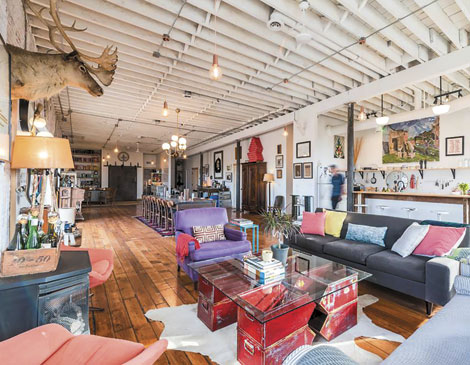 Redhouse Studio Principal Architect
Christopher Maurer helped them reimagine the open space with additional windows, a 31-by-8-1/2-foot cantilevered balcony and dividing walls. The couple ordered the plaster removed, the brick walls whitewashed, the newly exposed beamed ceiling painted and the floors refinished. They then furnished the place with a mix of antiques, vintage finds, industrial pieces and various other treasures, including antlers from an elk shot by President Rutherford B. Hayes and "Icarus wings" used by noted Cleveland photographer George Remington as a prop. "It's just a matter of both pairing and production," Veysey says of the result.

The Organ Bar
Veysey and Shioiri-Clark created their own take on the piano bar by cleaning up a Story & Clark organ left on the sidewalk by a local manufacturer and displaying liquor bottles on top. "We just put some casters on it so it was a little mobile," Veysey adds. "That was it."



The Coffee Table
The couple purchased machine-shop tool bins painted a deep burgundy by local antiques dealer Michael Rolf, stacked them in pairs and topped the arrangement with a piece of custom-cut glass. "We do kind of tend to enjoy DIY things, especially taking antique things or industrial pieces and trying to reimagine what they could be used for," Shioiri-Clark says.

The Kitchen Backsplash
The couple eschewed the usual tile for white pegboard. "It's a nod to Julia Child," Shioiri-Clark says. "She put that in her kitchen." The move saved money, added texture and provided handy, versatile storage. They also used the material to cover sections of damaged brickwork flanking balcony sliders. It facilitated hanging an arrangement of potted succulents and sconces. "Masonry screws are not that much fun," Veysey observes.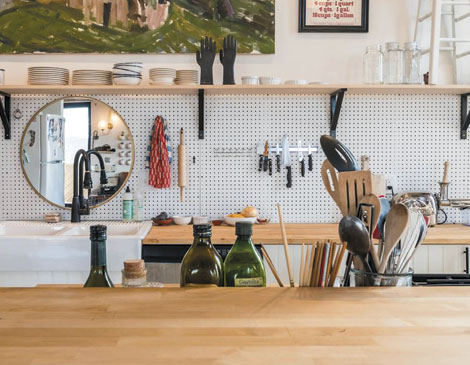 The Bathrooms
Veysey created a powder-room vanity out of a console TV with a small flat-screen monitor that plays a Cleveland planning video on loop. "I think it was from '54, about what the future [of] the urban setting should be," he says. In the master bath, two steel-and-glass doors that once provided entry to Lakewood High School enclose the shower. "I just love that they still work," Veysey says.