"I don't think I'd picked up a drill before 2020," says former WMMS radio personality Erika Lauren Ver. Now, the 34-year-old Fairview Park resident is a full-time social media content creator who teaches her thousands of followers how to do home renovation projects large and small.
After leaving her job in 2019, Ver embarked on her own home makeover, documenting each step on Instagram, TikTok and YouTube under the name Peony and Honey. "I didn't know what I was doing when I started this project, but I figured it out as I went," she says. Now, she shares her newfound skills and lessons learned so others can embrace the art of DIY along with her.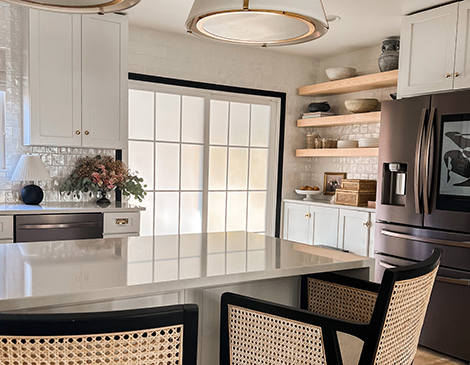 Start with a project that excites you.
"Interest fuels the thirst for knowledge," Ver says. "Whatever you're most passionate about or whatever change you really want to see happen to your home, try learning that skill or doing that project first."
Her first passion project was removable wallpaper, which seemed easy enough to apply. Sheer excitement drove her to figure out how to install it herself, and soon, Ver had added a snazzy terrazzo print to the inside of a cane cabinet and a banana leaf motif to the drawers of a nightstand. From there, her love of home renovation grew in both scale and skill level.
"If I'm not fully interested in a project I'm not going to spend the time learning how to do it," she says.
There's a YouTube video for everything.
Ver got her start watching how-to videos on YouTube on everything from loading a nail gun to cleaning air filters.
"When you become a homeowner, you have to figure it out on your own," she says. "I genuinely don't know where I would be without watching DIY YouTube videos religiously." One of her favorite sources for home hacks and skill building is vlogger Drew Scott of lonefox.com.
When YouTube doesn't cut it, she relies on expertise from her father and helpful hardware store employees to teach her the basics. And she doesn't touch issues like plumbing problems, leaving those to the skilled tradesmen instead.
Build your skillset slowly.
"If you learn a couple of skills, you can do a ton of projects," Ver says. She first learned to use a brad nailer and a miter saw, which served as a base for her initial projects.
One of her proud moments was installing trim work around her home office, which called heavily upon those two skills. And each project levels up her existing skillset. When she took on a kitchen revamp, she tried another kind of trim work, adding mitered edges and shoe molding. Now, she's even branched out into furniture building, recreating a set of nesting tables that were just out of her budget at a popular home decor shop.
Set a realistic timeline.
Most people don't have all day, every day to dedicate to home projects, so Ver is all about setting small goals for big projects. For each full-room makeover, she establishes eight to 10 benchmarks along the way.
"It's so satisfying to hit those small goals, especially when they call on skills you've never used before," she says.
Ver, who lives with a disability that sometimes impedes her ability to work, says it's important to recognize that what we see on TV — and even on social media — doesn't always depict a feasible timeframe.
"Real life is not an HGTV makeover show," she says. "Try to see the beauty in what you've accomplished, even if you're not done yet."

Get inspired by our 2022 Home Issue with these decorating tips, local home spotlights and more.