Let's face it. Interior decorating is a skill. Budgeting wisely is another skill. Juggling both at the same time? You get it. Skill.
Sweethearts Interior Design owner and principal designer Alisha Clark based in Pepper Pike knows this and has made a career out of helping Northeast Ohio residents perfect their home aesthetic no matter the budget.
So what does this seasoned designer and entrepreneur have to say about accomplishing a modern look with limited funds and a stumped creative drive? We've got the breakdown below.
Befriend Your Color Palette
Let your core colors work for you. It might not be the end-all-be-all, but it's a solid filter to keep in mind when you're scavenging for on-brand decor.

"There's nothing that grounds the room better than bringing in color and texture," says Clark who mentions that this can come from a variety of home pieces you may not have considered. It's 2023, time to think bigger. Paints and pillows are a given, but what about a tabletop gel or ethanol fire basin, real plant life, or cozy, oversized throw blankets? Clark adds that even the smallest of pieces can have a large impact on setting the overall tone of your home space.
(Photo courtesy Sweethearts Interior Design)

Don't Let The Trends Scare You
"Everything old becomes new again," Clark says with a laugh. Have truer words ever been spoken?

While social media influencers and flashy tabloid headlines leave us feeling the constant pressure of playing catch-up to week-long trends with addictive titles (we're looking at you, #TomatoGirlSummer, #QuietLuxury and #GorpCore … yes, that last one was a thing), Clark reminds interior remodelers and revampers that everything good comes back. Her advice? Go with what you like regardless of what TikTok aesthetic is receiving today's limelight. It's your home, not an outfit of the day.
Trust The Process
An accent piece here, a coffee table or marble shelf there. The slow additions may not seem like much, but the end result may just be worth the wait. Note to budgeters: Trust the process and utilize the back roads available to you. Thrift stores and digital marketplaces are excellent helping hands for those in a pinch, and let's not forget the abundance of sidewalk sales that small businesses love to host during this season's transitional period. (Pro tip: grab a coffee with some friends while romanticizing the search and feel free to share your journey with us. We love celebrating local finds.)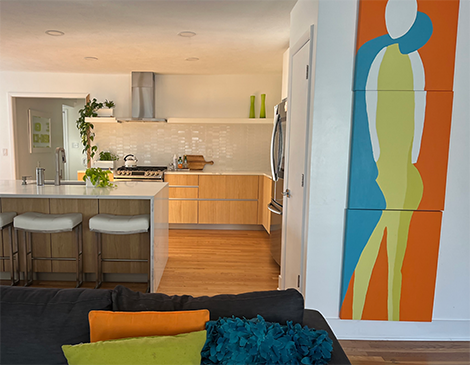 (Photo courtesy Sweethearts Interior Design)

Like Your Home
"Clients always approach me questioning what they initially like and I always tell them that what they love will never really go out of style," says Clark, "That's why you see houses on realtor.com from the 60s, designed for the 60s, and someone bought it and loves it today."

Contrary to popular belief, Clark believes that "timeless" comes in a wide array of forms. "If we can get to the heart of what truly brings you joy in your own home, then we can make sure that that place is timeless for you. If you've always loved bright colors, you're probably going to love them in 10 years, so that's what we should do."


Start your day the best way by signing up for our free daily newsletter. Arriving in your inbox every morning to keep you in the loop on the best guides, home and style tips, and news briefs for all things Cleveland. Click here to subscribe.