There's a change coming to MidTown.

On a swath of Millionaires' Row once home to shipbuilder and real estate magnate Morris A. Bradley, One Midtown's 23 luxury townhomes are attempting to restore some of the former glory to the oft forgotten stretch of Euclid Avenue.

"In the early 1900s, it represented [one of] the wealthiest neighborhoods in the entire world," says Justin Campbell, director of luxury sales for Signature Collection. "What we're looking to do is bring that high-end residential component back."

Designed by Dimit Architects, the modern, three-story townhomes range between 1,800 and 2,200 square feet and include a massive living room with a fireplace, a balcony overlooking the neighborhood, hardwood flooring, stainless steel appliances, a two-car garage and rooftop garden deck.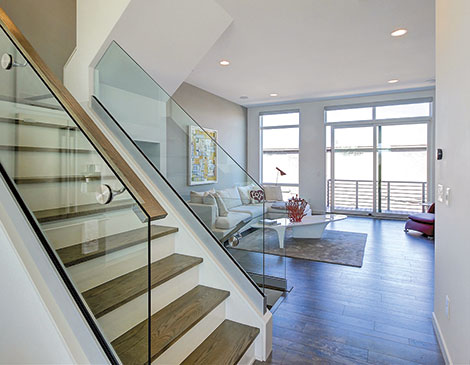 At a VIP open house in May, Sheila Billingslea, a retired program manager, walks through the three-bedroom model. "I like the fact that it's modern," she says. "In Cleveland, we're stuck on colonial in a lot
of situations."

Built on the Greater Cleveland Regional Transit Authority's HealthLine, One Midtown targets medical and business professionals who work in the HealthTech Corridor, downtown or University Circle. Two of the townhomes, which range from $409,000 to $479,900, had already sold by June 1.

Campbell views the project as an essential step in helping to further develop Cleveland's urban core. So does the city, which is offering a 15-year, 100 percent property tax abatement and a Greater Circle Living Grant for HealthTech Corridor employees.

"Three percent of Cleveland's inventory is new housing," Campbell says. "If we're going to be a tier-one city, you need new housing and you need new housing in the urban core."

Billingslea, who has lived in the Fairfax neighborhood for 14 years, has been watching the construction with interest. "This was kind of an area that you had no reason to go to unless you actually worked here," she says. But the once mostly vacant stretch between downtown and University Circle is quickly changing.

One Midtown is part of $152 million in new development that's expected to be completed in the neighborhood by the end of 2018. The 11 projects include the Tru by Hilton hotel at East 69th Street, the 56-unit Innerbelt Lofts near Cleveland State University and the 11-acre Link59 health and office campus anchored by the UH Rainbow Center for Women and Children at East 59th Street.

"I'm just excited to see this," says Billingslea. "I'm excited to see what's happening in Cleveland."

It's that kind of exuberance that has Campbell envisioning a time when MidTown rivals the city's other hot neighborhoods. "I have a joke with my guys that MidTown is one brewery away from being the next Ohio City," he says.