Fall decor can be scary. The line between classy and cheesy is easy to cross when it comes to using pumpkins and gourds. So Tara Berger, the founder of One Stylish Party, helped us set up an autumn tablescape that could work for a fun Halloween get-together or a more formal Thanksgiving dinner. "The trick is to pick one color and go with it," Berger says. "It's easy to pick up all different colors of pumpkins and gourds, but I recommend getting ones that are neutral so you can have more fun in other areas." She suggests keeping it simple with small gourds and some medium-sized pumpkins. "They add to the design, not take it over," she says. "That allowed me to play with the details and make it more inviting for my guests."

Here are four tips to make your fall festivities a treat.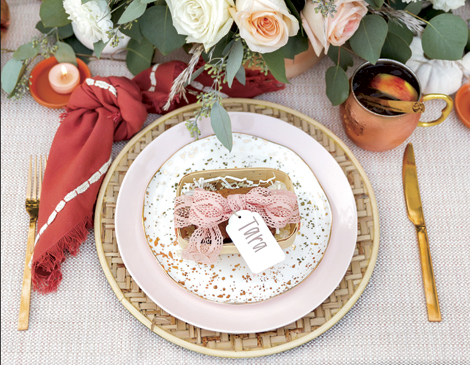 Tweed tablecloth: The tablecloth should add texture, but not distract from the rest of the table. Tara Berger couldn't find what she wanted in the store, so she created one from 3 yards of tweed material purchased from Joann Fabrics and Craft Stores. "The woven texture and neutral color add dimension without pulling anything away from the centerpiece," she says.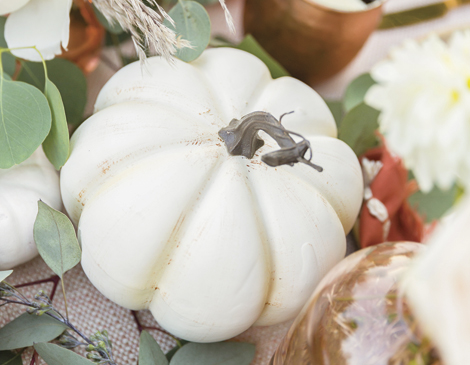 Greenery: Berger uses fresh greenery and florals to bring her designs to life. Peach garden roses, white ranunculus, cream dahlias, ivory roses, eucalyptus leaves and pampas grass create one large center arrangement and two smaller ones for the ends of the table. Eucalyptus weaves throughout the table to tie the elements together. "Plants can really enhance the ambiance of a setting," Berger says. "It is going to look like you put a lot of effort in when they really don't require too much work."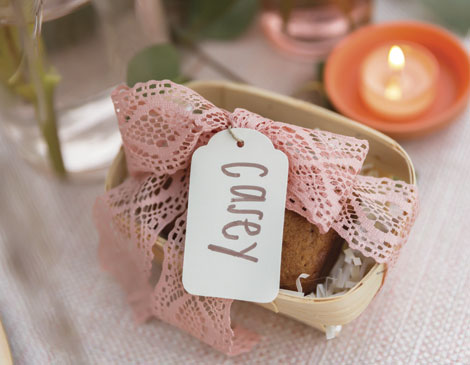 Breadbaskets: Nothing shows appreciation for your guest like a favor. Berger suggests using the gift in a clever, thoughtful way such as the mini breadbaskets she set on each plate. "They add another layer to the design, but inside is homemade pumpkin bread I made for my guests to take home," she says. "I also tied everyone's name onto them so they served as place cards too."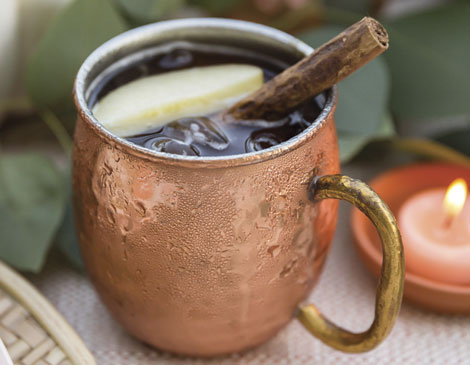 Copper flatware: Have some fun with the details, Berger says. Simple silver flatware would have distracted from her color scheme, so she decided to go with copper instead. The color matches the glasses and the rust-colored napkins. "When things are cohesive and fun, your guests feel more comfortable," she says.