Susie Brown doesn't love a blank slate. That's a good thing, because her 1960s colonial was anything but blank when she purchased it in 2013 with her husband, Scott. Their 2,600-square-foot Fairview Park residence featured wall-to-wall old, tan carpet, wood paneling and midcentury modern touches.

Brown honors those original details (yes, including the room with plaid wallpaper) while making it an inviting space and documenting it on her Instagram, @susiebrown, and her blog."It's fun to keep my passion a passion — at least for now," says Brown, who works full time as a software consultant for a Washington D.C.-based electronic medical record software firm and is mom to 1-year-old Milo.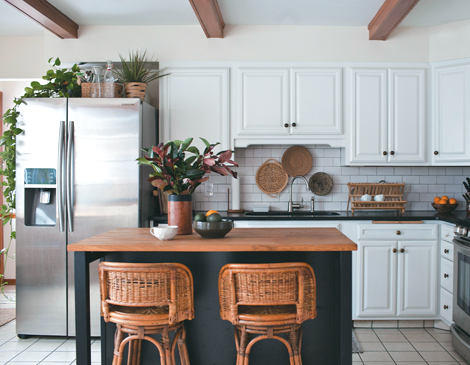 Her eye for thrifted finds such as a blue velvet sofa and love seat, love for greenery and use of natural accents have attracted attention from popular style blogs DesignSponge and Jungalow. Being featured on those sites has boosted her following to nearly 17,000 on Instagram.

"What's appealed to people about my style is I work with what's there as opposed to feeling like I have to buy all new things," Brown says. "I think part of the fun is appreciating each step of the way and knowing there are things we can do to make a room appealing before we redo the whole thing."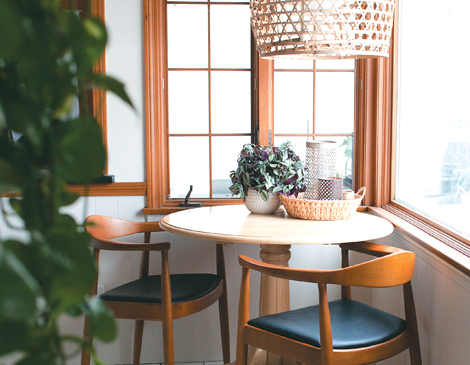 Take the sunroom, which is her favorite space in the house for its ability to stay bright and cheerful "even on the rainiest Cleveland days" thanks to its three walls of floor-to-ceiling windows. But the room's modern sliding doors and windows lacked the classic window muntins found in the rest of the house. Rather than scrap perfectly fine windows at a great expense, Brown created mock muntins with $4 worth of black electrical tape, upping the room's wow factor.

Though some rooms in her home are styled to her satisfaction, she says her four-bedroom, three-bath abode is still a work in progress. The Browns are renovating the patio and deck in their half-acre yard and anticipate a kid-friendly basement update soon. In November, they revamped their family room as part of an online interior design event called the One Room Challenge.




"Having a baby in June [2018], I wondered if I was crazy to redo a room in November," Brown says.

Their effort transformed the space from cavernous to chic with the addition of a faux brick accent wall, white textured carpet and a sleek white couch.

White furniture with a soon-to-be toddler? Brown's not worried about spills or stains. "I like the idea of getting a piece I love and living life with it," she says.