The narrow entryway into this Chagrin Falls home is full of life, purpose and playfulness. It's an invitation to stay awhile, guiding a guest into the living room adorned with patterns and pastel colors that introduce the rest of the home's modern traditional style.

Reflections Interior Design owner Marissa Matiyasic used the classic look of the home to her advantage, while adding elements such as cheeky tasseled lampshades and rounded lampstands to exude bounce and rhythm. The focal point, a table with sphere-spindled legs, floats in place, invoking air and openness.

"We wanted you to know when you walk in the room, into the house right away, that this is a really interesting home that doesn't take itself too seriously," says Matiyasic.
When Matiyasic's design team set their eyes on the home's classical architecture in January 2020, they knew it was going to have a major role in the redesign. They wanted to support the existing traditional characteristics while reflecting their client's warmth and creating an approachable, yet confident style.

Modern edges are balanced with natural subjection, while style blends with functionality. A gorgeous yard inspired the wispy, green centerpieces in each room. While color throughout each room is abundant, it is used intentionally to ensure the softness of the home remains.

"I think that we chose the right intensity of color," says Matiyasic. "That's why they work so well with each other, they balance each other."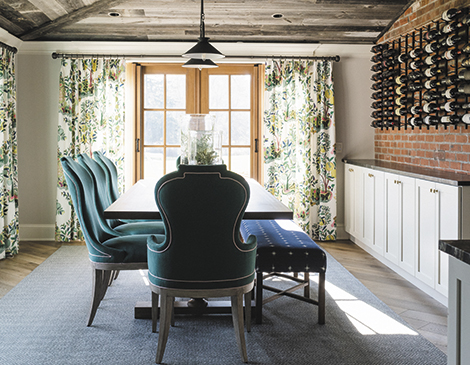 Daring Dining
Poised for dramatic dining, the existing brick wall, hanging wine rack and stone-colored wooden ceiling craved an extra element of boldness. Matiyasic's team added emerald chairs piped in pink at their classical edges and a sapphire bench to tip the weight of the room back to the center. Meanwhile, a lemon-covered drapery pattern from Schumacher Fabric, appropriately named Citrus Garden, enhances the formal-casual experience as a perky backdrop. "That's where we punched up our green and introduced a little bit of yellow in the space," says Matiyasic.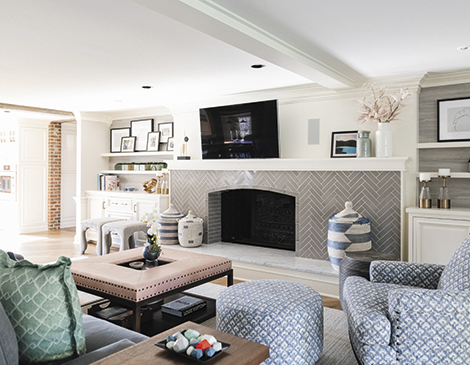 Open Arms
While a low ceiling prompted rectangular patterns, the expansion of the fireplace mantel opened this living room in one ingenious gesture. Sky blue seating, pistachio pillows and a pale pink leather ottoman (which doubles as a coffee table) showcase hints of the color palette throughout the home. On either side of the handmade, elongated subway tile and Carrera marble hearth, custom built-in shelves were added to display family photos, playfully propped up by one another. "That was a way for us to get some artwork in the room and keep it a bit more playful and not get too serious," Matiyasic says.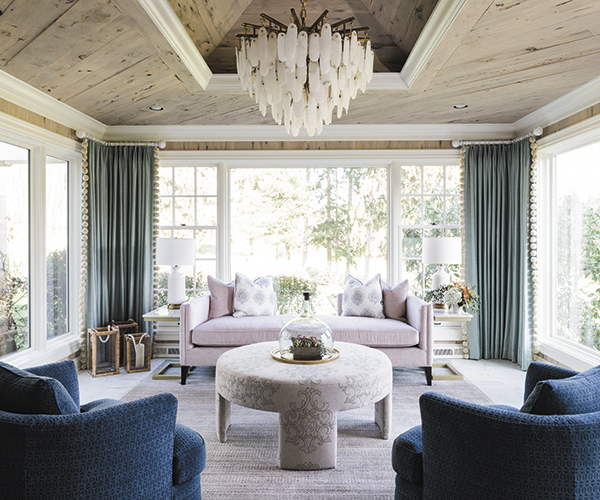 A Clever Classic
The sunroom's statement piece is incontestably its chandelier: The prisms collectively make a massive crown of natural alabaster. Due to the wall-to-wall windows, the room is enwrapped in nature and offers itself to morning coffee, perusing poetry and conversation. The soft curves of the indigo barrel chairs frame an ottoman decked in an oat-colored Byron Embroidered Wool by Schumacher Fabric. Matiyasic worked with Woodrich Furniture to ensure the pattern aligned perfectly around the ottoman. "[It's] something a little bit more fun and edgy but in a classic room," she says.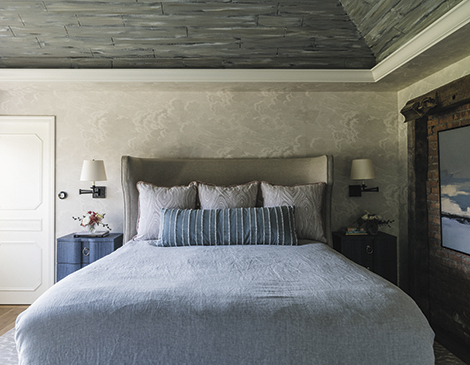 High Aspirations
With the ceiling painted a soft gray, Matiyasic was able to lighten the master bedroom while keeping the texture of its vaulted shape. A quirky brick wall and beam turned into a gallery fitted with brass light fixtures to display art. Adorned by Edison bulbs with an amber-colored filament, an iron ceiling fixture lends a timeless, modern twist. "A little bit of masculinity helps balance the feminine curves of the bed and nightstands," Matiyasic says. Covered in blue grass cloth for texture and a hard hard poly finish for durability, the nightstands pique a refined point of interest.

reflectionsinteriordesign.net