It's summertime year-round in this contemporary North Ridgeville home designed by Ashleigh Clark Interior Design Group. Nuances of blue, green and bright reds evoke a tropical feel similar to a bright cocktail on the beach. With simple white walls and carpeting, the whimsy of this home's living room comes from pieces such as a sea-blue sectional and adjacent lime green ottoman, accents of potted foliage, patterned curtains and even a woven indoor swing suspended from the ceiling. The mix of playful and modern elements were meant to create a space for the whole family to enjoy. "When you walk in, you're just happy,"says founder Ashleigh Clark. "You can't really be in a bad mood when you walk into the space."

The use of bright colors throughout this home may be ambitious, but designer Ashleigh Clark wanted to highlight the cheerful energy of the homeowners and their children. White walls offset the bold details, giving the space a clean, fresh feel while still being lively and animated. "We just took our time with making sure that it was something that they can live in and that the fabrics are all family friendly, so they really can just use it like they wanted to," says Clark. Here's a look into four rooms of the home and how the design elements came together.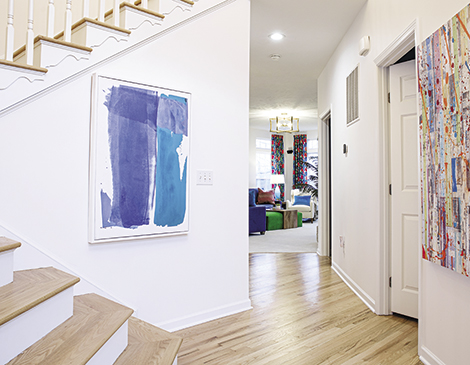 Exciting Entrance
Since it's the first thing visitors see when entering the home, Clark wanted the entryway to be a space that feels welcoming and bright, while giving a taste of the overall style of the home. The abstract strokes and splatters of the wall art give a sneak peek of what to expect in the next part of the home without giving too much of the fun away. "We definitely did not want it to be too serious as this family knows how to have fun," Clark says.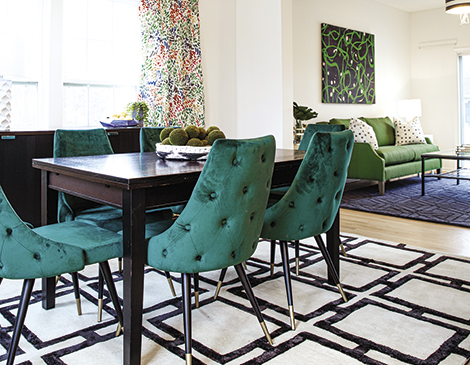 Old Becomes New
The homeowners wanted to utilize their existing dining room table and dark-finished cabinetry, so the design team illuminated the space through modern green velvet chairs, floral curtains and a statement rug that parallels the color of the furniture. The abstract art between the windows was commissioned by local artist Mary Gut and is the most important detail for the flow of the room. "It helps to bring all of the colors together in a central point," says Clark.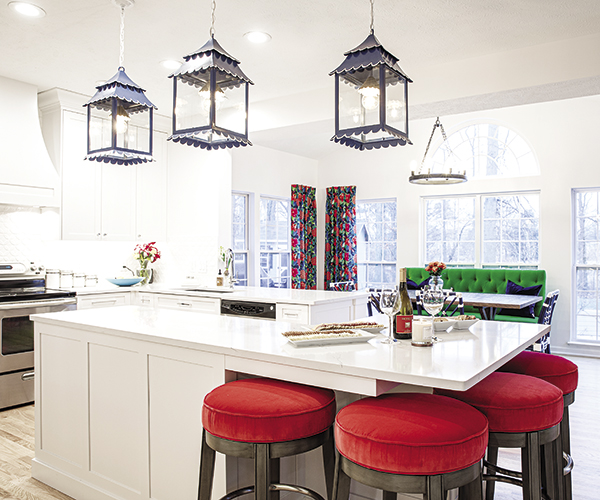 Functional and Fun
A large window was added in the kitchen area by the design team to give a more symmetrical feel and establish a better view of the backyard. Along with a large kitchen island and red velvet bar stools that match the floral drapes, a bright green sofa sits across from the windows for daily meals. "The seating in the breakfast room was chosen to give the young family a comfortable place to sit while having family over or playing games in the evening," Clark says.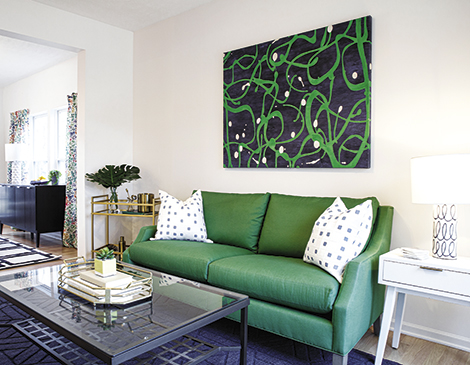 Green Galore
Off of the dining room, is an elegant yet playful sitting room. It boasts a deep green loveseat underneath a large-scale painting — the colors of this piece pull inspiration from the furniture around the house. The side tables, coffee table and bar cart are toned down, using black, white and bronze colors as a way to create balance."The artwork is definitely the defining piece in this space," Clark says. "It is oversized and bright in order to grab your attention."