While floral wreaths can range in styles and themes, Stephanie Petrak, owner of Lorraine's Cottage, is especially a fan of how they can make a good first impression. "It's the first thing you see when people are welcomed into your home. I think it's also an easy decor piece to change out," she says. "Obviously, you can't really change the color of your house as easily as you can a wreath. So it's easy to add your personality to the outside of your home with a wreath."

While floral wreaths are nothing new, Petrak tries to incorporate less common flowers and other unique accents into her work to gently push people outside of their comfort zones. The self-taught wreath-maker based out of Mayfield Heights has a tutorial book coming out in September, called Elegant Handcrafted Wreaths, and walks us through how to make a Spring Rose and Lilac Wreath for the spring season.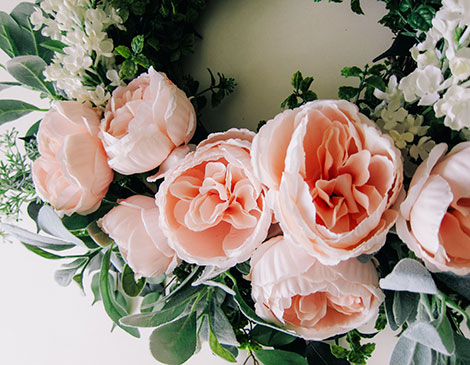 Step 1: Collect materials
Everything you need for this beginner level project can be found at your local craft store. Before starting, Petrak preps all her materials, saying, "I like to have all the materials trimmed so that way it's all ready to go. You have it all laid out."

What you'll need:
A 14-inch grapevine wreath
6 dark green ficus branches (about 11 inches each)
24 boxwood branches (about 7 inches each)
7 pink cottage roses (about 6 inches each)
2 white lilacs (about 10 inches each)
5 lamb's ear branches (about 8 inches each)
7 meadow grass branches with white buds (5 about 8 inches each; 2 about 11 inches each)
Hot glue gun
Wire cutters

Step 2: Assemble the base
A strong base helps the florals stand out, so for this wreath, start by attaching green ficus branches by evenly spacing them out on the circular grapevine wreath base. "I usually do a nice greenery base first. I like to use at least two different types of greenery to add texture and interest," says Petrak. While following the natural curve of the grapevine wreath base, do the same using 12 of the boxwood branches. Some of the base will still show through at this point.
Step 3: Work in the florals
For this design, Petrak has clustered the main focal flowers towards the bottom of the wreath to catch your eye. Attach the pink cottage roses in the same away, by grouping them together on the bottom third of the wreath. The white lilacs start from both ends of the roses, reaching toward the upper part of the wreath. Bend them to follow the curve of the wreath. "This year, I'm really drawn to the lilac, because it's a very pillowy and cloud-like [flower], and it has a lot of texture, and it's not a flower that's widely used," Petrak adds.

Step 4: Add some accents
Starting below the lilacs, attach the lamb's ear branches, by spacing them out evenly along the outside edge of the roses. Then, attach the five short meadow grass branches to the top greenery part of the wreath, and slightly bend them, then lightly bend the two other long meadow grass branches and attach one on each side of the roses, just below the top of the lamb's ear branches. From there, use the 12 remaining boxwood branches to fill in any gaps on the outer edge and fluff the wreath out as needed. "Sometimes there may be some gaps so when you fill it with greenery you can step back and look at it to see if it's all even," she says. "And then it's ready to hang and enjoy."