Cody and Carly Gessel have learned to be flexible.
First, the pandemic forced their wedding plans to pivot from a large event with 120 guests to a small, carefully planned event that would allow 15 immediate family members to safely attend. Then, the heated housing market foiled their search for a place to plant roots. If anything, the last 18 months have taught the newlywed couple to prepare — and plan for change.
"We were looking for somewhere quiet where we could be part of a community and have a yard for our dog," says Carly, 28, who works in communications at Nordson Corp.
Initially, they lived in Lakewood in an apartment on French Avenue — a one-bedroom, one-bath efficiency. "We loved the walkability, and there are so many things to do," she says.
Eventually, they wanted a bit more space and rented a townhouse in Rocky River, close enough to walk their kayaks down to the water. "Both of us love kayaking and outdoor activities, and so that location was pretty amazing," Carly says, adding that walkability to restaurants in the Olde River district, Heinen's and parks also contributed to an ideal location for the couple.
But closing in on one year after their wedding in 2020, they got an itch to buy their first home on the West Side. "We looked at everything from Rocky River to Westlake, Bay Village, Avon and Avon Lake," says Cody, 29, who works at the Cleveland Clinic.
Their priorities: a community feel, space for their 40-pound shepherd mix, Morse, to run, and a home with at least three bedrooms and larger than their 1,000-square-foot townhouse.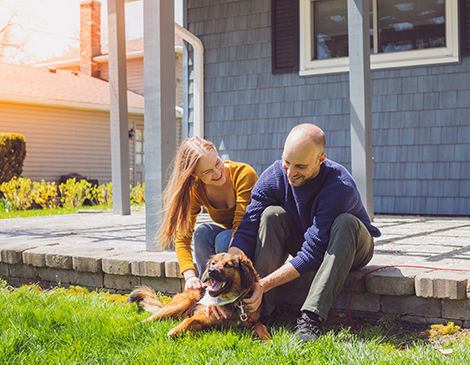 "We also wanted a house that would hold its value, because prices are increasing so we wanted a smart buy — something we knew wouldn't depreciate if things go south," Cody says.
Preparing to search for a first home in a market with escalating prices and interest rates called for preparation. And the Gessels were on it. First was financing. Their real-estate agent, Katie Manos of Howard Hanna, advised them to go with a known, reputable lender and to create a strong financing package to be competitive in multi-offer scenarios.
"We had the strongest financing possible with a full 20% down payment while having a flexible close date," Cody says, adding that they hoped this would give them an edge with sellers who needed time to look for another home. The Gessels decided they could afford a home in the $250,000 to $350,000 range. "If we had to do work on it, we wanted it under $300,000," Cody says.
And they were willing to go over asking — as buyers must be in this market — but not by a landslide. Carly adds, "We had a very clear picture of the boxes we were trying to check. That was helpful because when you look at so many houses, the benefits and amenities of one house blur into another."
Because the Gessels knew they'd have to act fast on desirable listings, they agreed to trust each other's judgment if a home was "the one." Carly says, "If I was working and a house popped up on a Wednesday when Cody was off, he could see it and make an offer and we had faith in each other. We were O.K. with that."
Laughing, Carly adds that, at one point, she was sharing what the search was like with her parents. Her mom told her, "There was a time when people would bid lower than asking and get the house!"
That seems unbelievable now. All told, the Gessels looked at 20 homes across the West Side and lost two bids. The third time was the charm.
The first house they lost, located in Bay Village, taught the couple to toughen up. "It grew on me," Carly admits. "You start thinking about how we could use the basement or fix up this-and-that. It was the first time we completed all the paperwork and made an offer. And there was a big let-down."
Another house, sitting on the border of Westlake and Bay Village, emphasized the need to act quickly after an offer $60,000 over the asking price was submitted before the Gessels even had a chance to start the paperwork. Then, an offer on a home in Fairview Park also was denied as the couple was outbid again.
Then came success. The couple won an offer on a 1950s ranch in Bay Village with four bedrooms, two-and-a-half baths, 2,200 square feet, a sun porch, a half-finished basement and a nice-sized yard located in a close-knit neighborhood where they could make new connections.
The Gessels offered $15,000 over asking even though other bids were higher — in fact, one exceeded their bid by $6,000. But their strong financing and, ultimately, a flexible timeline appealed to the sellers, who were moving out of state and needed time to find a house.
The Gessels moved into their Bay Village home located on the western edge of the city in late January. "The first time we met our neighbors was when they came over and snowblowed our driveway for us," Carly says. "It's that nice sense of community."
While they can't walk to the grocery store or restaurants, they are just a short drive away — and still return to their old neighborhoods in Lakewood and Rocky River to dine or, for Carly,
attend her favorite yoga studio.
They do live within biking distance of Huntington Beach and Crocker Park, yet in a quiet neighborhood with the type of community they were seeking. Heading into summer, the Gessels are looking forward to spending time on the sunporch, playing with Morse in their yard and getting to know more neighbors. One couple on the street even maintains a spreadsheet of everyone's contact information.
"We are in the area where we wanted to be," she says. "And this location has made our home life so much better."
Cody grew up on his family farm, so a garden is already in the works. And Carly has space for a home office, which is ideal with her hybrid schedule. "The other day I was out on the porch working and one of our neighbors walked by and said, 'That beats the cubicle!'" she says. "And that's for sure!"
As for their investment, the couple is pleased they created a priority list, prepared with financing and stuck with their goal to purchase a home that would retain or gain value.
"Since we've been here the house has appreciated," Cody says. "And I also feel very fortunate that we got in while the interest rates were still low."
Dig in to this year's ranking of Best Places to Live and to find out how these Cleveland families found their dream homes.