The Rundown: These days, we tend to live far from those different from us. But in Cleveland Heights, diversity isn't a supporting player — it's the main act. "I really don't think you choose to live in Cleveland Heights if you're not interested in living in a diverse community," says city manager Tanisha Briley. "We celebrate it, and it's who we are." Residents embrace the eclectic array of things to do in the Heights — from green parks and grungy music shows to vegan food and the interesting mix of people to do them with.

Neighborhood Profile:
Affordable • East
2017 Total Home Sales: 622
2017 Median Home Sale Price: $123,200
Education Ranking: 44
Safety Ranking: 69
The Vitals: Along with its diverse population — about 52 percent minority — Cleveland Heights ranks as the third-highest suburb in the use of alternative transit to commute, such as bikes and buses. Surprised? Don't be. University Circle is right down the hill, and Cleveland Heights residents love to ditch their Subarus in the garage and walk or bike to work. It's easy, since sidewalks line 100 percent of city streets.
What to Do: The grass might tickle and Lisa Loeb's subtle tones might get a little drowned out by the swish of trees rustling in a strong wind, but, hey, that's all part of the experience at Cain Park — the same as its been for the last 80 years. The 1,222-seat outdoor venue and grass lawn sits inside a 22-acre park, but it's still intimate and bohemian. The city is going all out this year to commemorate the milestone, with performers such as Inlet Dance Theatre July 25 and 26 and Loeb Aug. 10.
The Hangout: In Cleveland Heights, you choose a hang spot before you pick a house. Some people want to be close to Nighttown at the top of Cedar Hill in the Cedar-Fairmount neighborhood. Part jazz club, part pub, part unforgettable brunch joint, it's the gateway to the Heights. Art from local and national luminaries, such as Viktor Schreckengost, hangs on the walls while world-class musicians play sets in front of a brilliant red curtain. It's urbane and sophisticated, but unpretentious and right down the street.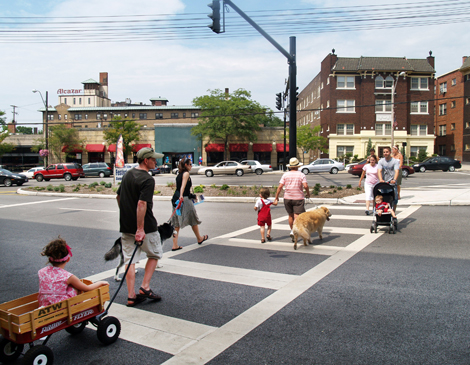 Secret Find: For an unexpected way to discover the Heights' leafy-green heart, embark on the city's all-purpose pathway. The trail, which connects the city's three largest parks, winds through the rolling hills and swaying trees of historic Forest Hill Park on the grounds of the former John D. Rockefeller estate. "We get a lot of people from the Coasts that are overjoyed at what they can buy here, the sense of neighborhood, uniqueness, walkability and the beautiful trees," says Briley.
Talk of the Town: When the backhoeing starts, there is no chance you'll miss it. At the tippy-top of Cedar Hill, on a roughly 4-acre plot that's the gateway to Cleveland Heights, Flaherty & Collins Properties is pitching an idea for a luxury apartment complex. Expected to cost $75 million to $80 million, the project's construction is expected to begin in 2019. It includes more than 200 luxury apartments, parking, storefront space for restaurants and shops, and maybe, if the city can sort out the details, a much-demanded boutique hotel.
Signature Event: Get your foot tapping and your head banging during Heights Music Hop, the free Sept. 13-15 festival designed to show the city's musical diversity. "We just encourage people to experience different types of music," says Future Heights executive director Deanna Bremer Fisher, "everything from classical to rock, folk, hip-hop, R&B, roots music — you name it."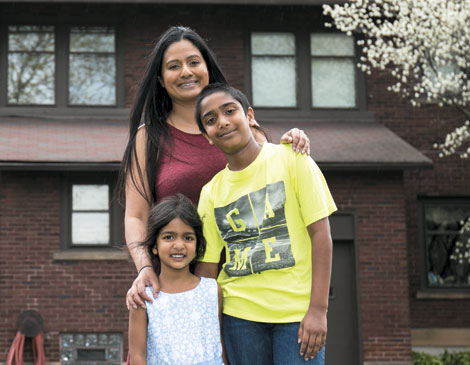 Meet Your Neighbors: If it weren't for Cleveland Heights, Devi Jhaveri might have skipped past her forever home. As a child, her physician parents lived all over the globe: Algeria, France, Wisconsin and Chicago. She followed in their footsteps and went to medical school at Ohio University before moving to Cleveland Heights in 2010 for a residency at Rainbow Babies and Children's Hospital. When it was time to purchase a home, she thought about moving to Atlanta or her Windy City hometown. "I just couldn't find what I had here," she says. So last year Jhaveri started house-hunting throughout Northeast Ohio. The first she saw was a 3,200-square-foot, 1912 brick Cleveland Heights Tudor covered in ivy. She loved it, but didn't want to settle. "I looked at many, many, many, many houses to not love this house, because I did not want it to be an emotional thing," says Jhaveri. But the five-bedroom Tudor stuck with her. She could walk to the Shaker Lakes and the restaurants at Cedar-Fairmount. It was close to her children's school. She couldn't resist, so in August she moved in. "I just couldn't get myself to love anything else, to love any other neighborhood," says Jhaveri. "It was a star-crossed thing, this house."