The Rundown: There was a time when you could smell rubber in the air of Cuyahoga Falls, wafting from the factories of nearby Akron. But those days are long gone. Today's Cuyahoga Falls still shows its industrial past on the quaint streets and festivals of "old" Cuyahoga Falls, but is reinterpreting itself as an outdoorsy and affordable burb that can claim the Cuyahoga Valley National Park and Cuyahoga River within its borders. It's a mecca for young families, professionals, cyclists, hikers and kayakers — people who won't be burning rubber any time soon.
Neighborhood Profile:
Affordable • South
2017 Total Home Sales: 692
2017 Median Home Sale Price: $127,000
Education Ranking: 36
Safety Ranking: 67
The Vitals: Although a favorite with workers from local institutions such as the University of Akron (only 10 minutes away), Cuyahoga Falls' average resident commute time of 22 minutes also makes it a convenient home base for people doing jobs in many Northeast Ohio communities. But more than the commute, the diverse range of houses is the Falls' main draw. There's not a cookie-cutter in sight. On many streets, you won't see the same type twice, from ranches to Cape Cods to colonials, many of them affordable at a median sale price of $127,000. "The housing market is booming. It's a seller's market. They're going for over asking price," says Mayor Don Walters. "Often in one day, there's multiple offers — no time for an open house."
What to Do: With 33 acres of the national park to explore within city limits, residents need ways to refuel. Luckily, there are plenty of new options such as HiHo Brewing Co., an industrial-chic brewery from Falls natives Ali and Jon Hovan, or Crave Cantina, a Latin-inspired offshoot of Akron's Crave restaurant.
The Hangout: In a city named after its river, the local water park had better make waves. Luckily, Cuyahoga Falls' Water Works Family Aquatic Center is a full-on tide of summer fun for residents. Two huge waterslides are long enough for the kids to accelerate to screaming speed. A 560-foot-long lazy river is the ideal spot to bask in the sun, and plenty of waterfalls and geysers make it so no one is spared a spraying. Plus, there are six 25-yard swimming lanes to get your laps in and rental cabanas to hide from the rays.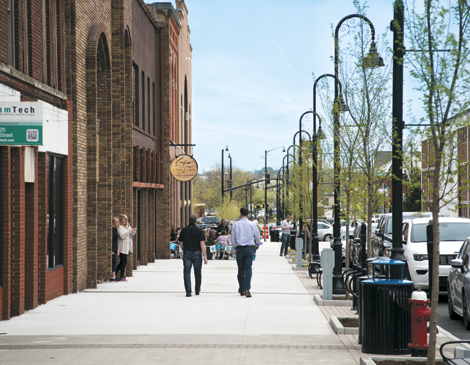 Talk of the Town: After being closed off to cars for decades, Front Street reopened to traffic after a $10 million renovation. New bike stations, a kiddie splash pad and drinking fountains for both humans and dogs, plus a slew of new businesses such as Yum Yum Sweet Shop and Good Co. Salon & Spa make the main drag a main attraction again. "It looks a lot nicer, there's money being invested, new businesses making money down here," says Brent VanFossen, who owns Metropolis Popcorn on Front. "It's starting to make sense to people."
Signature Event: The usually sedate Cuyahoga River snaps from calm to raging in a series of brutal Class II, III and V rapids as it flows through Cuyahoga Falls. The Cuyahoga Falls Kayak Race, held annually each spring, lets experienced racers run the half-mile of wild waters. People gather on the Sheraton Suites Akron Cuyahoga Falls' viewing deck to watch the paddlers navigate the crashing rapids, which culminate in a hair-raising 10-foot drop and splashdown. "To watch these kayakers, sometimes I wonder, Should they really be in that river?" says Walters, who sponsors the event. "But they're professionals."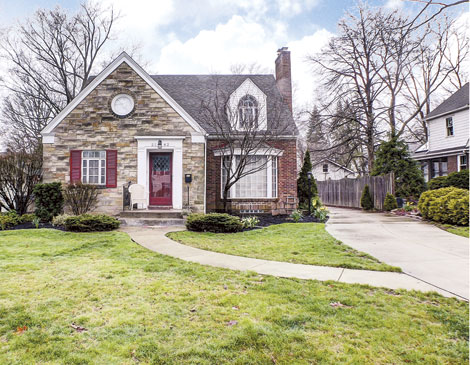 Buy It Now: Some houses are so unique an agent might sell them not once, not twice, but three times. For Re/Max Crossroads' Tony and Carol Morganti, who have sold this Cape Cod on 17th Street in Cuyahoga Falls twice already, that's the hope. Freshly listed in April for $184,900, it boasts three bedrooms and 2 1/2 baths in 1,578 square feet. Built in 1941, there is classic Vitrolite tiling in one bathroom, plus new granite countertops in the kitchen. Although no two homes on 17th Street are the same, this one still has a singular claim to fame: Its original owner had the deceivingly spacious layout custom-designed. "We still have the original blueprints," says Tony. "In my 40 years selling homes, I've never been in another one like it."